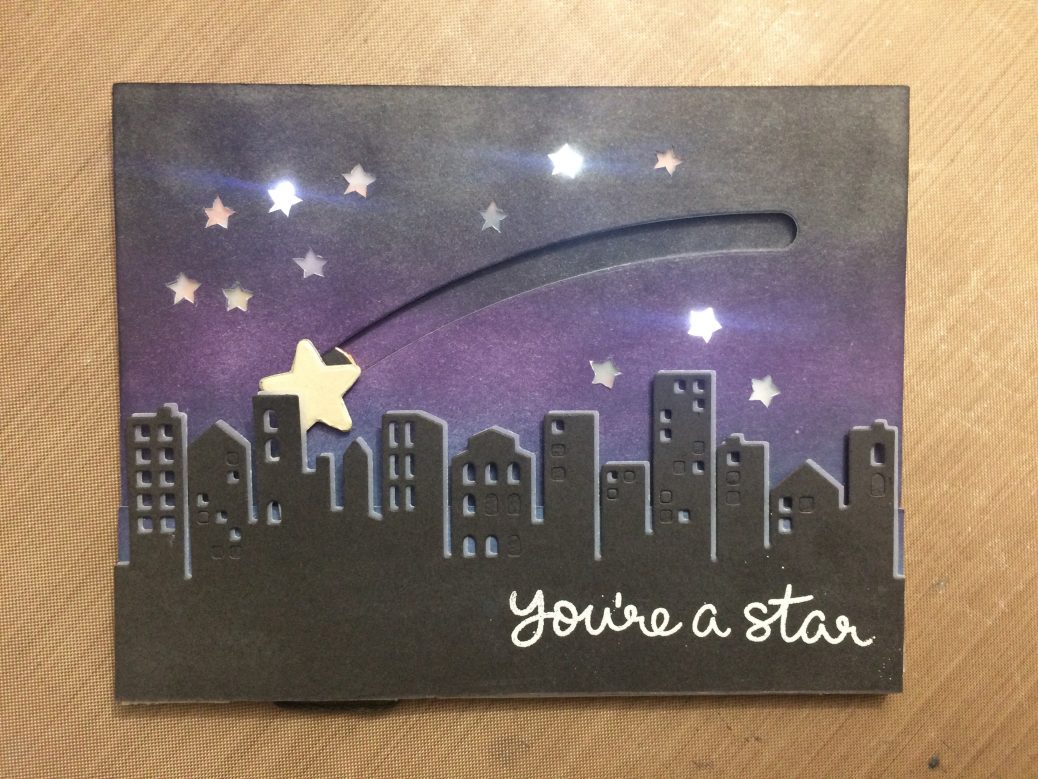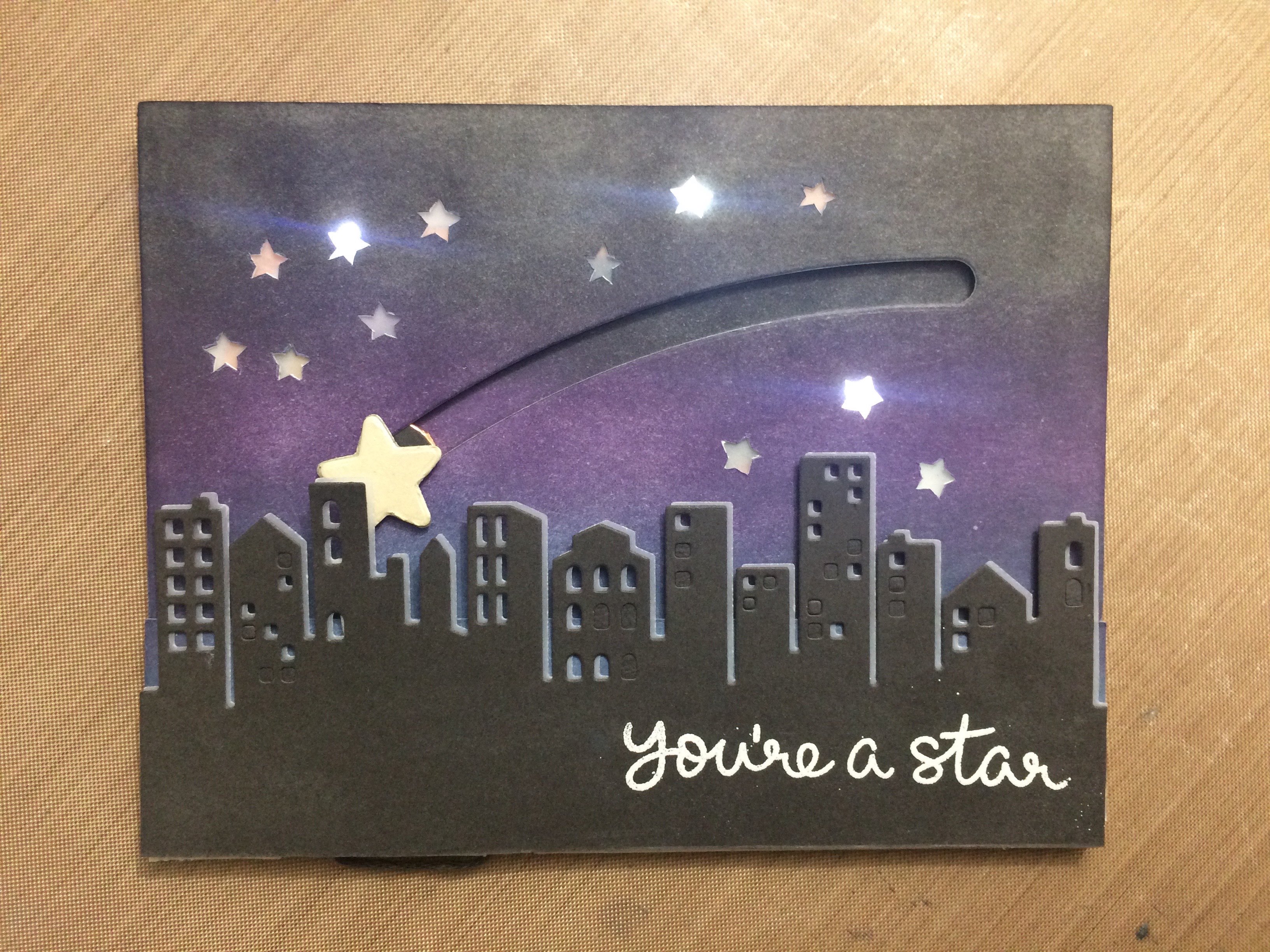 Light Up Stars Card Tutorial With Slider Switch
by Tiffany Au in Craft
Published on April 26, 2017
---
Learn how to create a interative light up card using Chibitronics and a slider switch.
Materials
Chibitronics White LED Stickers
Copper Tape
3V Lithium Battary
110 Lbs White Card Base
65 Lbs White Card Stock
65 Lbs Black Card Stock
Velum Paper
Taylored Expressions Dies, Downtown Border
Lawn Fawn Slider Die Set - Slope Die
Distress Ink: Black Soot, Seedless Preserve, Faded Jean
3M Foam Tape
Scor-Tape
Embroidery Floss
Sizzix Die Cutter
Dime
Star Die
Tools
Scissors
Frisker Paper Trimmer
Score Board
PenBlade - Yellow
Chibitronics Products
Chibitronics Circuit Sticker Intro Kit w/ card
Copper Tape
White LED stickers pack
-I first created by background by ink blending Black Soot, Seedless Preserves, and Faded Jeans to create my night sky background onto a 5.5 x 4.25 white card stock.
-Next, using my die cut machine, I cut out my city skyline out of black card stock and velum paper and put that aside.
-I then create my battery holder by trimming a a strip of white card stock to the same width as the battery. I then place my strip of card stock onto my score board with the battery place onto the upper left hand corner and create a score line right next to the battery and another at the next score line. Crease all the score lines and then trim the longer side down. Next note down the negative and positive side on the batter holder.
-To create the loop to move the battery I first place a tiny piece of scor tape onto the middle of my battery holder and then wrap a piece of embroidery floss around the holder making sure to tape the other end onto the middle.
-Next, I took my front panel and using my slider die I cut out the area where my large star will move. After that, I use my front panel as my template and lightly trace the slider section onto my card base with a pencil. Then using my distress ink, I ink blended the same night sky background onto my card based making sure the slider area is colored in.
-I then stamped out in 4 separate cluster of 3 stars using white ink onto my front panel and using my pen blade I carefully cut out each star I stamped out before. After that, I placed my front panel back on top of my card base and trace each star onto it. Next I trace out where my battery holder will be located on the bottom of the card.
-Now I pencil in where my light stickers will go (making sure its located in the middle of each star cluster) and the path for the copper tape. I first created the path for the negative side making sure to start my path on battery holder section and then creating two separate path with my copper tape. Then I draw in my path for the positive side and i make sure to leave a break where the slider opening will be (this circuit part will only be completed when the star is moved down). To create the other positive end, I will first have to create a boarder for my battery holder using 2 layers of foam tape. Then cut a small piece of card stock and lay it over the negative copper tape. I then take a larger piece of card stock and using copper tape I wrap the tape from one side to the other and made sure to leave a tail. Then I release the backing from the foam tape and tape my large square down and finally tape the copper 'tail' down to finish my circute.
-To create the slider piece I first die cut 2 stars out of gold card stock and tape it back to back using scor tape. Then I cover one side of a dime with copper tape. Last I cut a piece of foam tape to size, making sure its slim enough to move in the slider section without a problem. Then I create my slider sandwich within the slider cutout.
-Next is to put everything together. I place down 1 layer of foam tape onto the night sky background and then tape that down. Then I placed down 2 layers of foam tape for the city background and a piece of scor tape onto the top part of the battery section. Finally I tape down my skyline onto my card.
-Test out my slider and the card will light up whenever the star is moved from one end to the other.