About Our Products
Chibitronics makes toolkits and resources that blend craft with technology. These include peel-and-stick components; aka circuit stickers! We also make a paper-friendly microcontroller called the Chibi Chip. To accompany these materials, we have tutorial books in both print and digital form full of creative projects that help introduce electronics and coding. You can learn more below or head straight to our online shop.
---
LED Circuit Stickers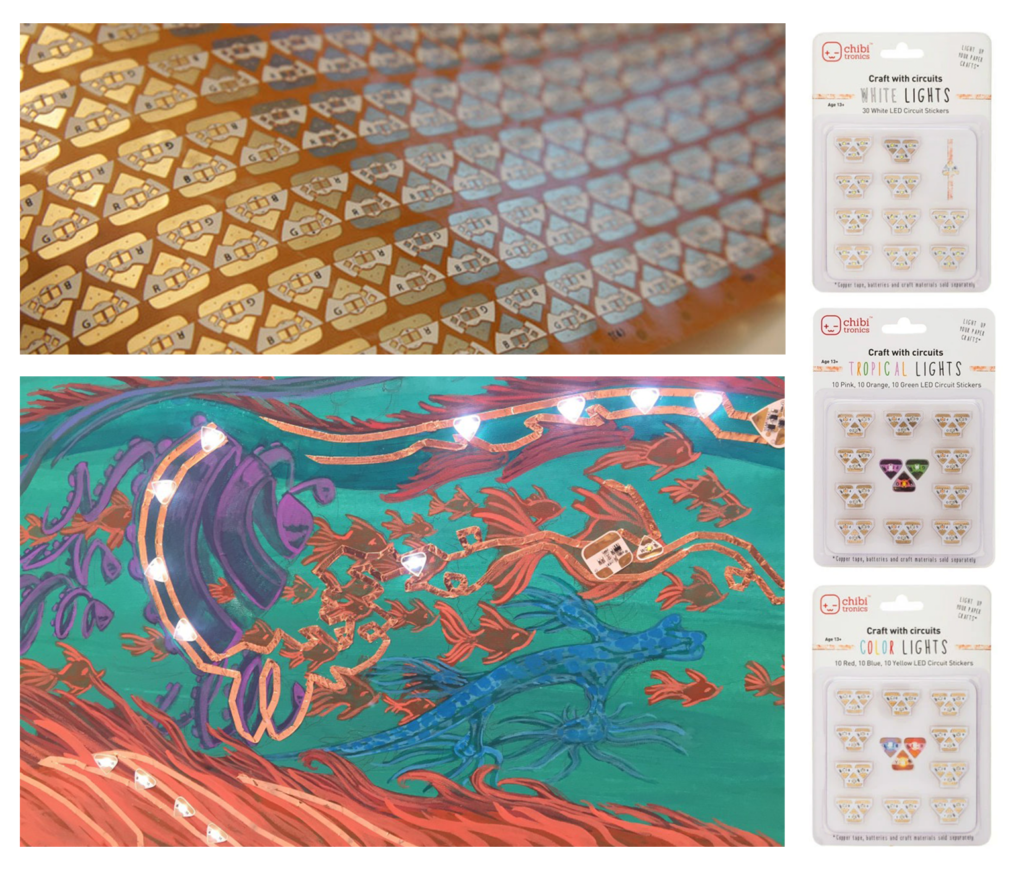 LED Circuit Stickers are colorful LED lights on peel-and-stick stickers. You can use them to add electronics to any sticker-friendly surface: paper, fabric, plastic, the sky's the limit! For an example, check out our First Paper Circuit tutorial.
To get started with LED Circuit Stickers, check out these kits:
• The Circuit Sticker Intro pack includes 3 circuit stickers and everything you need to make 3 light-up activity cards. The goal of this kit is to show how easy it is to make light-up cards.

• The STEM Starter Kit is our introduction to understanding how to build circuits, including simple, parallel, switch, pressure circuits. The kit includes an interactive book, 12 stickers, copper tape,and batteries. The book has interactive activities for learners to engage with. This book is perfect for STEM enthusiasts, cardmakers who want the full gamut of light-up card possibilities, and educators. This kit has won several awards, and is our most popular item.
• The LED megapacks include 30 stickers in a variety of colors: white, red/yellow/blue, and pink/orange/green. These packs are perfect for those who want to increase their supply of stickers or add some new colors to their project.
• If you're working with a group, try our classroom packs containing 90 LED stickers and 90 feet of copper tape.
• To help students practice, try our prototyping LEDs. These are more economical than our LED stickers and are meant for designing, prototyping, and experimenting. They stick up a bit more off the page than our LED stickers, but are much thinner than standard "gumdrop" style LEDs.
---
Circuit Sticker Sketchbook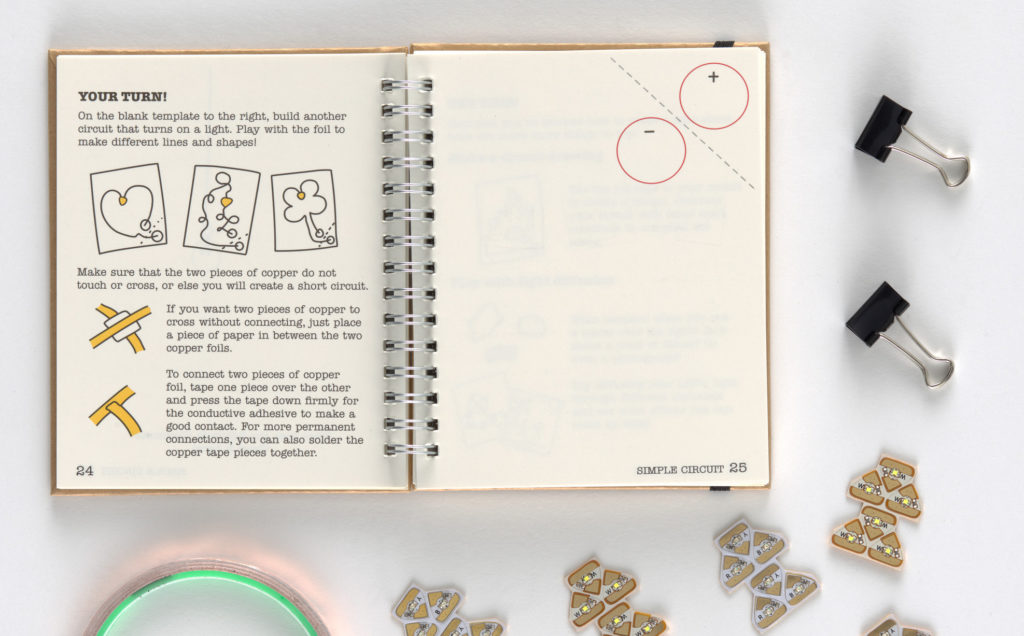 The Circuit Sticker Sketchbook is our award-winning book that teaches basic circuitry with hands-on creative activities. Project templates include a simple circuit, parallel circuit, DIY switch, blinking slide switch, and DIY pressure sensor.

The book is included in our STEM Starter Kit, or can be purchased on its own.
---
Effects Stickers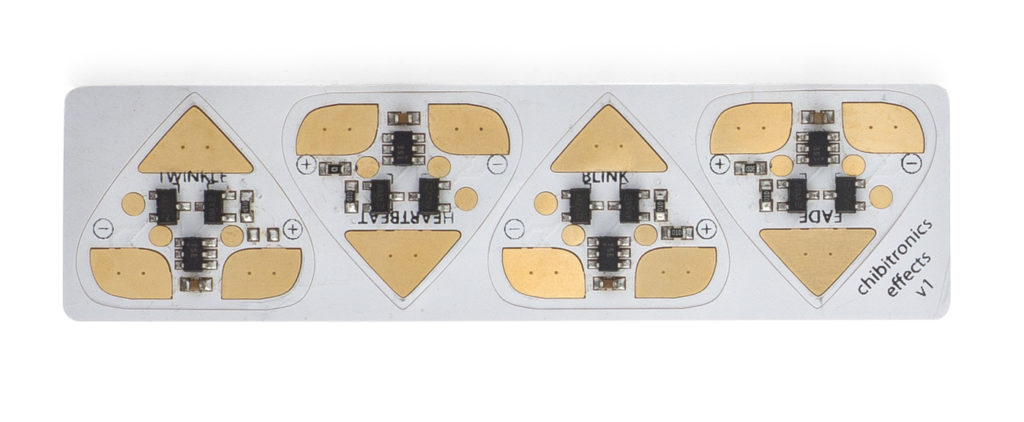 Effects Stickers come in a set of four stickers that add blink, twinkle, fade, and heartbeat effects to your project. Use the included stencil to design your circuit, then connect an Effect Sticker to an LED to create fun light patterns.
---
Light Sensor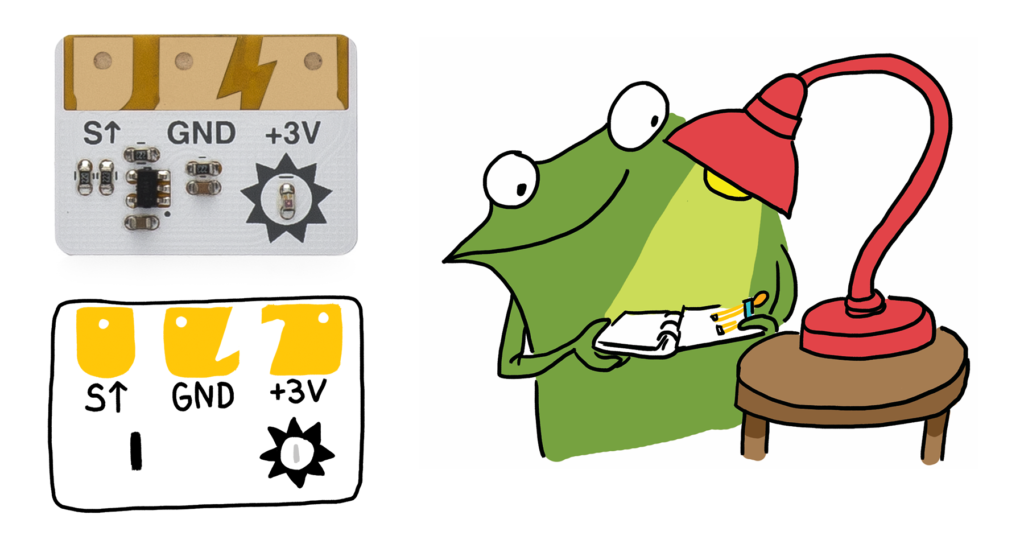 The Light Sensor Sticker allows your circuit to respond to light levels! Use it to create a project that turns on when the sun goes down, responds when someone waves their hand over the sticker, or something else interactive! Available in a set of six, in a kit, or with an add-on Love to Code chapter.
---
Conductive Materials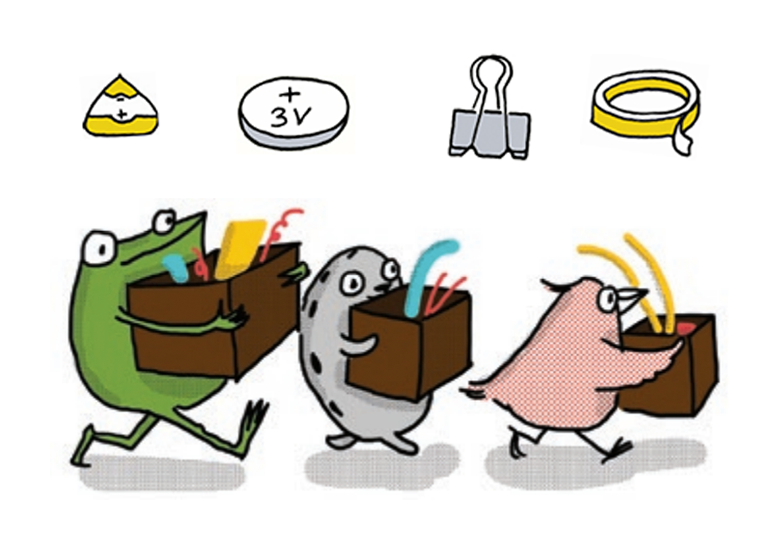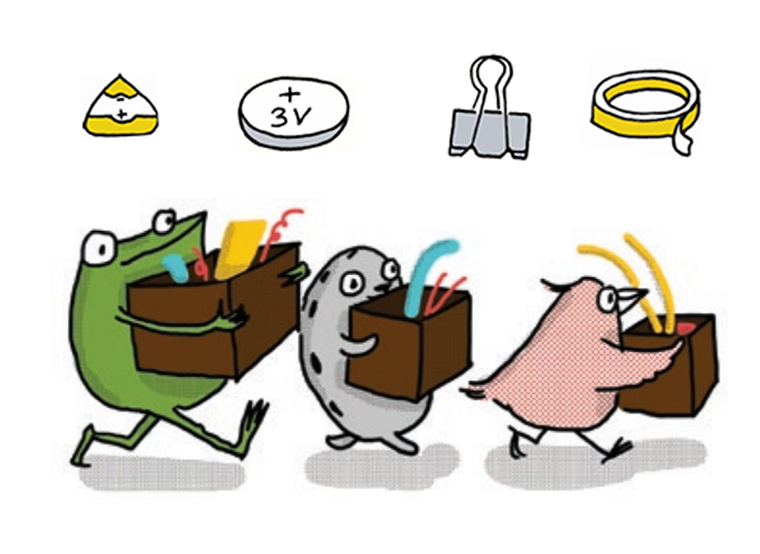 Use these conductive materials to build circuits without soldering or wires.
• Copper Tape: make beautifully flat circuits on paper! Available in a single roll or set of six.
• Pressure sensitive plastic: use this pressure-sensitive plastic to create papercraft sensors that respond to bending or pressure.
• Conductive fabric tape patches: flexible fabric tape stickers with conductive adhesive that can patch gaps in circuits or allow you to create durable hinges.
---
Chibi Chip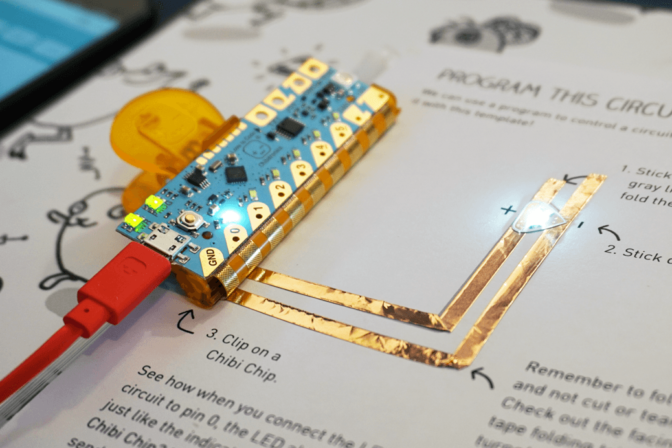 The Chibi Chip is the heart of the Love to Code (LTC) system. You can use the Chibi Chip to bring life to your Chibi Lights LED stickers by making them blink and fade.
• Love to Code Kit: includes the Chibi Chip, stickers, copper tape, and a tutorial book. For younger learners, we recommend getting the Microsoft MakeCode version since this leverages block-based coding, a friendly introduction to coding. For those with coding experience, the Love to Code Kit uses text-based Chibi Script, similar to Arduino, to code the lights.
---
Chibi Scope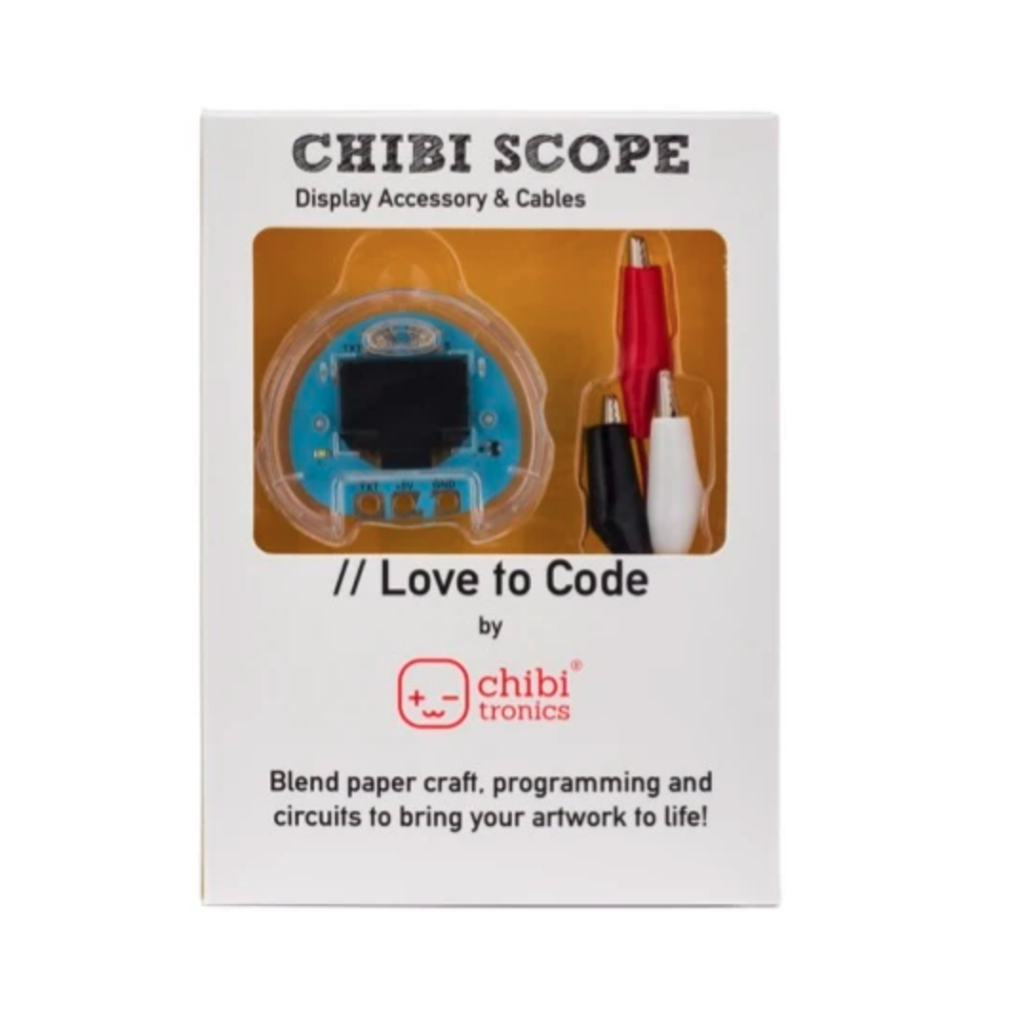 The Chibi Scope is a tiny screen designed to help you understand what's going on inside your Chibi Chip. It connects to your Chibi Chip using the three included alligator clips and enables 3 functions: text, volts and wave. With text, you can print to the screen, with volts, you can measure voltage, and with wave, you can visualize signals that change over time.
---
Craft Kits / Collaborations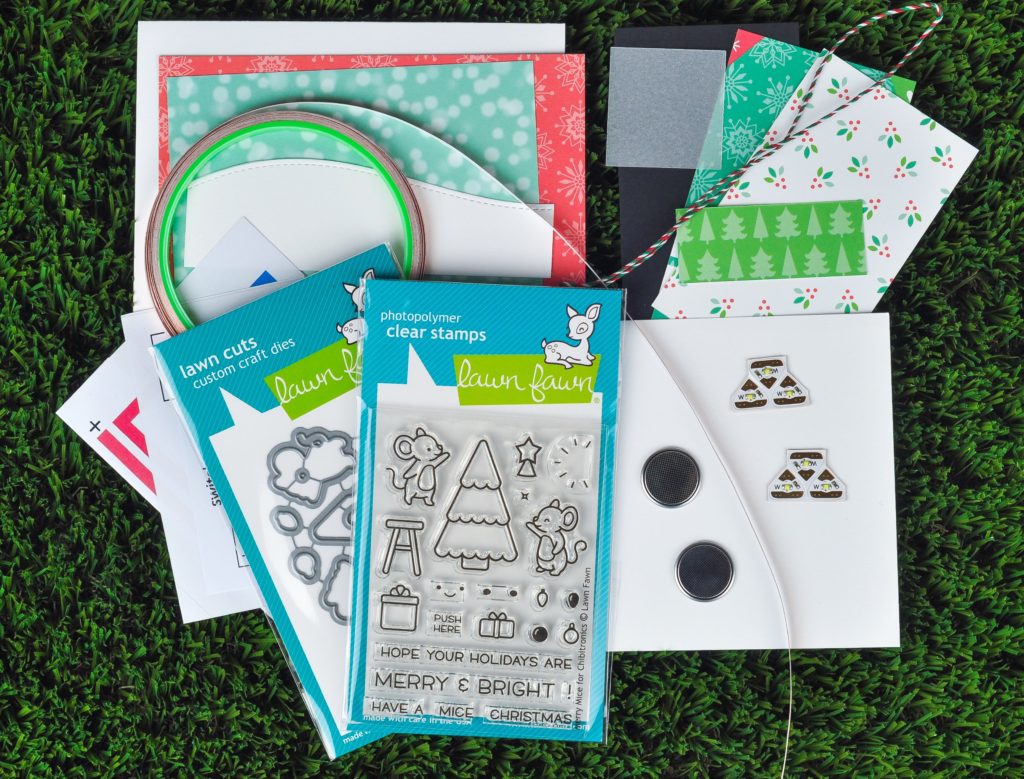 We love to do collaborations and you will see limited edition kits with some of our favorite people, including Lawn Fawn, Ellen Hutson, and others. Keep an eye out for these special editions.
Educators
Ready to get Chibitronics in your classroom, library or makerspace? Visit the Education section of our website for free lesson plans and templates, suggested supply lists and our handy buying guide. You can also apply for our educator discount (homeschool educators also welcome)!
---
Community Created
Browse our blog, student gallery and art gallery to see what students, teachers, artists, and crafters in our community are creating with Chibitronics products!