Hack Your Notebook
Pocket-sized booklet series for educator professional development workshops. These booklets contain simple personal paper circuitry projects you can complete in one sitting, connecting traditional literacies and new technologies for making and creating.
Contents
Background
Walkthrough Videos
Booklet Contents
Write-ups & Reviews
Book 1: Illuminate Your Thinking &
Book 2: Engineer Your Materials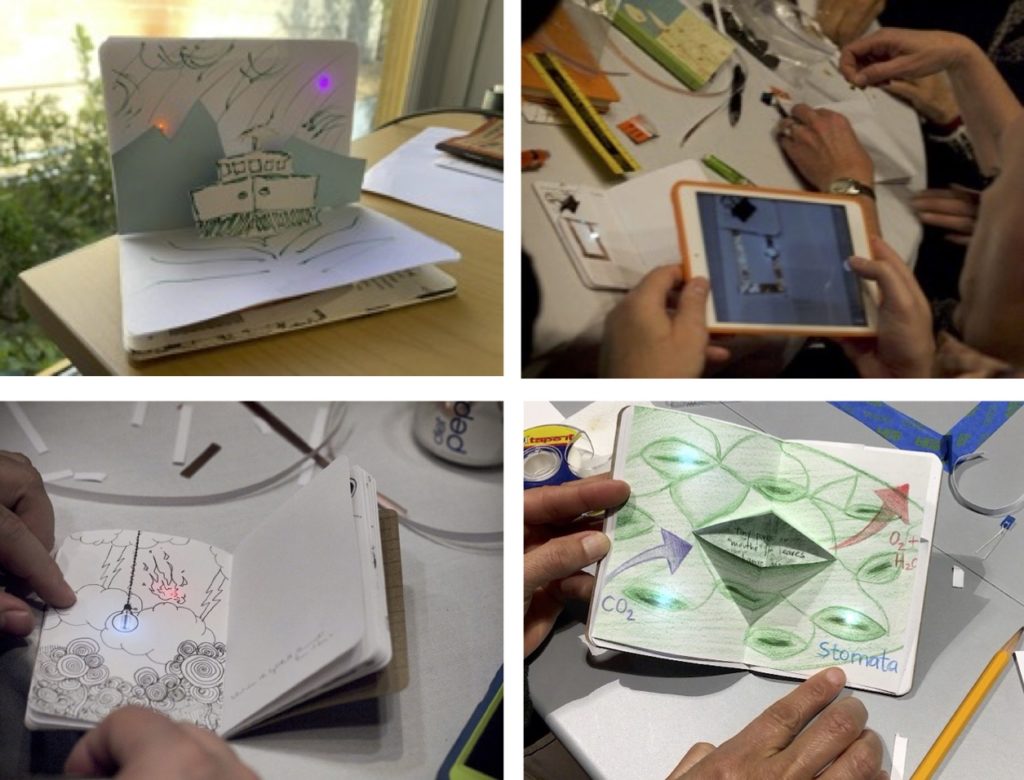 Topics
craft, art, literacy, paper circuitry, pop-up, STEAM-learning, educator networks, teacher training
Background
The Hack Your Notebook book series was developed as a pocket-sized booklet series for educator professional development workshops – a personal project you can complete in one sitting, making the connection between traditional literacies and materials and new technologies and ways of making and creating.
Prototyped with the National Writing Project, Chibitronics founder Jie Qi, and Natalie Freed in 2013 and 2014, expanded and re-issued in 2019 via a NEXMAP Kickstarter, now you can bring the two introductory passport-sized booklets, Illuminate Your Thinking, Working with Paper Circuitry and Engineer Your Ideas, Working with Pop-up, to your next workshop session, training or make cycle.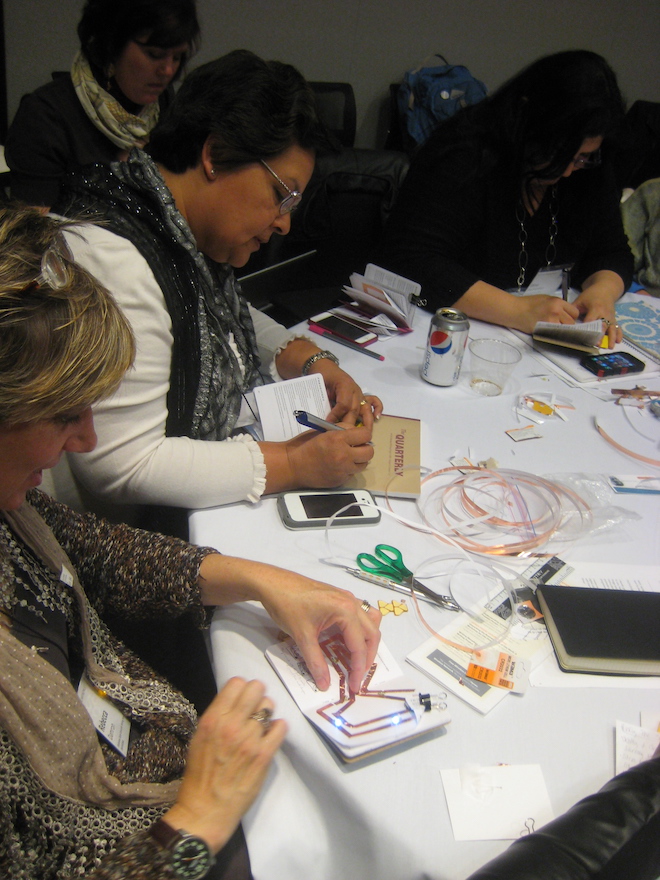 Walkthrough Videos
Book 1
Illuminate Your Thinking: Working with Paper Circuitry
Book 2
Engineer Your Materials: Working with Pop-Up
---
Booklet Contents
Essential Questions
The booklets are organized around essential questions – What if your notebook had a lightbulb moment? What if you could tell a story using light and paper so it pops off the page? The inside covers, front and back, offer space for notes and annotation in response to these questions.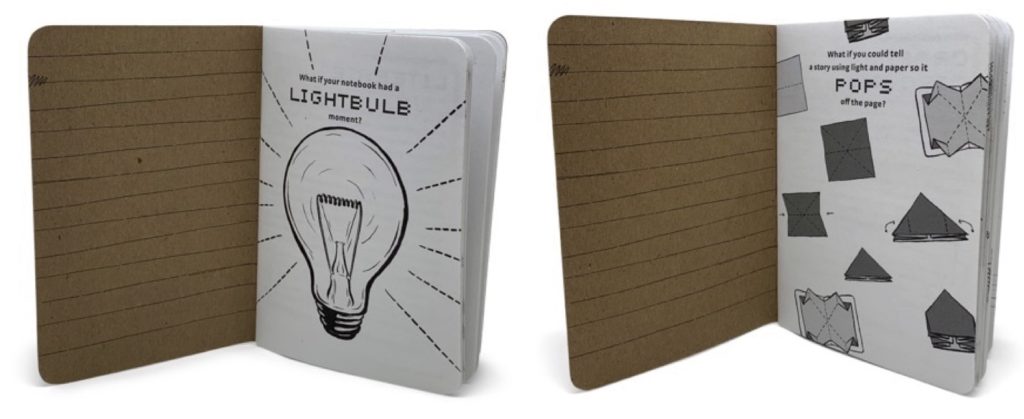 STEAM Learning
Each book is organized section to section to support a dialogue on teaching and learning with a hands-on, in-booklet activity, beginning with remarks on educational practices, craft and materials, and STEAM-Learning.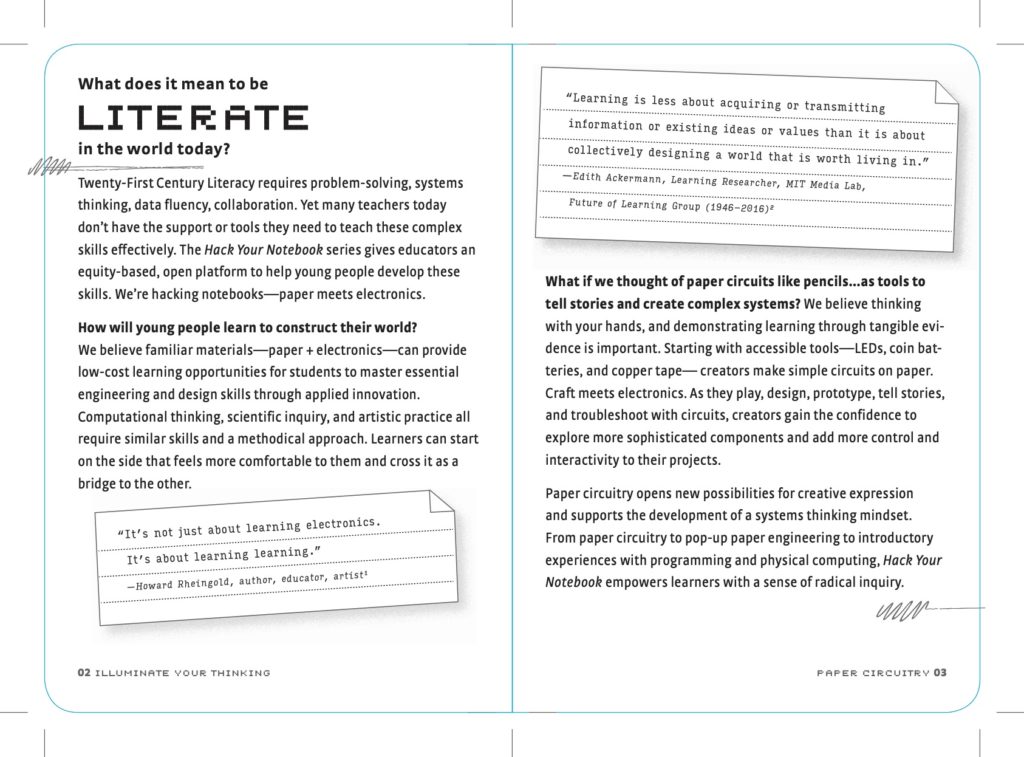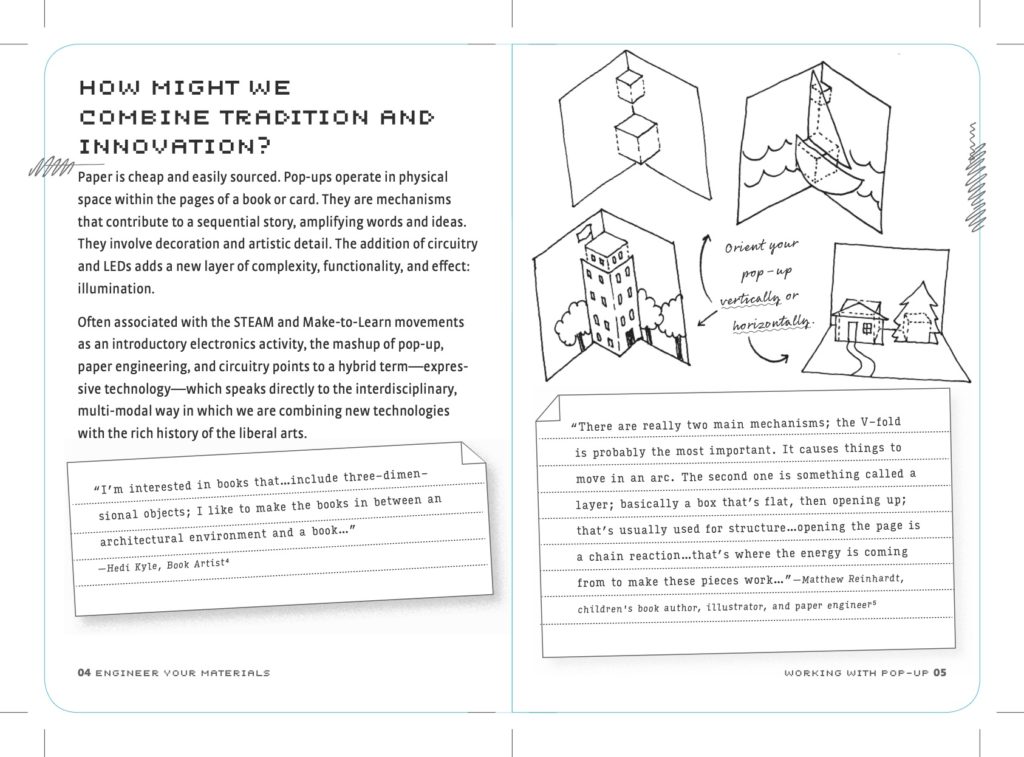 Artist Projects
The in-booklet activities are built around an artist's project – a simple circuit from Jie Qi's Circuit Sketchbook and a pop-up story from Susan Lowdermilk; these sections begin with a quote from each contributing artist and engineer.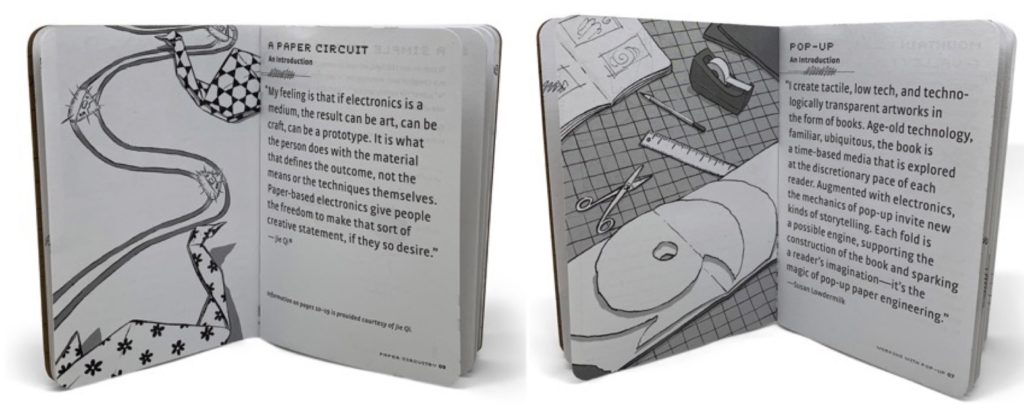 Tips for Assembly
Each project includes advice on materials, craft technique, and detail on the layout of the circuit templates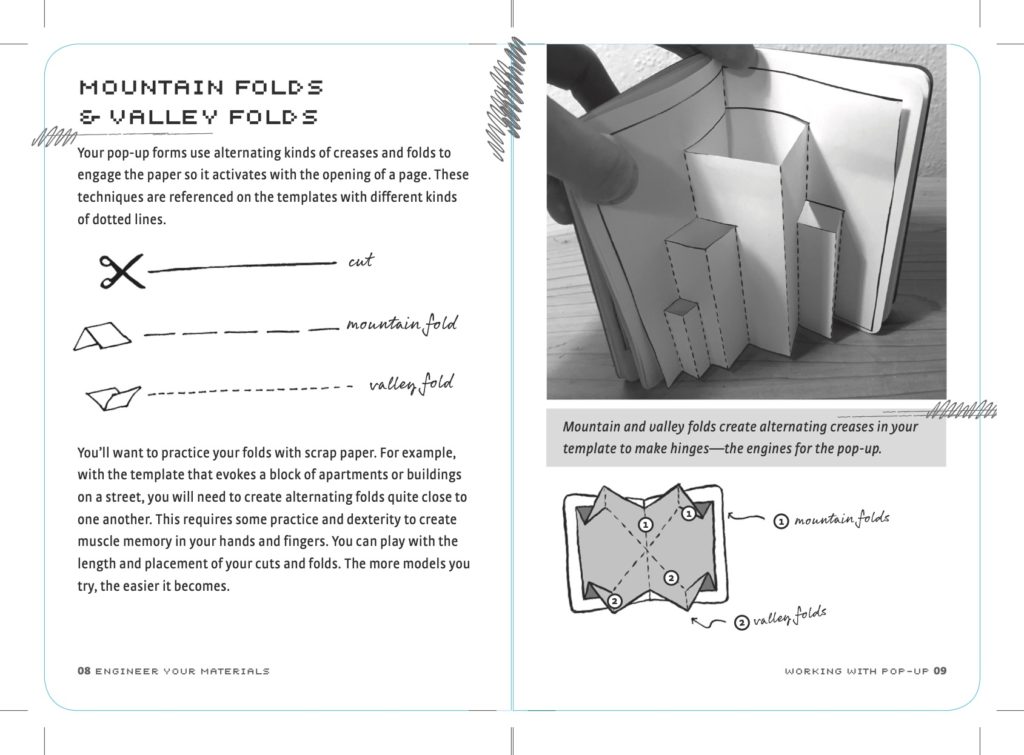 Design Cycle
The layout of the booklets, the sequence of thinking, annotating crafting, and completing a project – along with the feedback encouraged in the last section of the booklet "My Idea" – is organized to reflect a familiar design cycle.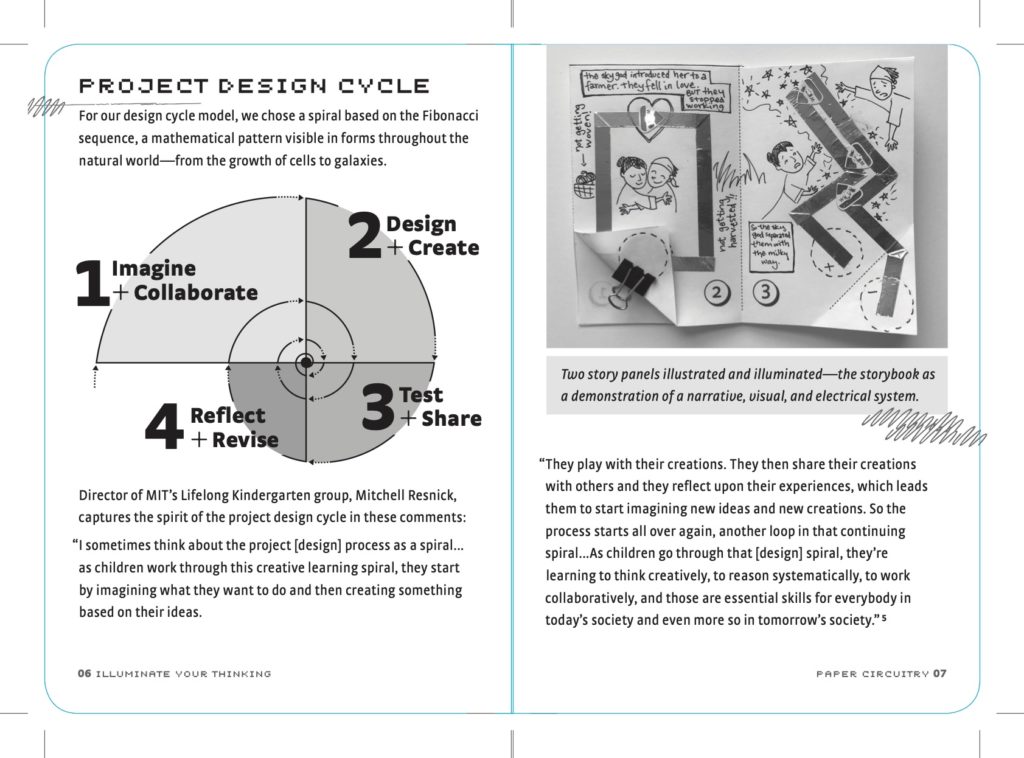 Story Boards
A sample project is presented through each of the four stages of the design cycle. In Book 1, a Night Sky Activity illuminating constellations; in Book 2, a Neighborhood Mapping Project with Pop-up.
"Your Idea"
The last step in the project includes a reflection and shareout. A two-page spread offers space for notes on a potential project to bring back to your program or classroom.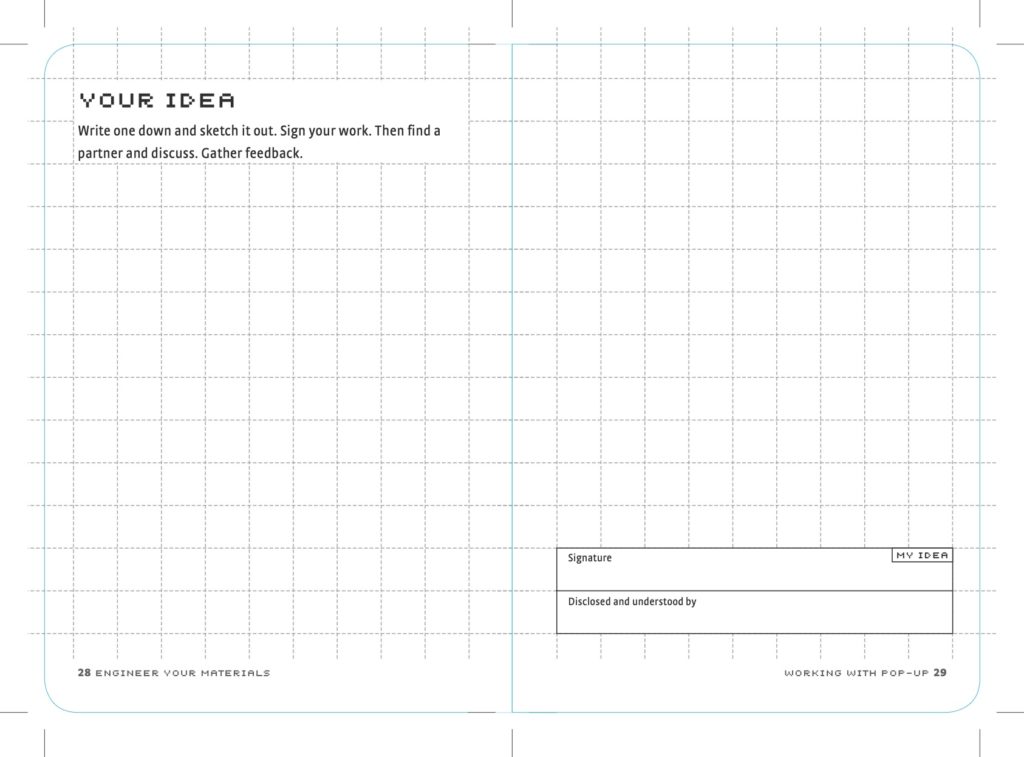 The layout invites sharing the idea with a peer, a chance for feedback; "reviewers" sign their names to a project as a closing step in the activity.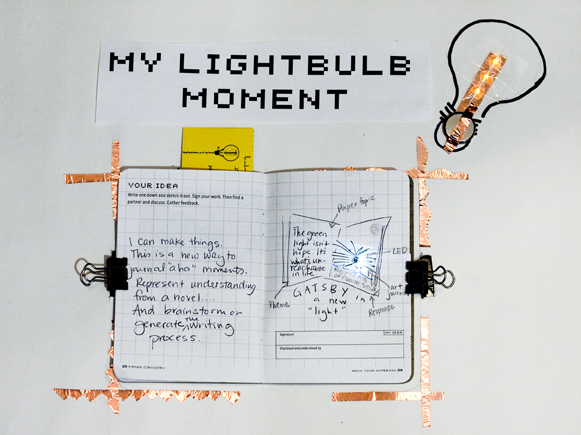 Write-ups & Reviews
The following are reports and reviews from various educators who have used our Hack Your Notebook booklets in their classroom or workshop settings.
By Colleen Geiger, University of Pennsylvania Dept. of Education
By Paul Oh, School Library Journal
By Dr. Mia Zamora, the Connected Learning Alliance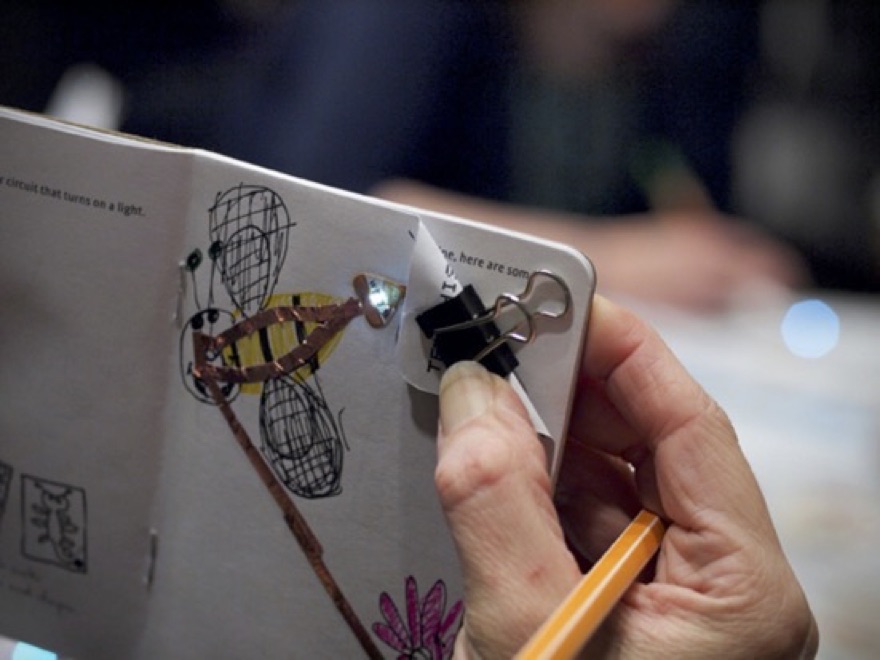 Featured Products