Our circuit stickers debut at CHA and had a great reception with crafters and artists at the Mega Show.   We were excited to show everyone how circuit stickers could add light to their favorite paper crafts, mixed media, textiles, and more.
We started off by creating a beautiful party pennant banner with our company name.  Jie created parallel circuit tracks outlining the borders of each kraft triangle, and added circuit stickers.  The banner light up, and was a great draw into our booth.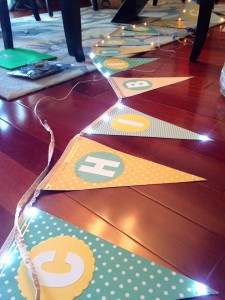 As we decorated our booth, some nice ladies walking by suggesting making a sign with the LED circuit stickers that would light up.  Similar to the pennant banner, this was a parallel track surrounding the sign.  We added as many circuit stickers as we could to make sure the message shined!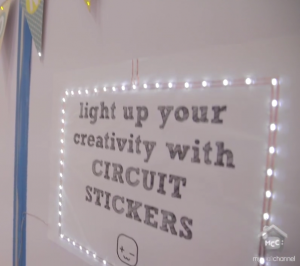 In our booth, we had lots of examples of how the circuit stickers could add light to popular craft projects.  We lit up rosettes, cards, textiles, scrapbook pages, Kraft letters and more with lights.  The crafters got excited to see how circuit stickers added another dimension to their crafts.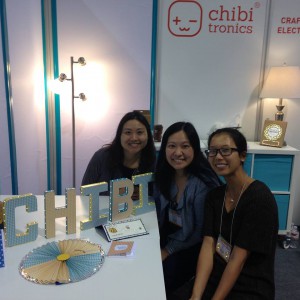 We look forward to coming back in 2016!
Chibitronics at CHA Mega Show