Love this pizza set from Lawn Fawn!
Materials
Card base: 4.25"W x 11"H white cardstock scored at 5.5" mark
Red and white checked sheet: 4.25″W x 3″
Lawn fawn stamps
Lawn fawn ink pad (black and green)
Chibitronics LED Circuit Stickers
Copper Tape
Coin Cell Lithium Battery
Markers
Directions.
1. Create a paper battery holder and attach to the front of the card base. Mark where the lights should be. Create a parallel path/circuit to those lights. If copper tape needs to cross over a separate piece of copper tape, make sure to insert plastic tape between the two copper tapes to avoid a short circuit. Add battery and lights.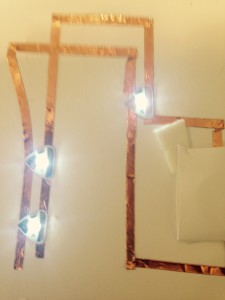 2. Add red and white checked sheet on top of circuit so that only the light appears. Use Lawn Fawn stamps to create fun pizza shapes. Use adhesive to stick pizza shapes on top of red and white checked sheet.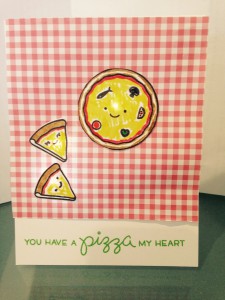 You Have a Pizza My Heart Card (Lawn Fawn & Chibitronics Designer Promotion)