In late June, we attended our first ISTE conference in Denver, Colorado! We had applied for and had gotten into the startup expo, a pavilion with 32 start-up companies in ed-tech. We had a little booth, which we lit up and met with lots of great educators.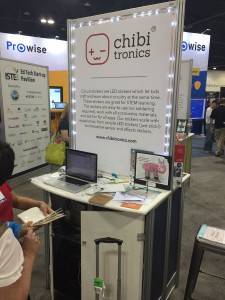 It was nice to see old friends. Thanks to Jackie and Colleen for leading workshops at ISTE.
We met some new friends, including a very friendly puppet. Watch Jie's interview.
Jie also lead a workshop "Circuits as Crayons," and the educators loved learning how to build simple and complex circuits.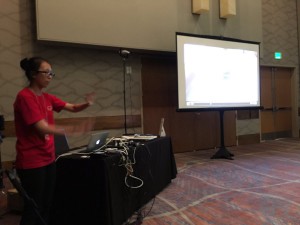 Here are some sweet projects made by educators that came to our workshop:
So much fun #artsed #k12artchat #ISTE2016 @chibitronics pic.twitter.com/QhC2xREtiE

— Joy Schultz (@joycschultz) June 28, 2016
Learning parallel circuit with @technomaven Awesome workshop👍❤️💡 @chibitronics #ISTE2016 pic.twitter.com/IMLmsveFsi

— SHS Technology (@shs_technology) June 29, 2016
Some of the creations for the @chibitronics session #ISTE2016 pic.twitter.com/iSSwphbC4N

— MBIS_Tech (@MBIS_Tech) June 28, 2016
After the hands-on making portion of the workshop, we also shared a list of resources. Please feel free to add to our list!
We had a great time in Denver, meeting wonderful educators everywhere. We look forward to seeing everyone next year!
Our First ISTE Appearance