Hi, crafty friends!
This is Eiko and I make light up treat box using Lawn Fawn scalloped treat box dies.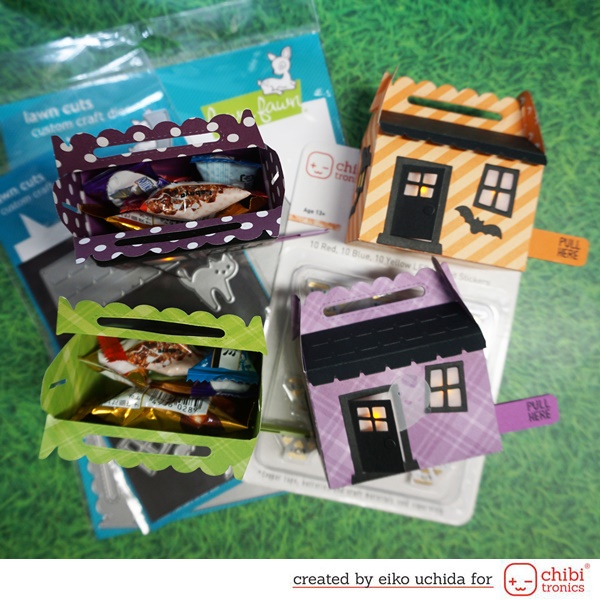 This treat box has thin circuit so you can put sweets inside.
The basic version glows only on the front side and the advance version glows all sides.
~Basic version~
Die cut a pattern paper with a treat box die.
Die cut a treat box part with the door and window dies.
Prepare doors, windows, ghost, bats, tree, cat and pull tab parts.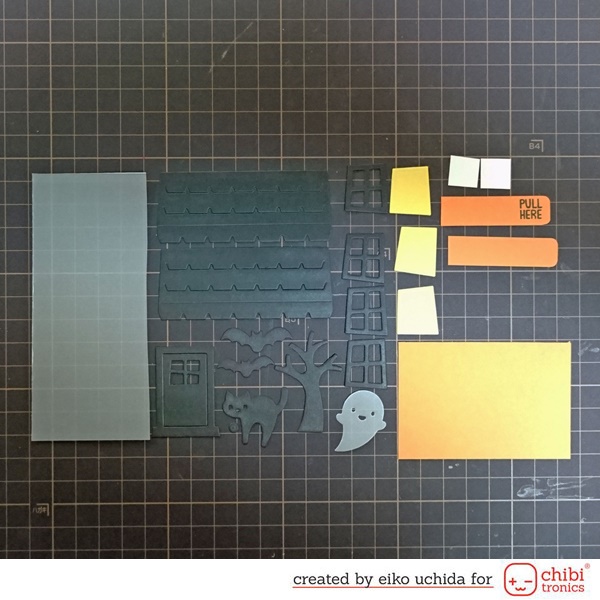 Put treat box part on orange cardstock and marking my lights with a pencil.
Write the position of the Chibitronics and the battery, and make a slit in the lower right part.
Draw the circuit with a pencil.
Adhere the copper tape on the drawing path.
Place the battery on the copper tape with the positive side up and adhere the plus side copper tape on the battery.
Adhere yellow Chibitronics LED stickers.
Make cross-shaped parts like this.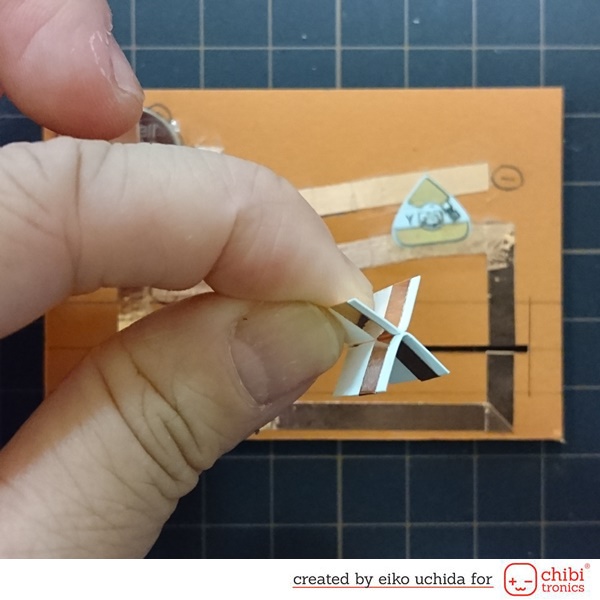 Insert the switch part into the slit.
Adhere the pull tab parts on the switch parts with double sided tape.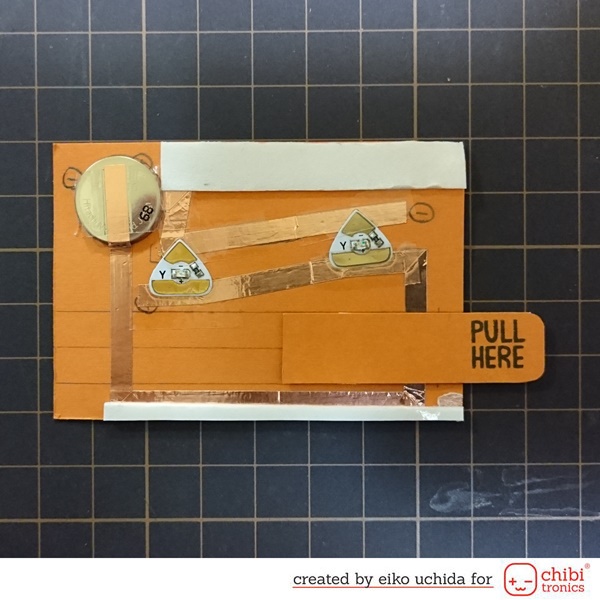 Adhere vellum paper on the back of the door and window.
Adhere the door, window and bat parts on the treat box.
Make a slit for the pull tab.
Adhere the two treat box parts and apply double-sided tape to flap.
Adhere the flap of the part with the slit.
Through a pull tab on the slit, adhere the circuit-attached card base to the treat box.
Adhere the all flaps.
Adhere the roof parts on the treat box.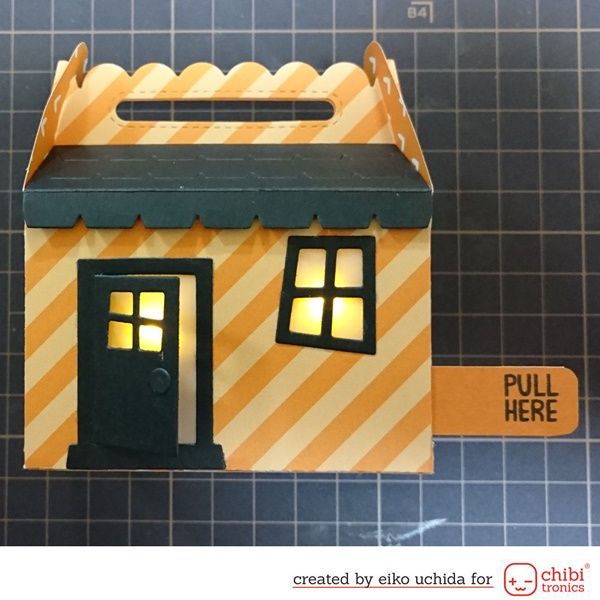 ~Advanced version~
Prepare treat box and parts as well as basic version.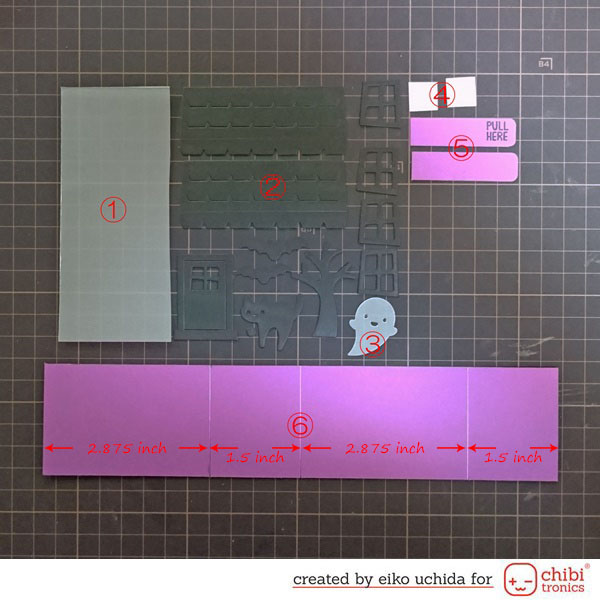 The circuit of Advanced version is like this.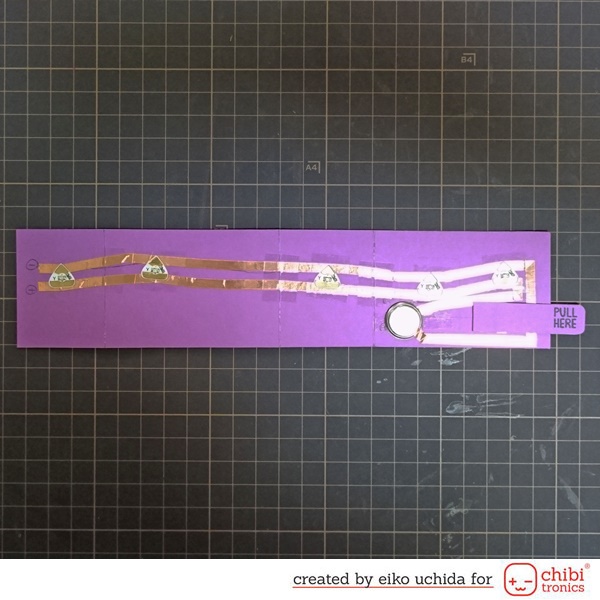 Assemble the treat box like the basic version, adhere the circuit card base inside.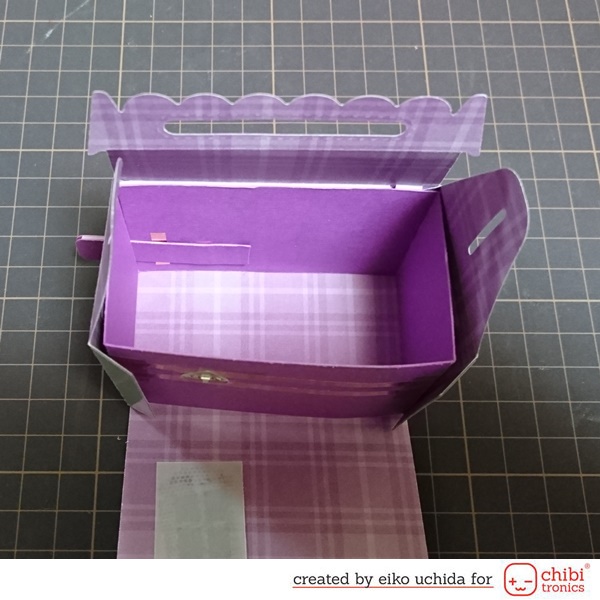 Adhere the roof part on the treat box.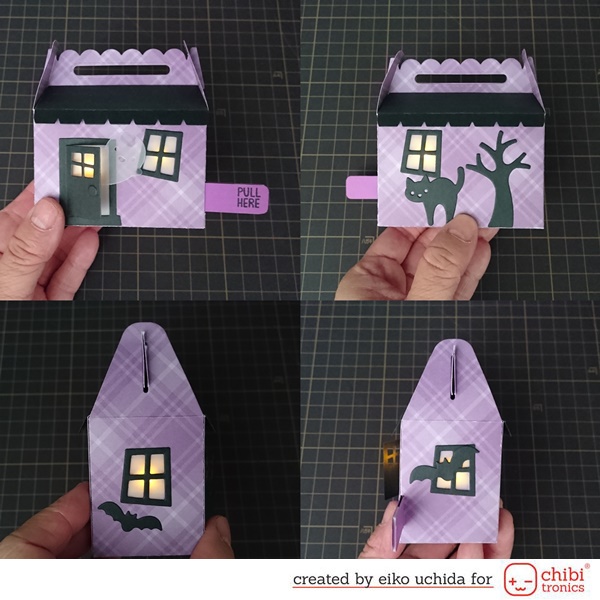 All the windows are shining!
Do you understand how to make shiny treat boxes?
Once you master it you will be able to shine 3-D houses as well!
There is also a Christmas version of this add-on die so you can enjoy it during the Christmas season.
Be sure to check out the whole video tutorial for more details.
>>>How to make light up Halloween treat box.
And please see my blog for detailed tutorial.
Thank you for stopping by.
Eiko Uchida
~Supplies list~
3V coin cell battery (CR1616)
How to make light up Halloween treat box