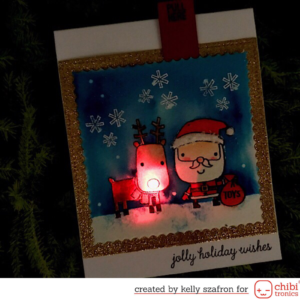 Hello, Kelly Szafron here with a card made with fun stamps from Reverse Confetti and a red LED from Chibitronics.  I made a slider to switch on Rudolph's nose using instructions from Eikos post here.  I really enjoyed how simple it was to make this slider switch.  I made my card by stamping my images on watercolor paper using ink suitable for watercolouring.  I then masked the stamped images and the ground using masking fluid.  The sky was made using Turquoise and Blue Brusho powders.  Once the sky was dry I removed the masking and watercoloured the deer and Santa.  The snow flakes were stamped and heat embossed with a sparkle white embossing powder from Wow.
I watched Eiko's  excellent video to learn how she made her slider switch.  Photo below is actually from my first attempt to build a circuit for my card.  I found this circuit didn't work as well as I liked because the copper tape on either side of the slit for the slider did not line up so the circuit was not completed when the tab was pulled.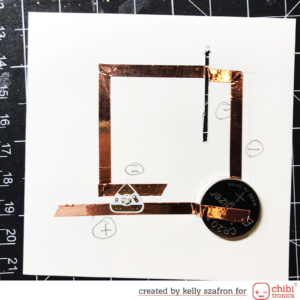 I also found that when adhering the pieces together to make the cardstock x for the slider liquid glue worked well for me.  I used a thin line of liquid glue to adhere the two folded pieces of cardstock together and let it dry for awhile to make a strong bond.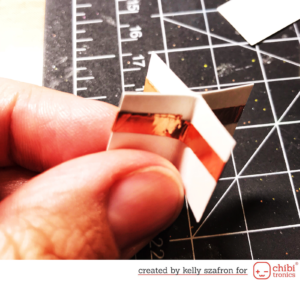 The photo below shows my completed circuit before I adhered the watercolored piece ontop.
I used a Lawn Fawn stamp to instruct the recipient to pull the tab to light up the card.  The dies I used for this card to create the decorative border are from Mama Elephant.
Thank you for stopping by.  I hope you are inspired to make a fun interactive card with a slider switch.