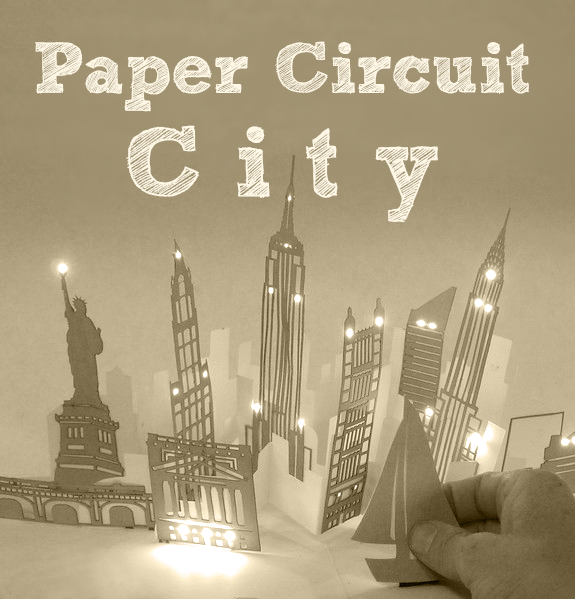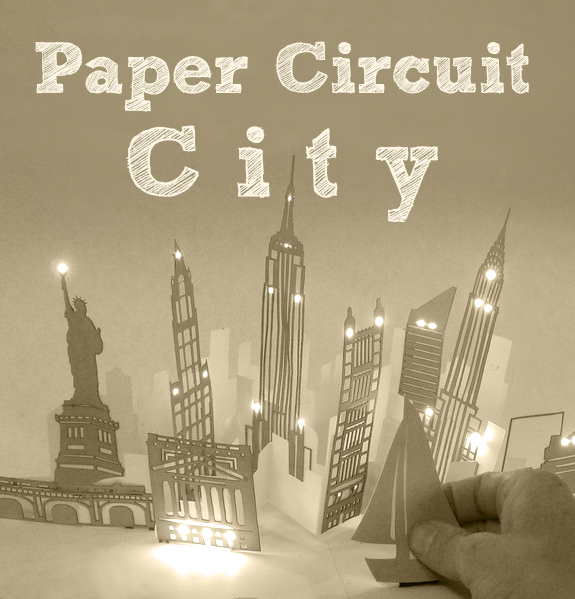 Chibitronics will be presenting at this year's Computer Science Teachers Association (CSTA) Virtual Conference. Want to join us? See all the details below.
When: July 13-14, 2020 (Registration is open until July 8!)
Where: Online! Find out more and register here.
What: We'll be presenting two sessions – 5 Stories from the Land of Paper Circuits and We Programmed This City.
5 Stories from the Land of Paper Circuits
July 14, 2020, 12:45 PM – 1:30PM CT
Educators have been bringing maker activities into the classroom for a while now, but what happens after that initial empowering experience? How do we bring our students to a real depth of knowledge? Creative educators worldwide have inspired students to collaboratively build expressive electronic circuits using paper and paper-friendly microcontrollers, LED stickers, motors, and sensors, integrating media arts, coding, and maker mindsets. This presentation explores a media art that blends papercraft, circuits, and coding. With the help of creative craft activities and the Love to Code interactive storybook, learning to code can be fun, friendly, and expressive. Students learn programming concepts including digital and analog I/O, control flow, variables, and multithreading, all for the purpose of storytelling. By sharing true stories from five "neighborhoods" in the Land of Paper Circuits, we invite educators to bring arts-integrated, hands-on/minds-on learning opportunities into virtually any content area. Attendees will hear personal stories from the artist-technologist-inventor behind Chibitronics and from school administrators, educators, and students who have gone beyond introductory "blink the LED" activities into deep learning and real-world applications. We will explore examples of classroom projects, discuss how blended art and engineering approaches can be applied in classrooms across disciplines, and share ideas for developing new classroom activities. Attendees will receive resources including research-based standards-aligned learning activities that they will be able to use back in their own schools. All resources will be posted online, and participants can learn from each other as they contribute ideas to a shared Google Doc. Takeaways include an appreciation for the value of expressing ourselves through storytelling and a deeper understanding of how hands-on/minds-on learning activities can help our students build a habit of practice of using these skills in their daily lives. This session will inspire educators to provide learning opportunities for students that develop skills in authentic processes of computational thinking, including problem-solving, critical thinking, inquiry, inventing, exploring, and discovering.
We Programmed This City: Using Paper Circuits to Explore a Smart City Design Challenge
July 14, 2020, 2:30 PM – 3:15 PM CT
In this session, we will explore the intersection of engineering, art, and design through the lens of a "paper city" design challenge. We will begin with an introduction to paper circuitry as an approach to broadening ideas about what technology can look and feel like. In contrast to traditional electronics materials such as wires and breadboards, paper circuits makes use of familiar craft materials such as tape, paint, and stickers to build working electronics that look and feel like paper but, through the power of circuitry and code, can come to life with sensing and interactivity. These materials enable a multifaceted approach to STEAM learning, combining hands-on making, computational thinking, artistic expression, and integration with other content areas such as the social sciences. Following the introduction, participants will have the chance to dream up paper cities of their own in response to a group design challenge.
Who: Four members of our education team will be there to share their experiences with you!
Barbara Liedahl – Media Arts Instructional Specialist, Prince George's County Public Schools
Ivy Daniels – IB Design Teacher, Prince George's County Public Schools
Natalie Freed – Instructional Designer, Chibitronics
L Susan Brown – Instructional Specialist, Chibitronics
Hope to see you there!
Chibitronics at CSTA 2020