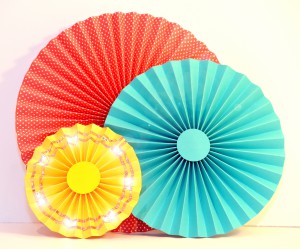 Materials
Cardstock
2 Strips of copper tape
1 Coin cell battery
1 Binder clip
12 circuit stickers
Foam stickers
Hot glue
Directions
1. Accordion fold each sheet of paper lengthwise at 3/4″ intervals. Take one accordion and adhere the ends of one side by folding it in half. Repeat for all three accordions. Connect the three accordions together at the remaining exposed edges with hot glue, forming a circle.
2. Create a paper battery holder. Clip in back of rosette with binder clip.
3. In the back of the rosette, connect copper paper strips to paper battery holder and then move to the front to create a parallel circuit.
4. Add desired number of circuit stickers.