This month we introduce artist and educator Lindsay Balfour. She creates inspiring works of interactive art with paper electronics and generously shares these creative experiences with others by designing and teaching workshops at the Children's Creativity Museum in San Francisco as well as other museums, libraries and schools across the nation.  Here she tells us her story, creative process and insights for other makers!
What is your story?
I started specializing as a medical and scientific illustrator and designer at the University of Michigan in the Penny Stamps School of Art and Design with a minor in Environmental Science. My goal was to develop a series of skills exploring different materials and techniques to become a well-rounded maker and build an understanding of science. What I didn't expect was to fall in love with paper: laser cutting hundreds of pieces to assemble glowing paper sculptures, gluing with needle-nose bottles pop-up chameleons feeding itself candy, I was addicted and became my hobby.
 Since then I moved to California to work at The Tech Museum of Innovation partnered with the Maker Education Initiative for the summer makerspace program to develop hands-on learning, design challenges with educational technologies embodying science, engineering, art, and math concepts.  I now work as a full time Educator at the Children's Creativity Museum in San Francisco as the Innovation and Tech Specialist taking the lead on teaching coding experiences for school groups, mentoring young professionals, and building workshops exploring educational technologies. And if that wasn't enough, outside of my job I teach paper circuit and pop-up workshops in libraries, schools, and universities.  I design these workshops for children as young as 8 up to leading professional development sessions with teachers. I also participate in artist residencies to make art installations of my own!

What are the things you like to make?
The content of my work tends to revolve around animals and insects, with my favorite being deep sea creatures. I have made giant paper jellyfish with hundreds of laser cut pieces assembled to create a well-textured and detailed creature looking as through it was about to swim from the wall. I explore the mechanics of paper used in pop-up design and sculpture and then integrate electronics to showcase technology as a tool and material for creative and artistic expression. I love making work that combines my linework in illustration with copper tape and circuits. My work is the intersection between fine art, physical computing, and fabrication techniques.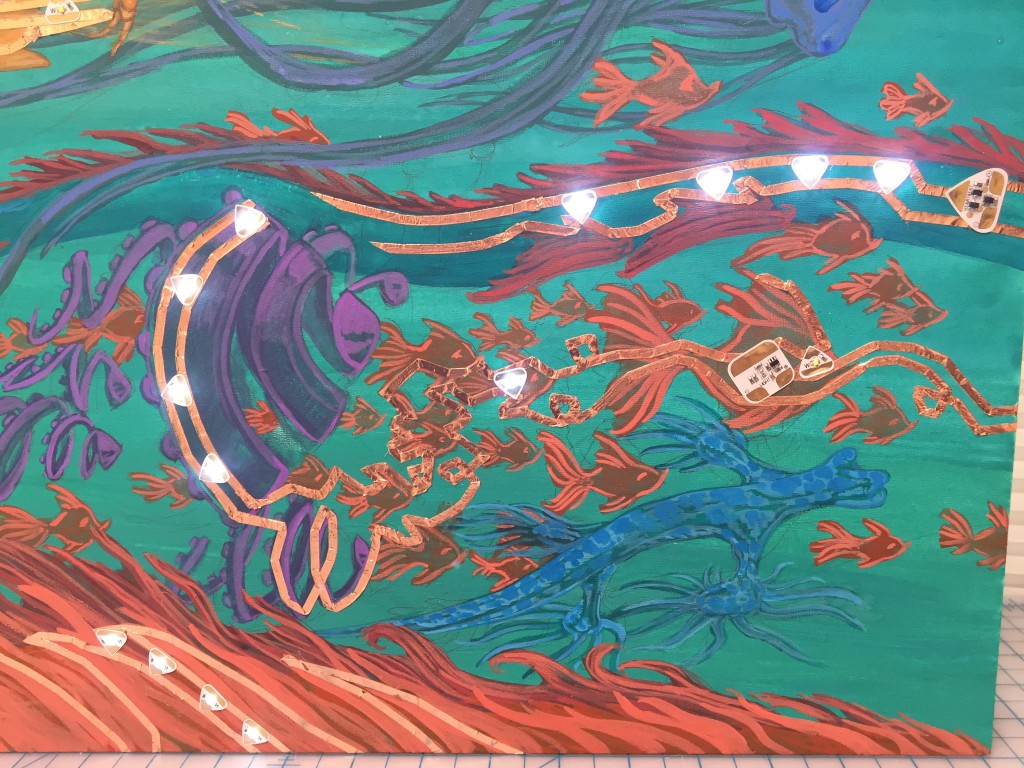 What is your favorite personal project
One of my favorites was an interactive gouache painting of imaginary jellyfish, siphonophorae, and fish on illustration board. I loved this project in particular because it was a medley of the large set of skills I had: drawing, painting, soldering, electronics, and even using code! Once I finished the painting I began to outline the creatures with thin pieces of copper tape and designed several circuits using the LED, microcontroller, and sensor circuit stickers powered by the coin cell battery packs on the back of the board. This lead to the title of the piece: Seacuits!
How would you describe your creative making process?
I draw, a lot! Before I make anything I always sketch my ideas as it helps ignite my creative making. This has always been such a natural occurrence to me since I was a child as drawing was hands down my favorite activity. I might draw on a piece of butcher paper just to brainstorm for color or sketch the layout of a space for the facilitation flow of a workshop. From there I may start to handwrite a list even drawing the individual materials then color it all in for fun as it helps stem my idea right into the planning process and then I may even start making from there if the materials are available.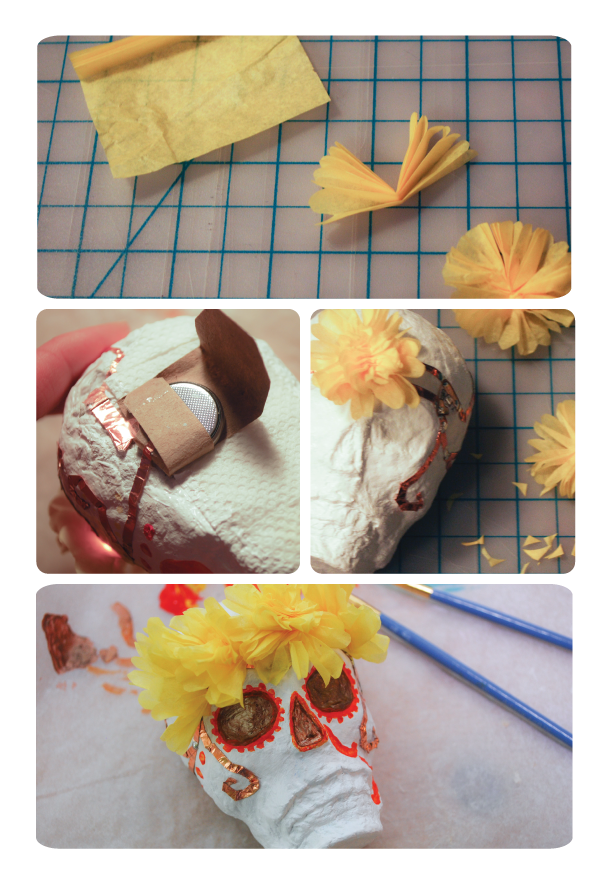 I am someone that tends to dive right into making with less focus on planning at times, which is why drawing tends to ground me. However it also helps me foresee challenges ahead of time if I try to accurately draw the project out. Of course when I start to make, I try to leave about 70-80% of the idea figured out with the rest open for improvising or even mistakes because I embrace process as having a few surprises along the way.

What inspires your making?
I'm inspired a lot by archaic illustrations found in medical and scientific texts as well as modern day art books. My favorite artists known for their intricate work have been Ernst Haeckel with his beautiful illustrative plates, Rogan Brown for his extremely detailed paper cut microbes, and Eric Gjerde for hissingle sheet paper tessellations. I also love one of the creators of Chibitronics, Jie Qi for starting a movement in paper electronics and her beautiful Pu Gong Ying Tu painting. I'm often around Maker Faire or at makerspaces looking and asking about other maker's projects to help inspire my next art-tech project.
What helpful hints do you have for future makers?
I encourage all future makers, especially young makers, to explore many forms of making: sculpting, welding, slip casting, mold making, soldering, coding, drawing, sewing, etc., then take your ideas and cross-pollenate different project ideas through different forms of making! Sometimes odd combinations may emerge, but this also leads to developing the ability to rapidly iterate ideas and beginning to explore more ideas.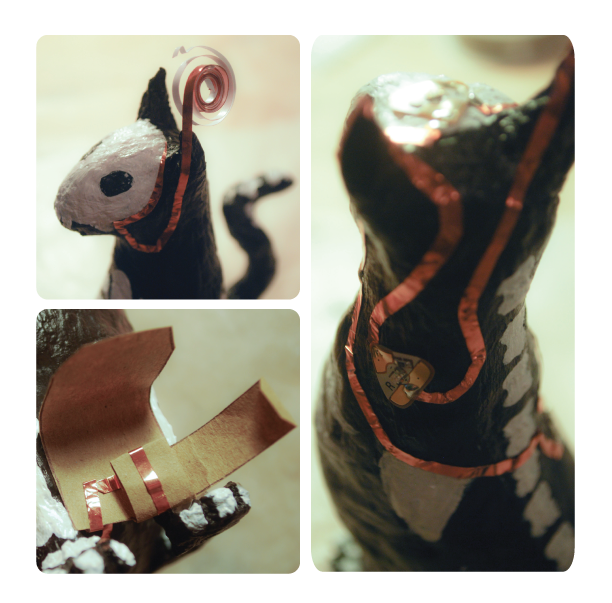 Excited to give these techniques a try?  Check out Lindsay's tutorial on sculpting circuitry with paper-mache Calavera and Calacas!
What is your favorite thing about Chibitronics?
From both and educator and maker's standpoint Chibitronics circuit stickers have been an excellent hands-on guidance for teaching anyone completely new to electronics about how it works as well as start to develop an appreciation for technology in everyday objects. The circuit stickers have served a great purpose for teaching electronics and science to younger children due to scaffolding a circuit-building activity with "stickers," with the potential to lead into soldering, introducing microcontrollers and even programming! I love Chibitronics because they are inspiring anyone to learn how to be creative with technology.
Images: Courtesy of the maker
Thanks so much Lindsay for sharing with us your beautiful work, inspiring story and tutorials so that we can all participate in creating!  
To learn more about Lindsay's work, check out her website at lindsaybalfour.com and follow her latest news on her twitter @MakeyLindsay.
If you would like to be featured in the Meet the Chibi Maker series, contact us at info@chibitronics.com. We would love to share your creative projects and stories.
Meet the Maker – Lindsay Balfour