Shelby Arnold is an amazing artist, who teaches paper electronics and other crafty subjects at NYC Resister, a hackerspace in Brooklyn. She makes pop-ups, sculptures, and other projects. For more information and to see more of her beautiful pieces, please visit her Shelby Makes website.
1. What is your story?
I've loved paper since I was a kid. I was always checking piles of books about crafting and origami out of the library and making things with paper scraps and scotch tape. Early on while I was studying graphic design at Pratt Institute, I heard about a paper engineering class being offered and jumped at the chance. The class was taught by Matthew Reinhart, an incredible paper engineer. He was also working with Robert Sabuda at the time, before the class even started I knew I wanted an internship making pop-ups in their studio!
In our first class session we learned how to make two very simple mechanisms, the layer and the v-fold. I went all-out on my first project and made a tiny 30-piece orchestra, all raising their arms to play a note. After I started at the studio (my main job in the beginning was cutting pieces out…we didn't have robo cutters yet!), I knew I never wanted to leave! I've worked on at least 15 or 16 pop-up books by now.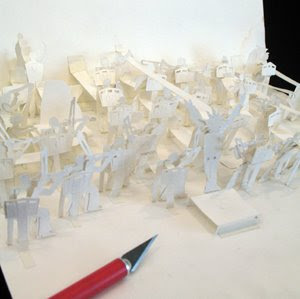 About 7 years ago, I joined NYC Resistor, a hackerspace in Brooklyn, and started learning about electronics. Now I'm still there, teaching paper electronics and other crafty subjects!
2. What are the things you like to make?
In addition to pop-ups, I love making sculptures and objects that have a theatrical, interactive, or immersive quality about them. I also love using light with paper, since paper diffuses light so well and is such a flexible medium.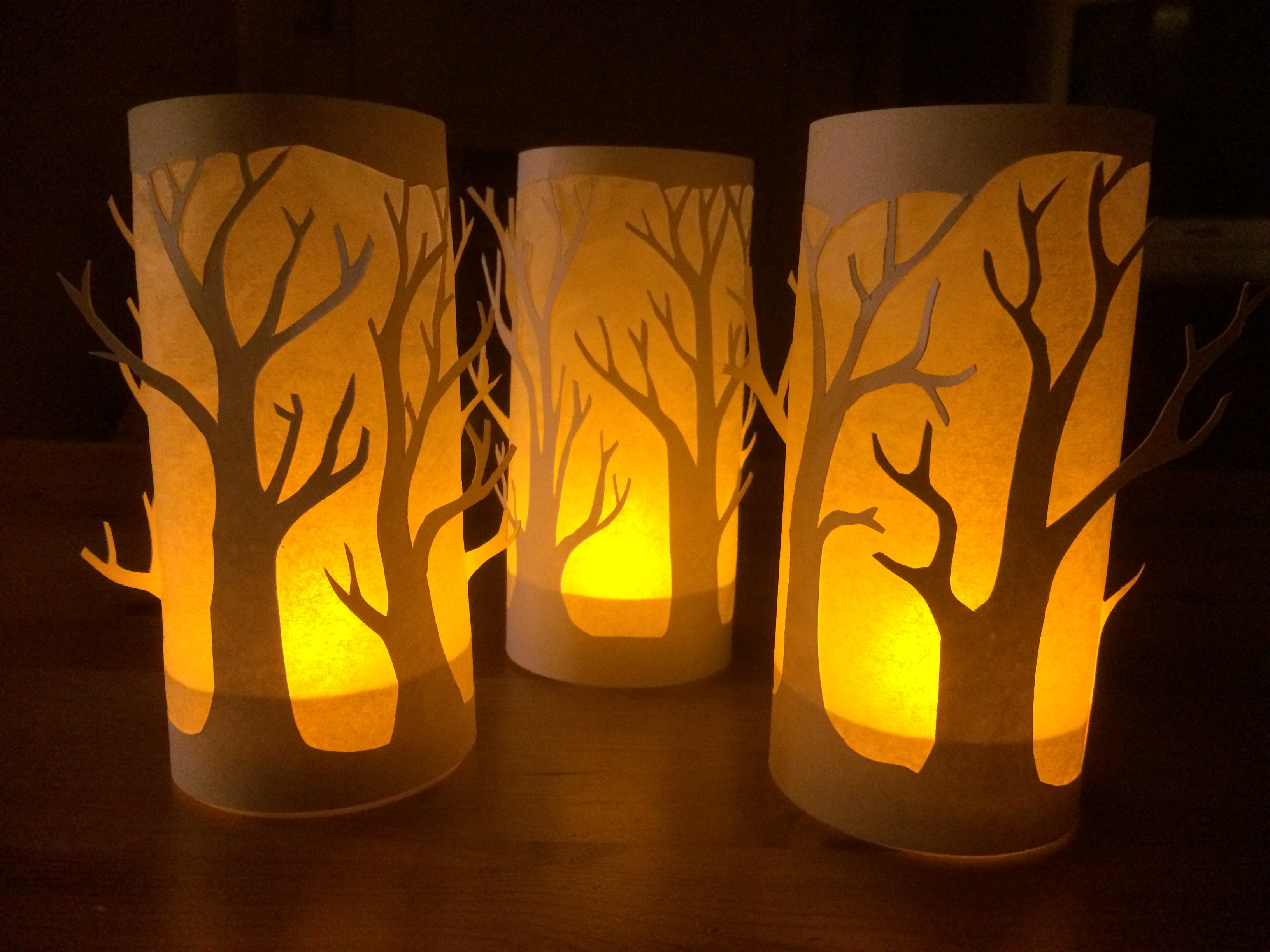 My first foray into using electronics was the Tunnel Book, which has three laser-cut pop-up tunnel scene pages, and a sort of stage that folds down underneath the scenes. The stage has colored LEDs that the viewer uses to change the mood and atmosphere of the pop-up scenes.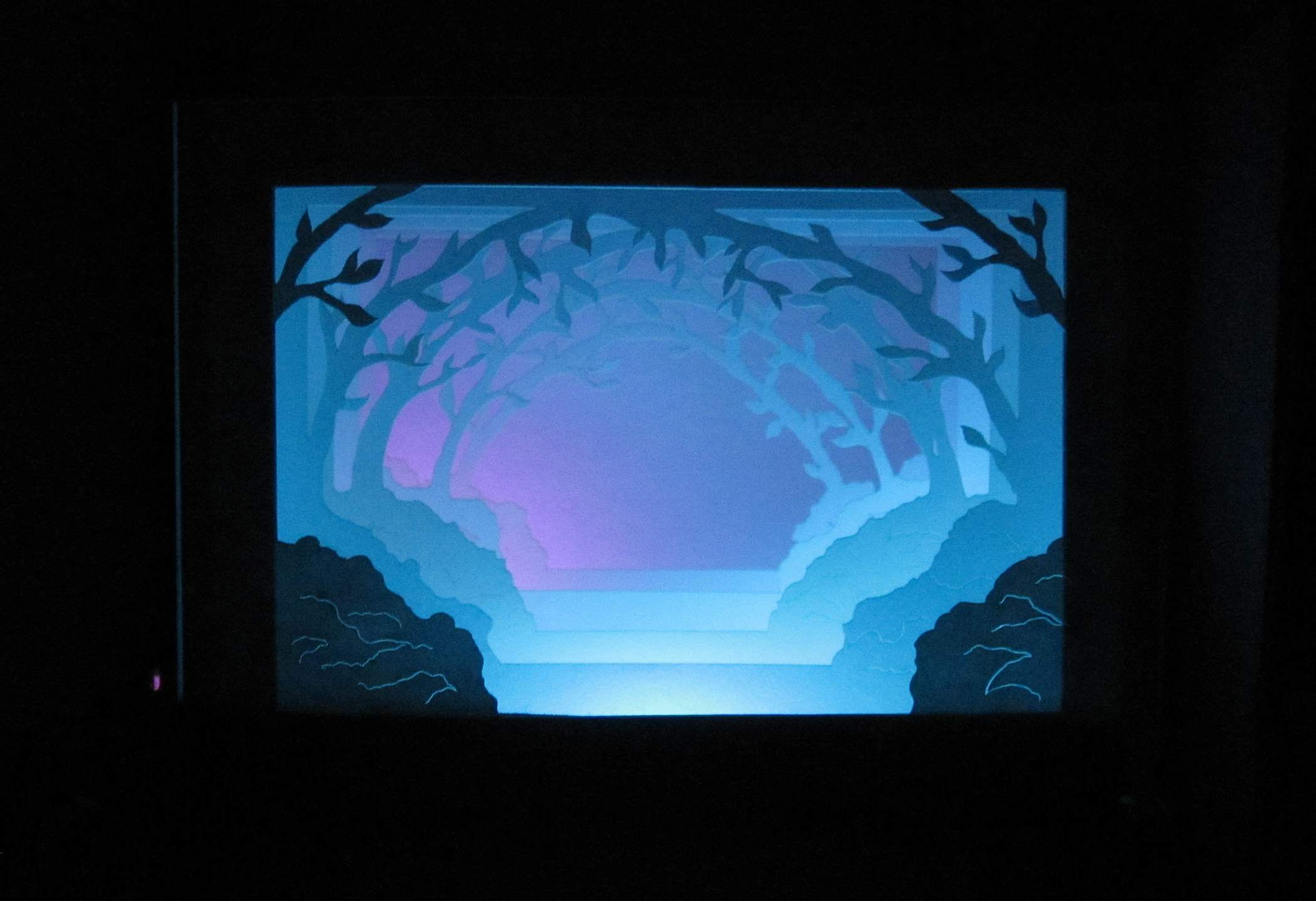 More recently I made an interactive miniature room, which has different sensors that you use to make the lights flicker, creepy music play from the radio, and fog with lights that creeps out through the cracked door.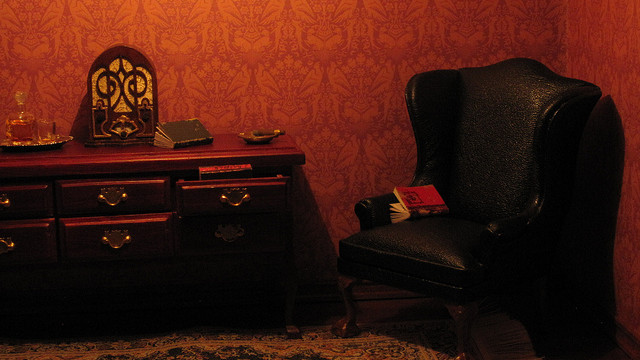 It doesn't have any electronics, but I also made a limited edition printing of an accordion-folded booklet with pop-ups and intricate illustrations on both sides. You can look at the piece page-by-page like a book or stretch everything out flat; the images reconfigure and align with each other differently depending on how you manipulate the folds.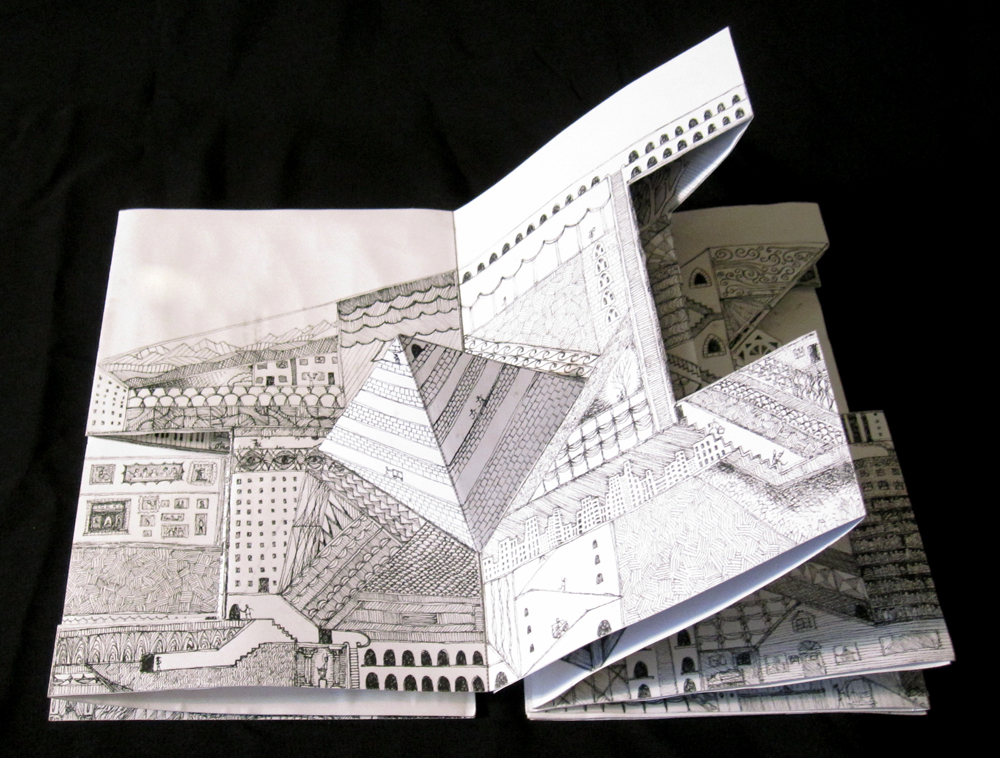 3. What is your current project?
I'm working on a really fun project but it's not quite ready to announce yet! We'll be doing a crowdfunding campaign for it, so hopefully you'll be seeing it soon. It does fall into the theatrical/interactive/immersive theme that I mentioned above, I can't wait to show it off!
4. How would you describe your creative making process?
Messy! It takes several rounds of revision for me to get something to its final stage, so it usually seems like nothing will pull together, until it suddenly does…at the very last minute.
5. What inspires your making?
I often find myself inspired by nature, especially trees (they find their way into a lot of my work). Inspiration also seems to spring out of conversations with friends: I might be doodling with a tiny inkling of something, and someone will point out an idea or connection that magnifies it into something big. Hackerspaces are great for that kind of inspiration and collaboration!
6. What helpful hints do you have for future makers?
If something isn't working, don't feel bad about setting it aside to try something else! I've learned that even if I spend some time on an idea that doesn't work out in the end, that time wasn't really wasted. I will have learned a lesson, or sometimes I've made something that I can use further down the road on another project.
7. What is your favorite thing about Chibitronics?
They are so flexible and intuitive! It's great to be able to draw and plan out my circuits with pencil and paper, and then just assemble my circuits directly onto those sketches. Then if I need to make a change, it's easy (and forgiving if I make a mistake)!
To learn more about Shelby and her beautiful work, visit her website:
a href="http://www.shelbymakes.com">www.ShelbyMakes.com.
Meet the Maker: Shelby Arnold