We've had a busy 2016, and are grateful for the friends, educators, crafters, partners, and community members who've supported us this year.
In January, we were off to CHA for our second year.  We met some amazing partners, including this wonderful partner, Kelli from Lawn Fawn, who really helped make our Chibitronics come to life in the crafting world with her design team.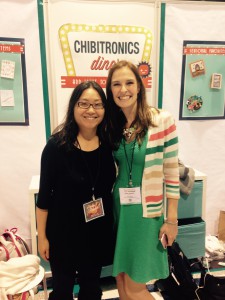 Thanks to Kelli's introduction, we've been able to do some wonderful collaborations with My Favorite Things, Simon Says Stamp, Avery Elle, Xyron, Hero Arts, Concord and 9th, and more.  We love seeing the beautiful light-up cards!  Thanks to our design team – Christina, Jessica and Nancy – who continue to inspire us.
In spring/summer, we headed out to two education shows, NSTA and ISTE.  We love meeting teachers, and hearing how they are using the LEDs in the classroom!  They continue to inspire us to do better.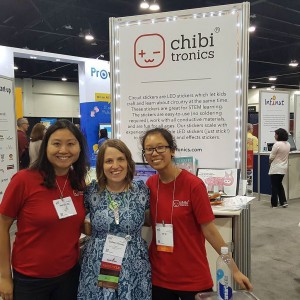 In the spring, we invited artists to create with Chibitronics and held an exhibition called Paper Curiosities.  You can check out the full collection of artworks at http://papercuriosities.media.mit.edu.
We were also excited to collaborate with artists like Red Hong Yi and Asli Demir.  Below is an image from Asli's Circuit Sketchbook.  Stay tuned as we will be featuring more Circuit Sketchbooks in the coming year (and please submit your own if you would like a chance to be featured)!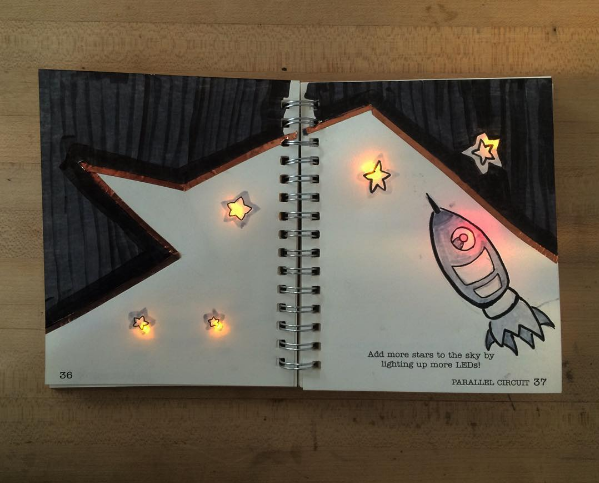 We were also honored to be featured in two wonderful books of projects and tutorials.  First was "The Big Book of Makerspace Projects" by rockstar librarian Colleen Graves:
Jie also wrote a several project tutorials in "Make It Glow: LED Projects for the Whole Family" by Emily Coker and Kelli Townley.  Check it out!  The book will be sure to light you up.  
In the fall, our cofounder Jie Qi received her Phd. Watch her dissertation defense presentation here. If you're curious to explore the full dissertation, here is the thesis document Paper Electronics: Circuits on Paper for Learning and Self-Expression.
Finally, we've been working hard on our new Love to Code toolkit for learning to program.  To learn more, check out our cofounder bunnie's presentation at 33C3: Making Technology Inclusive through Papercraft and Sound.
Thank you all for the support and well wishes. Happy new year!
Chibitronics 2016 Recap: A Year in Review