We just returned from Maker Faire, where our friends from IEEE (Institute for Electrical and Electronics Engineers) hosted us in their booth. IEEE is a non-profit professional engineering association whose goal is to advance technology for humanity.  IEEE's booth had inspiring technology projects to spark interest and imagination.  We provided a fun light up activity where makers created circuits and lit up their cards with Chibi lights.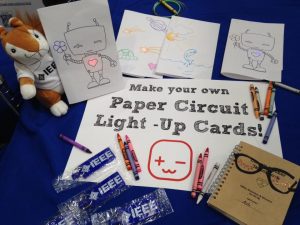 The booth was very busy over the 3 day Maker Faire.  Makers – young and old – were very excited to build circuits and design their cards.  Over 500 cards were made during the weekend!  Lots of blinking LEDS and imaginative coloring = happy kids.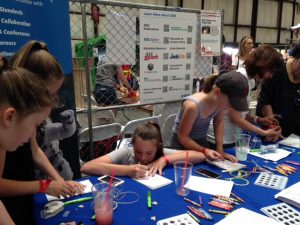 Here are some cute images of some of the cards.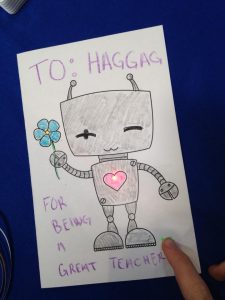 We met friends – old and new – who came by the booth to say hi.  It was great hearing hear our circuit stickers are being used in the classroom.  We got great feedback on our education resources.  Check our the latest lesson plans and templates in our Educator Section, and please share!
Finally, a goodbye from our favorite squirrel and biggest fan from IEEE, Zappy!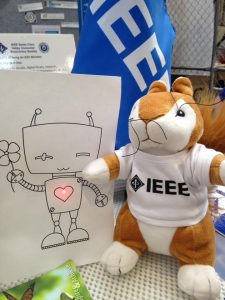 Thanks to the wonderful folks at IEEE who hosted us.
Paper Circuits at Maker Faire with IEEE