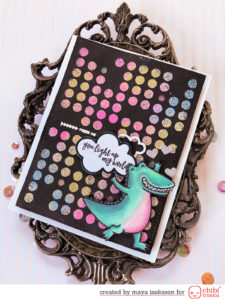 Have you ever given the Chibitronics effect stickers a try? I had them for a while and was waiting for the perfect time to use it. Well, after a while I realised it's always the perfect time to use them, they are really fun and easy to use. I made this happy card with a dotted background light up by punching holes and adding lights behind them. Then I connected it all to the effect sticker so the lights twinkles. Here's how I made it.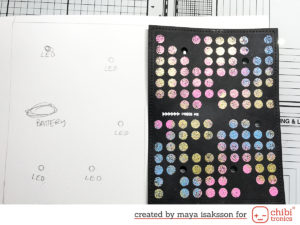 I started by doing the panel and punching holes for the lights. I cut out a piece of cardstock, the same size as the front panel. This helps a lot when lining everything up after adding the electronics.  By putting the panels on top of each other I marked with a pencil where to place the holes.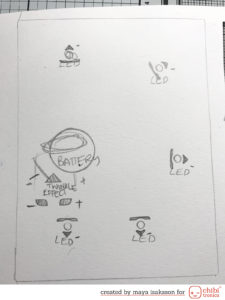 Then I drew out my circuit using a stencil to mark where to put the components to help when I stuck down the copper tape.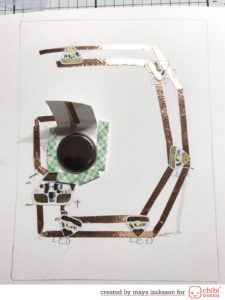 This is what the inside looked like after adding the tape, battery and stickers. As usual I drew everything the wrong way so I had to flip the battery upside down. The "top" part of the effect sticker is connected to the negative side of the battery and then the negative and positive connections are clearly marked on the base of the effect sticker, as well as on the led stickers.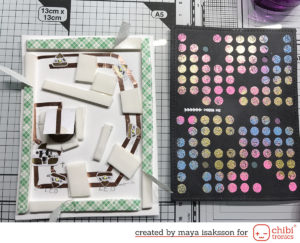 After making sure the lights worked I added foam tape all around the card to attach it to the front panel. If you remove the cover paper on the middle parts first and just pull a piece of the cover off on the edges it's easier to adjust it if it gets a bit crooked. After getting it straight, just pull on the cover paper sticking out on the sides to remove them and press down the front sto make sure it sticks down.  Now you can add it to a cardbase and decorate the front.
Supplies used:
Chibitronics Starter Kit w/ Circuit Sticker SketchbookEffects StickersStamps by Heffy Doodle Stamps and Dylusione/Ranger ink
Thank you for visiting and I hope you got inspired to try the effect stickers on a project. For more inspiration you are very welcome to visit my personal blog Little outbursts of Creativity.
You light up my world (with effect stickers)