Good morning!  This week we're excited to collaborate with Sweet Stamp Shop and both design teams will be sharing inspiration all week long!  And what's a collaboration without a giveaway? 😉 One lucky commenter on our blog will win a Chibitronics starter kit so make sure to leave a comment each day for the most chances to win!
Today Lesley Oman is sharing a project using Sweet Stamp Shop and Chibitronics!  And don't forget to head to the Sweet Stamp Shop blog to see what their designers have created!
Hello crafty friends – it's Lesley here from Hungry Heffy Crafts, and I am so excited to be part of this collaboration. I couldn't wait to get crafty with these fun products! Here's some pictures of my card – and scroll down to the bottom of this post to watch the video tutorial.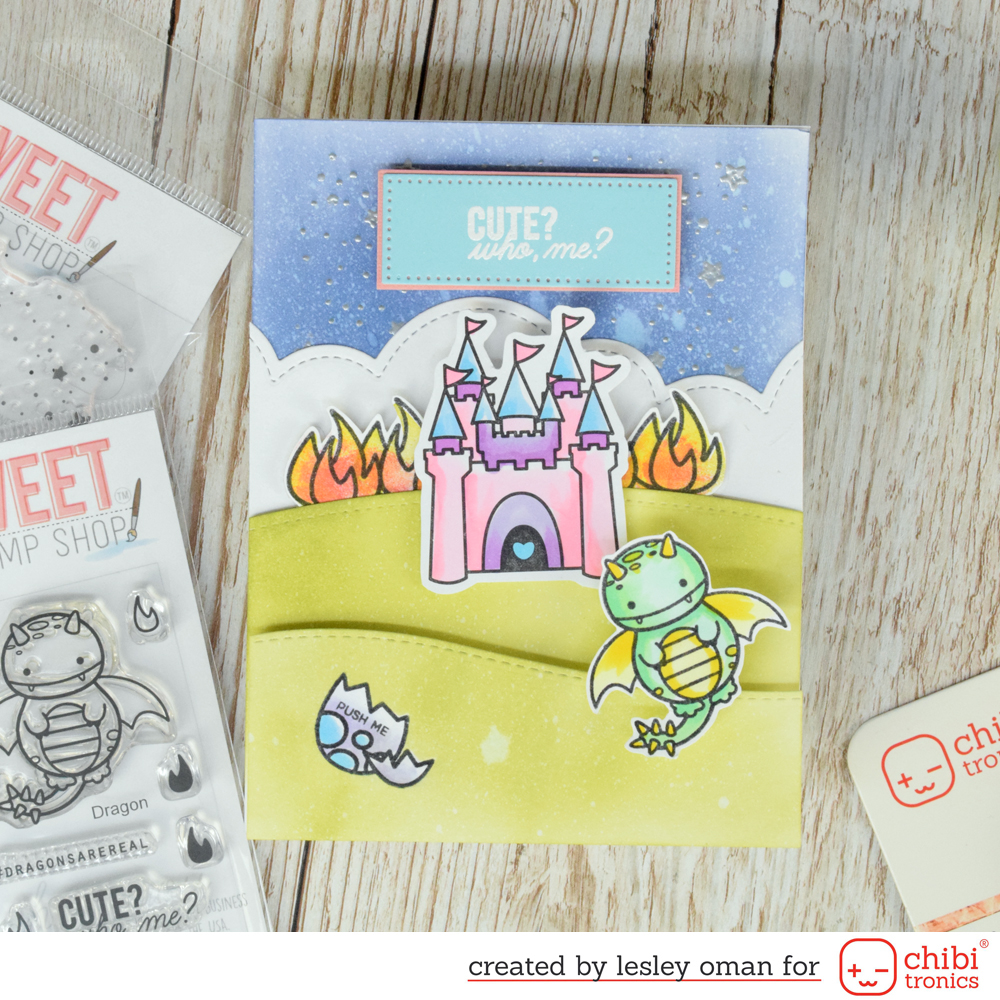 I couldn't help it – I had to use this super cute dragon but fill him full of mischief ….Just look what he has done – set the palace on fire! Oh dear!  😀 For this card I have used the dragon stamp set, which also includes the broken egg image, the 'Cute? Who me?' sentiment and the flames. The Palace image is actually from their Sticky Sweet collection – they are printed stickers which you can color yourself! How cool is that! Let's take a look at the flames in all their LED glory!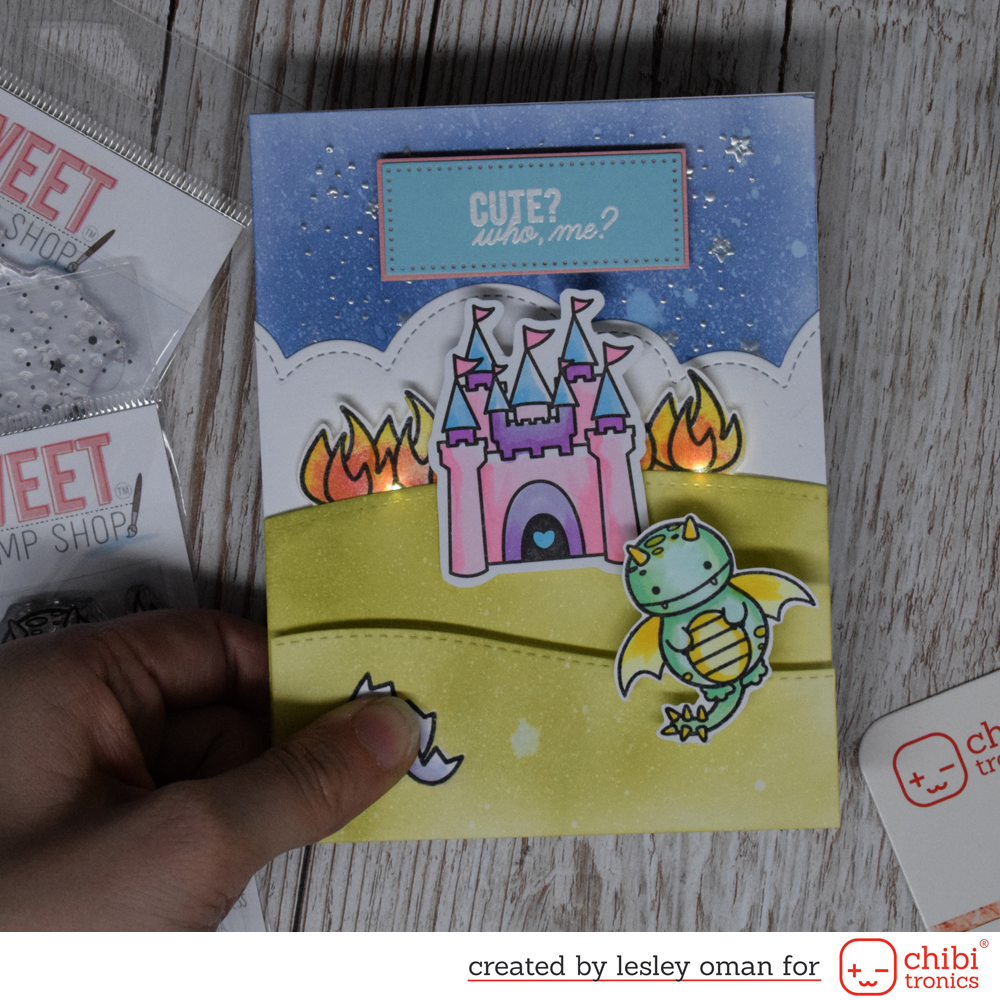 I used the starry night stamp to emboss the background onto my card and then used distress oxide ink over the top. Likewise I have used distress oxides to colour the grassy areas of my project. I stuck down the cloudy layer, and then built my scene on there using the copper foil, and white lights, making sure the battery was in the bottom left corner of my card. For a better look at the circuit, and tips on how it is assembled, check out the VIDEO TUTORIAL of this card on my YouTube channel.
To help the recipient know that this is an interactive card, I used the PUSH ME stamp from the Heffy Doodle Interactively Yours stamp set.  I added the dragon on an action wobbler for extra FUN! 😀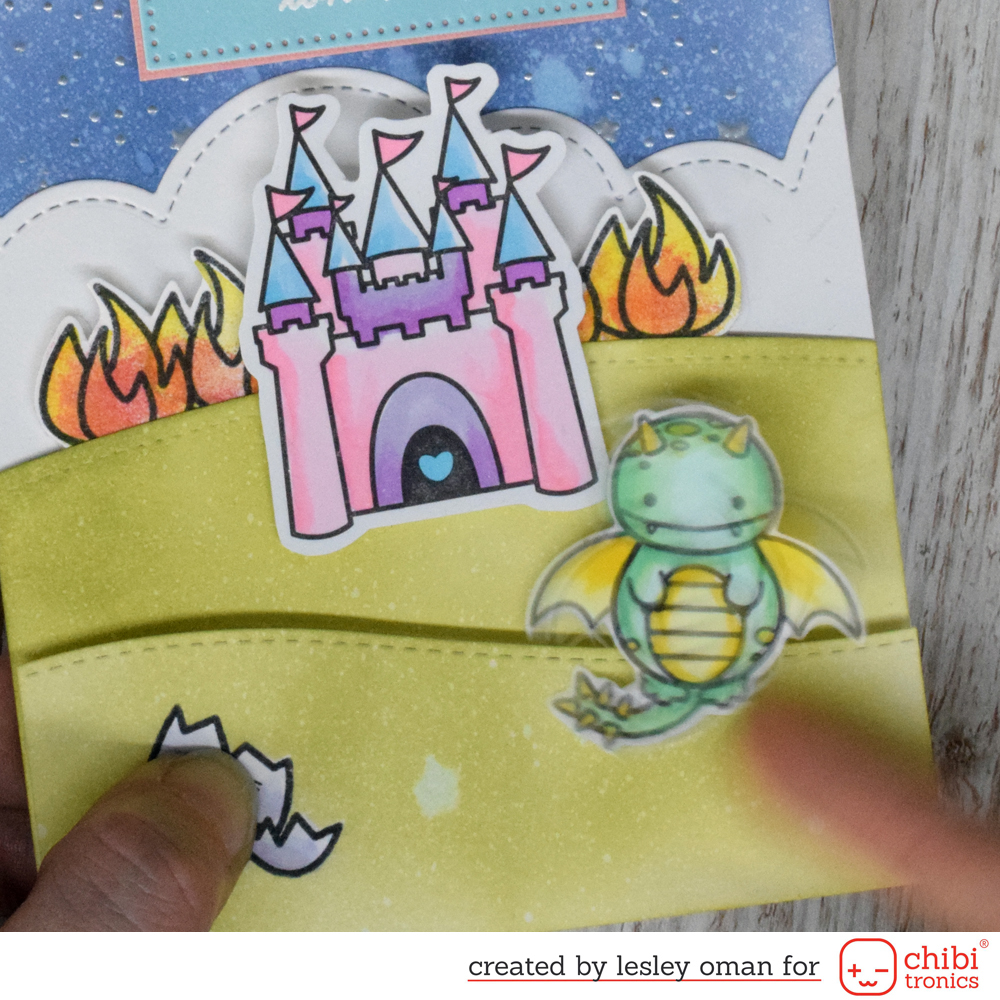 Thanks so much for visiting and be sure to come back tomorrow for inspiration!
Chibitronics and Sweet Stamp Shop Collaboration, Day 4