Good morning!  This week we're excited to collaborate with Sweet Stamp Shop and both design teams will be sharing inspiration all week long!  And what's a collaboration without a giveaway? 😉 One lucky commenter on our blog will win a Chibitronics starter kit so make sure to leave a comment each day for the most chances to win!
Today Maya Isaksson is sharing a project using Sweet Stamp Shop and Chibitronics!  And don't forget to head to the Sweet Stamp Shop blog to see what their designers have created!
Hi everyone! I'm so happy to share my project using Sweet Stamp Shop stamps. I adored the little dog from the Holiday Pup stamp set since I have three dogs occupying the sofa at home. The Merry Cactus set was perfect for some background elements.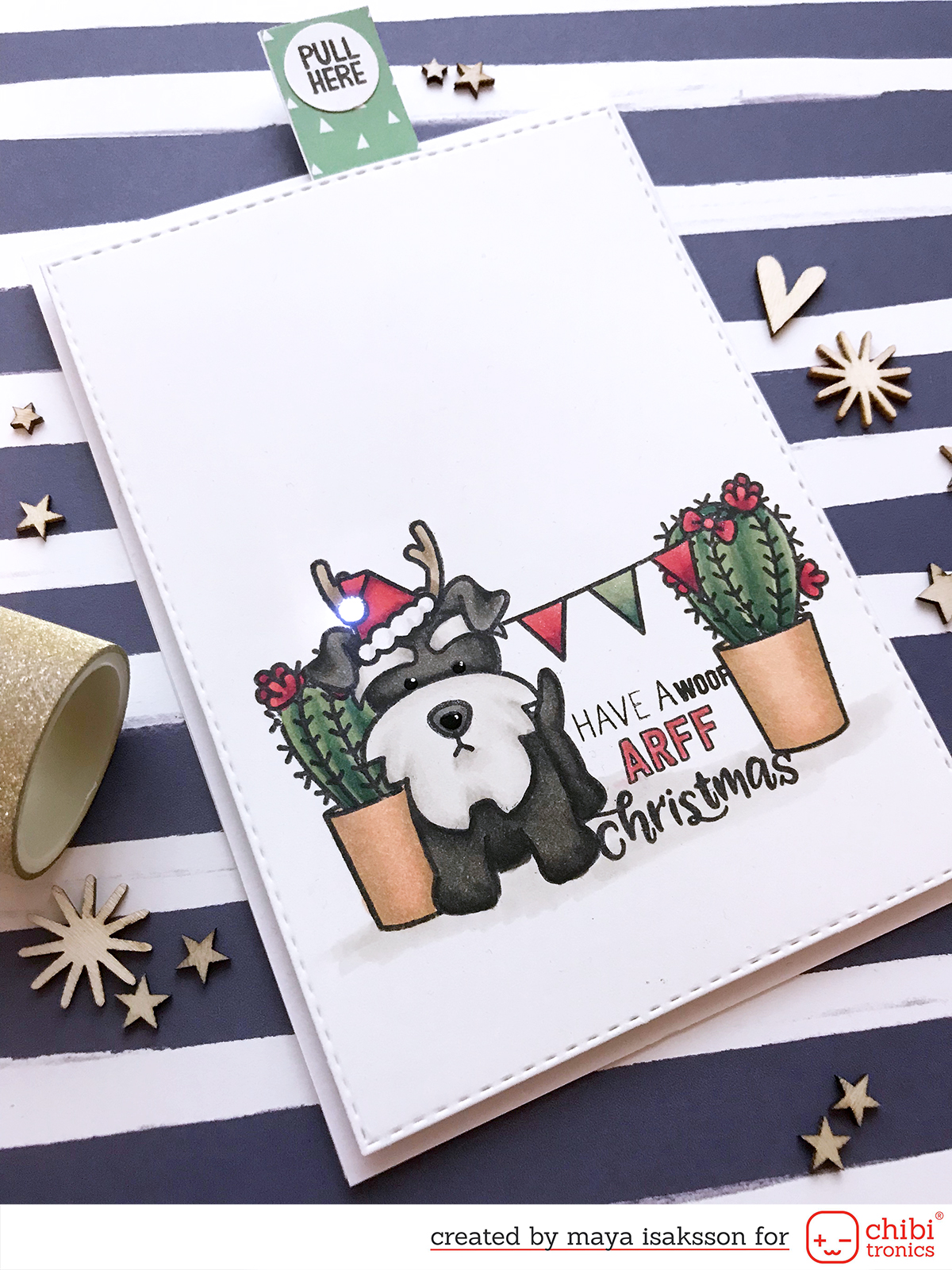 I kept my card on the clean and simple side. The fluffy ball of the hat lights up when pulling the tab in the top. It's also covered with lovely glittery Stickles for some extra sparkle.
I wanted to try a new way of making a switch for this card, Eiko does her in a really clever way so I tried that this time. I really recommend it, it worked as a charm. Here is how I made the inside of my card.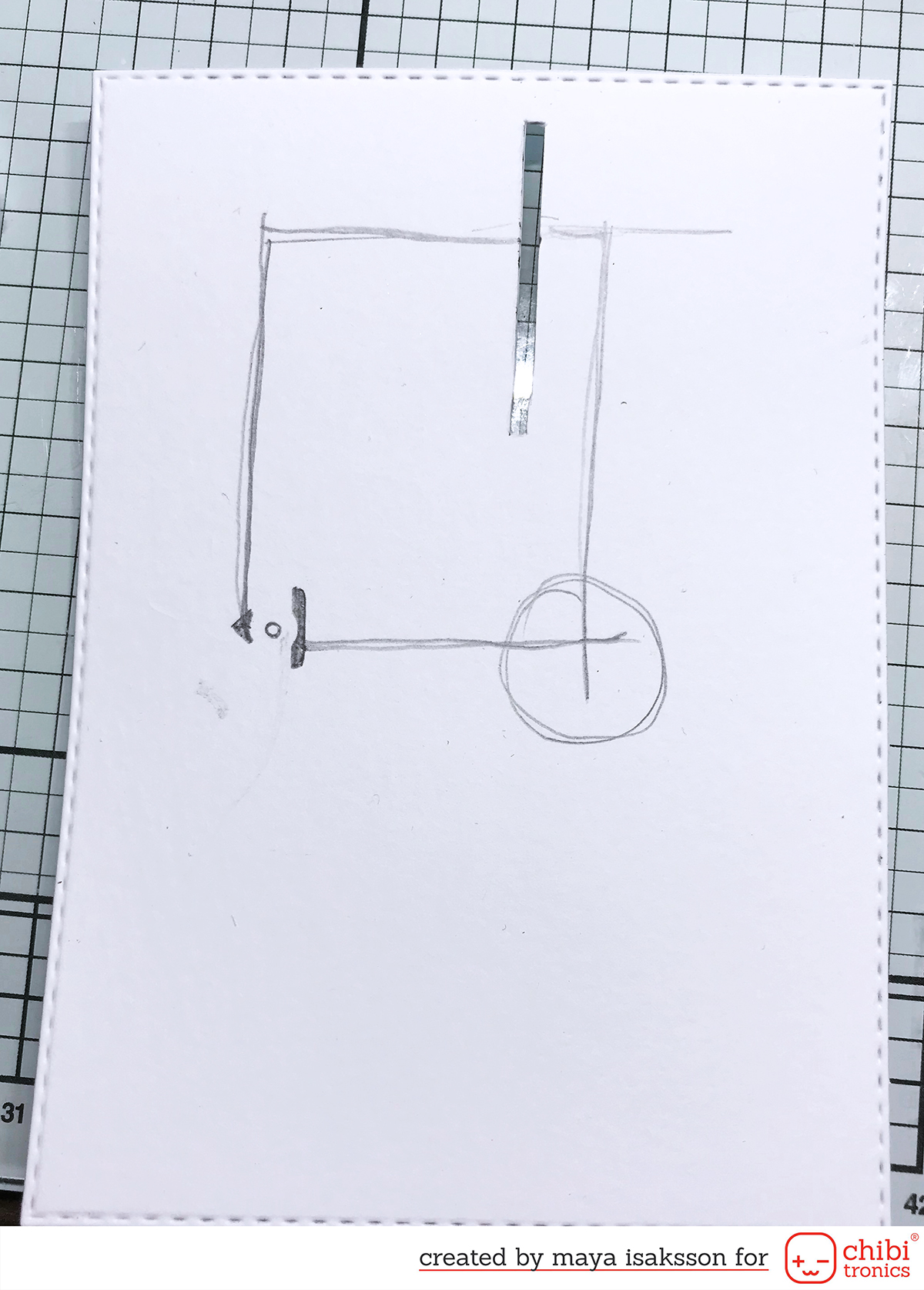 I started by drawing out the circuit. I always make a panel the same size as the card front and mark out where the switch and the light should be. In this case it didn't really matter where the battery was placed since the whole panel was in one piece and I used a pull switch.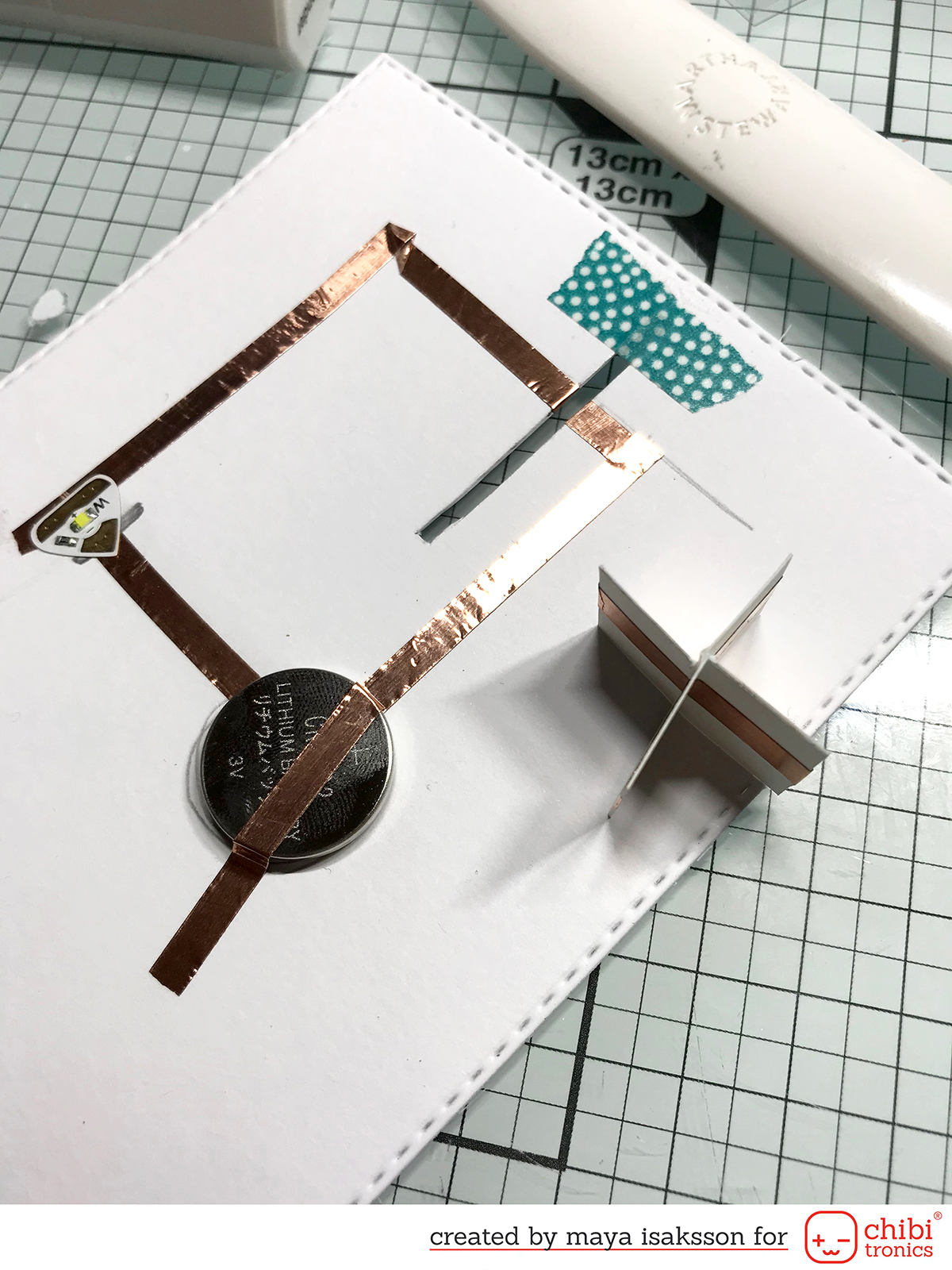 Here is a picture of the switch. I made it in a x-shape. It worked better than my usual way, since you can fold the copper tape around on the back. That makes sure it will connect both on the back and front of the panel making a better connection.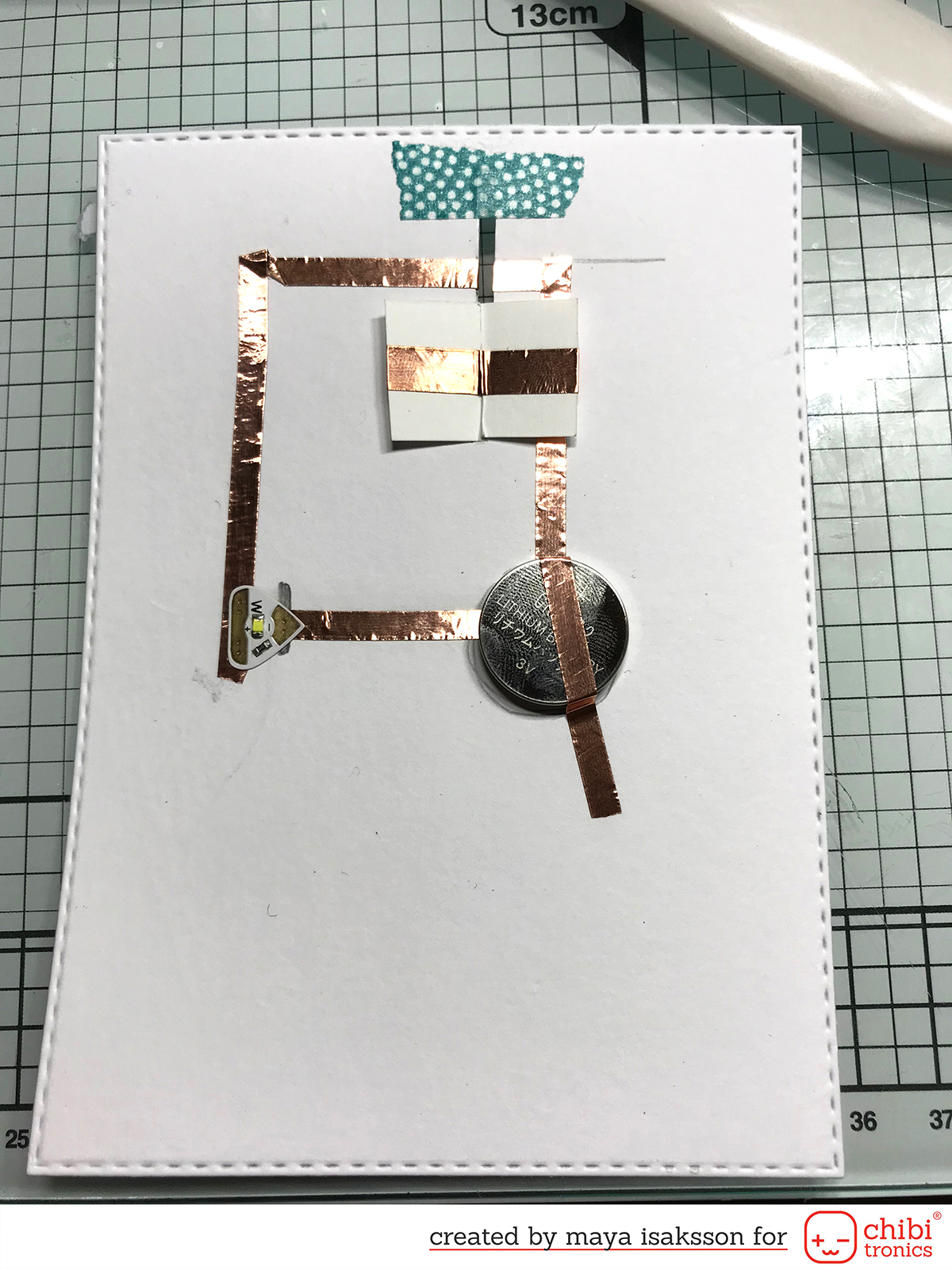 Adding the switch is pretty easy. I just folded the flaps one way to get it through the slit. Then folded them the other way to secure. I glued the tab on top of it after and made sure no glue on either side would prevent it from sliding. After that I just attached the card front on top using foam tape. Lots and lots of foam tape, so it wouldn't sag.
Here the cute pup is with his lights on, he is the center of the party. I used masking to make my sentiment and to put the dog in front of the party cacti. (I totally googled the plural form of cactus).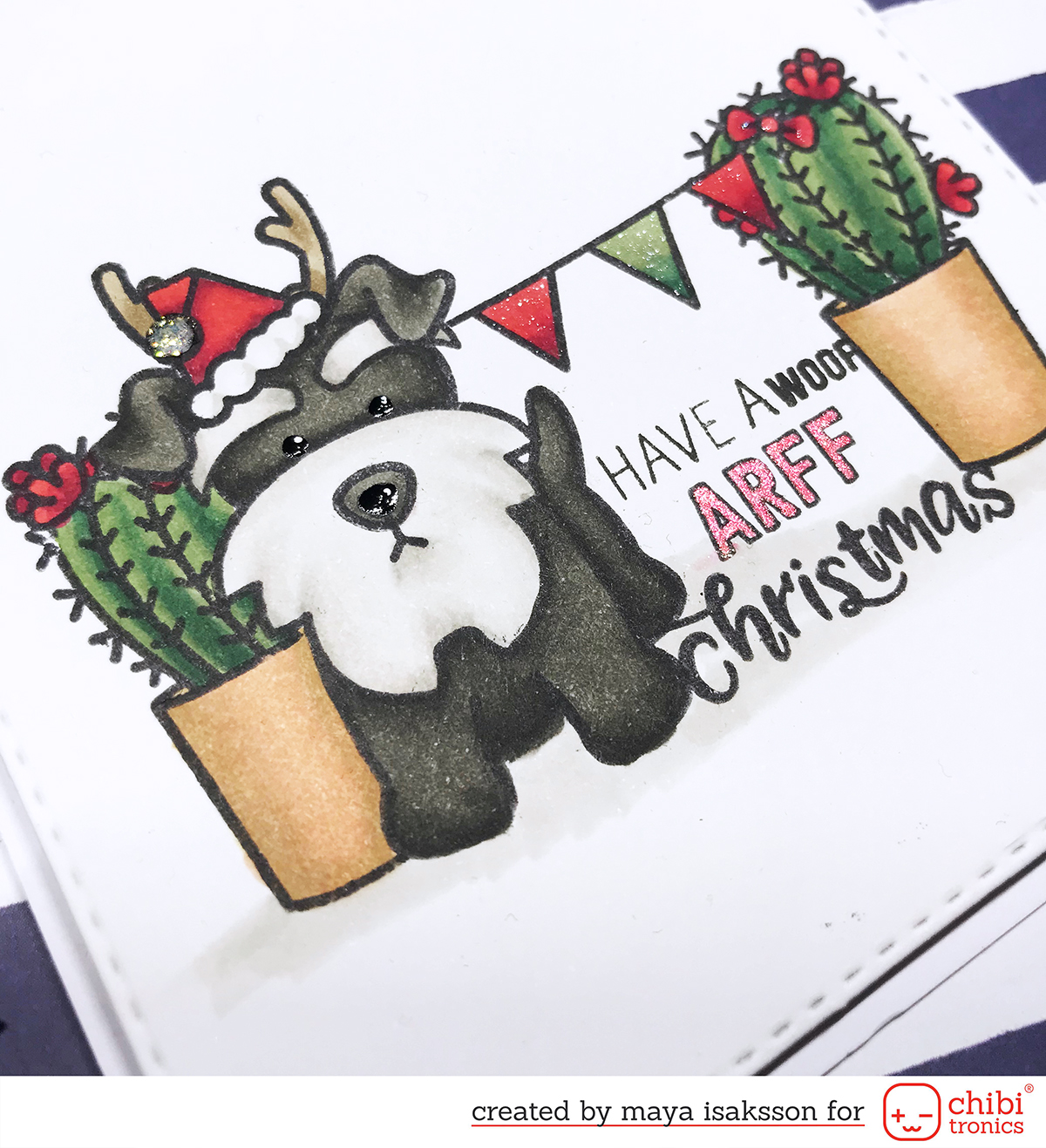 And even without lights the card has some sparkle using the Stickles and a clear glitter pen to decorate everything. I also added some black gel pen for his little nose and eyes.
It was so much fun making this card. I hope you have enjoyed this tutorial. It has been a fun few days looking at all the beautiful creations for this collaboration.
Supplies: White LEDs MegaPack (30 stickers), Copper Tape
Thanks so much for visiting!  I hope you've enjoyed this week as much as we have!  Don't forget to leave comments on all the posts for a chance to win a starter kit from Chibitronics!
Chibitronics and Sweet Stamp Shop Collaboration, Day 5