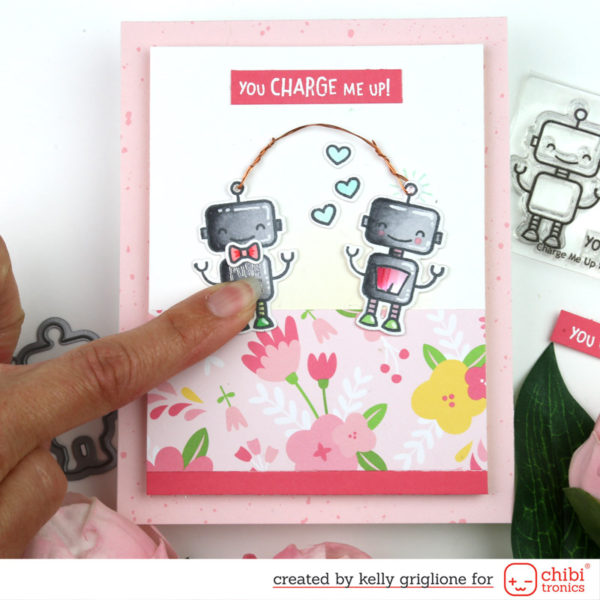 Hi Folks! Kelly here with a card made from the contents of the adorable Charge Me Up: Light Up Card Making Kit with Lawn Fawn. These sweet little robots are ready to perform whatever action you command them to do, including getting charged up! This kit is currently sold out, but I'm hoping you were able to get your hands on one, or are on the wait list for the second round of kits. If not, you can make a similar card with the robots in Lawn Fawn's Beep Boop Birthday set. Let's take a look at how it came together.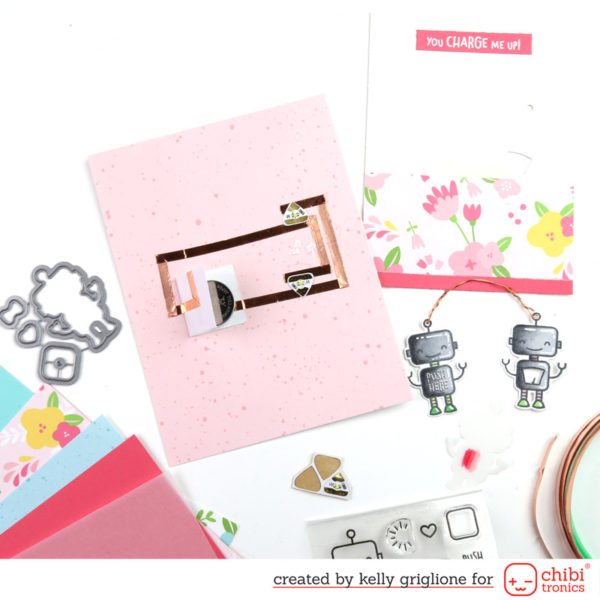 This kit includes several double-sided sheets of paper, the robot stamp and die set, lights, copper tape, battery, instructions, template, and access to videos showing you how to create your own projects.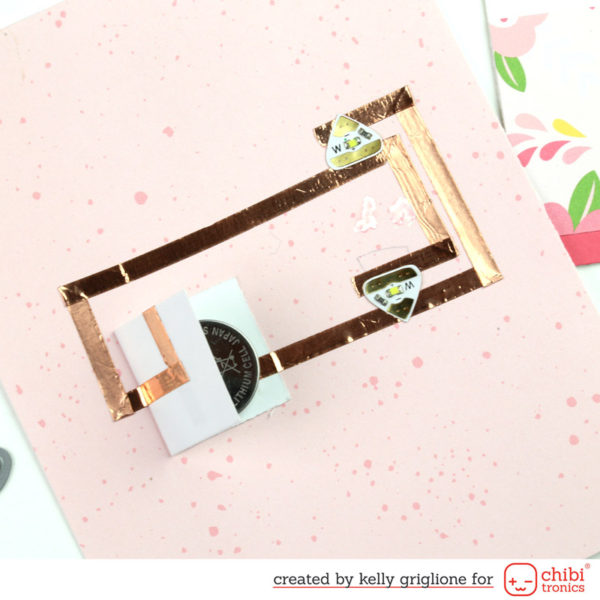 I've created a basic circuit here, placing the push-operated battery so that it's under the male robot on the left, and the two lights so they are under the female robot's charge-o-meter and antenna.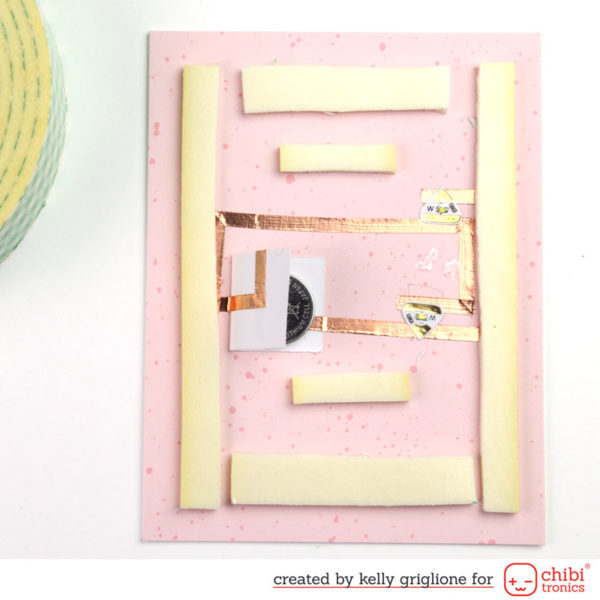 Once the circuit was complete and tested, I added the foam tape around the edges and middle of the card.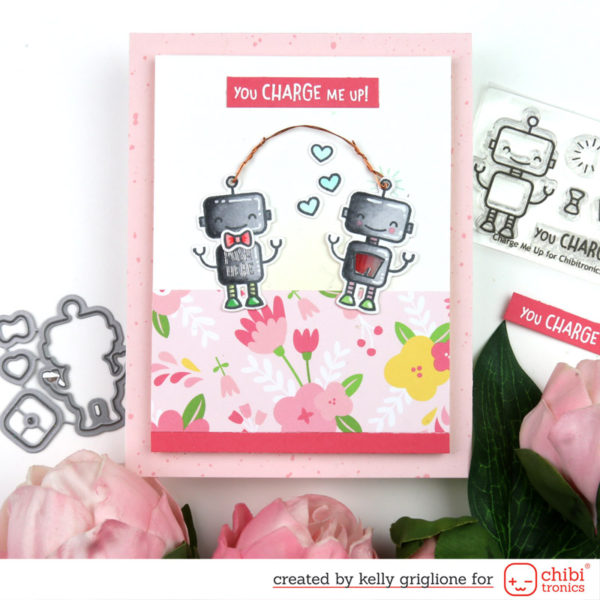 I used the papers that came with the kit to make the panel that goes on top of the foam tape. The robots are colored with Copics and are connected with a piece of copper wire that I used from my own stash. The wire isn't conducting any electricity on this card, but I thought it would be a cute way to give the illusion that the boy robot is charging up the girl robot.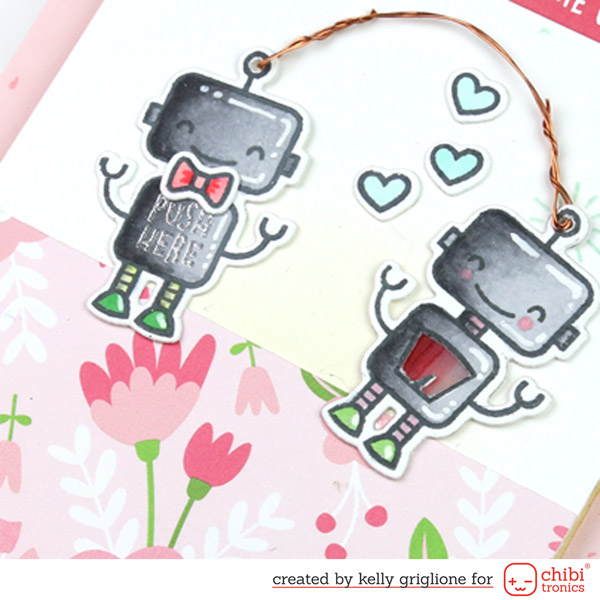 The male robot on the left is all dressed up with a fancy bow tie. I embossed the "push here" instructions in metallic silver which perfectly fits on his belly. The battery is underneath him, and will engage with the copper tape once pushed.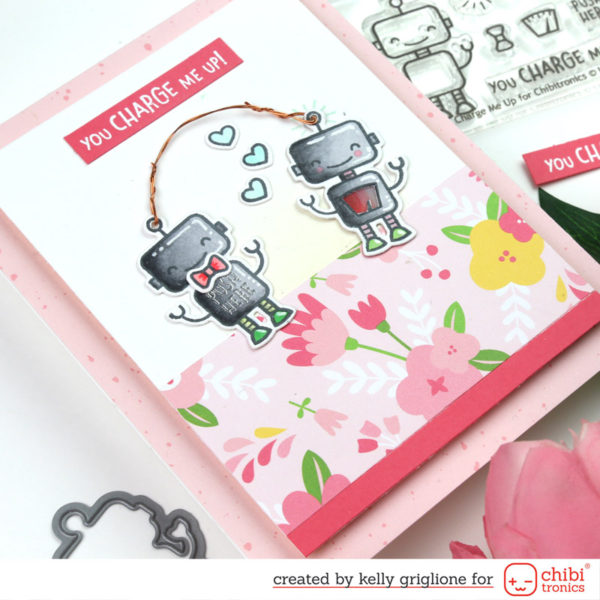 For the girl robot on the right I stamped the charge-o-meter on her belly and carefully cut out the middle section. Then I backed it with vellum which is colored different shades of pink. Once the lights are turned on, it will give a nice glow to the entire charge-o-meter.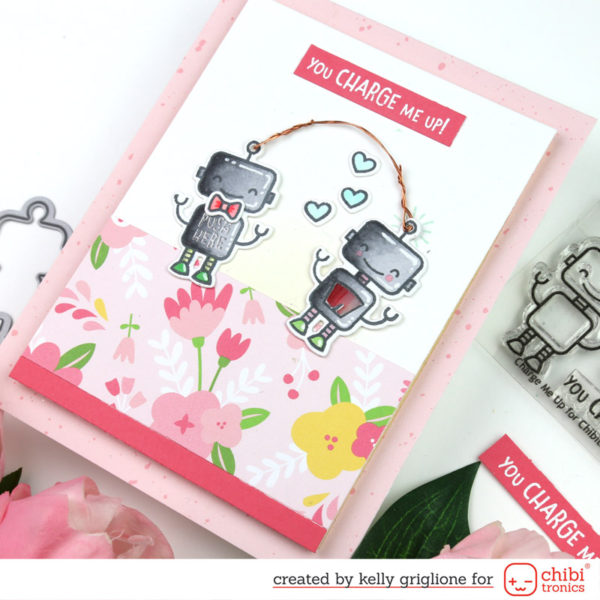 Then I added a few die cut hearts to show the love connection these two have, as well as the embossed sentiment "you CHARGE me up!"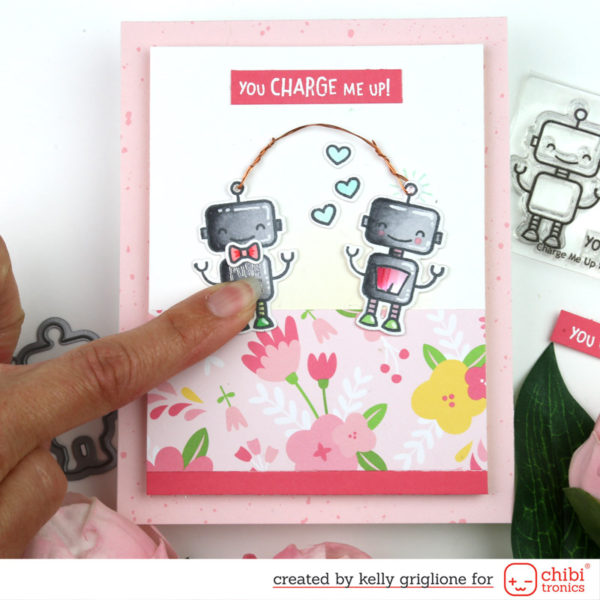 Now when you follow the instructions and push the male robot's belly, the female's antenna and belly light up! Success!
I hope you enjoyed this simple card, and have an idea of what you can make using items from this kit. It's really a great way to dip your toe into the world of making light up cards!
Thanks for stopping by!
Supplies used:
Chibitronics and Lawn Fawn Charge Me Up Kit