Hi friends – Bri Firth here! Today I am sharing a fantasy light-up card featuring the White Sticker Lights and Copper Tape from Chibitronics. This whimsical card also features the Little Fairies Set from The Greeting Farm and the Pull and Slide Die Set from Kindred Stamps . For more details on how I made this interactive slider creation keep reading below!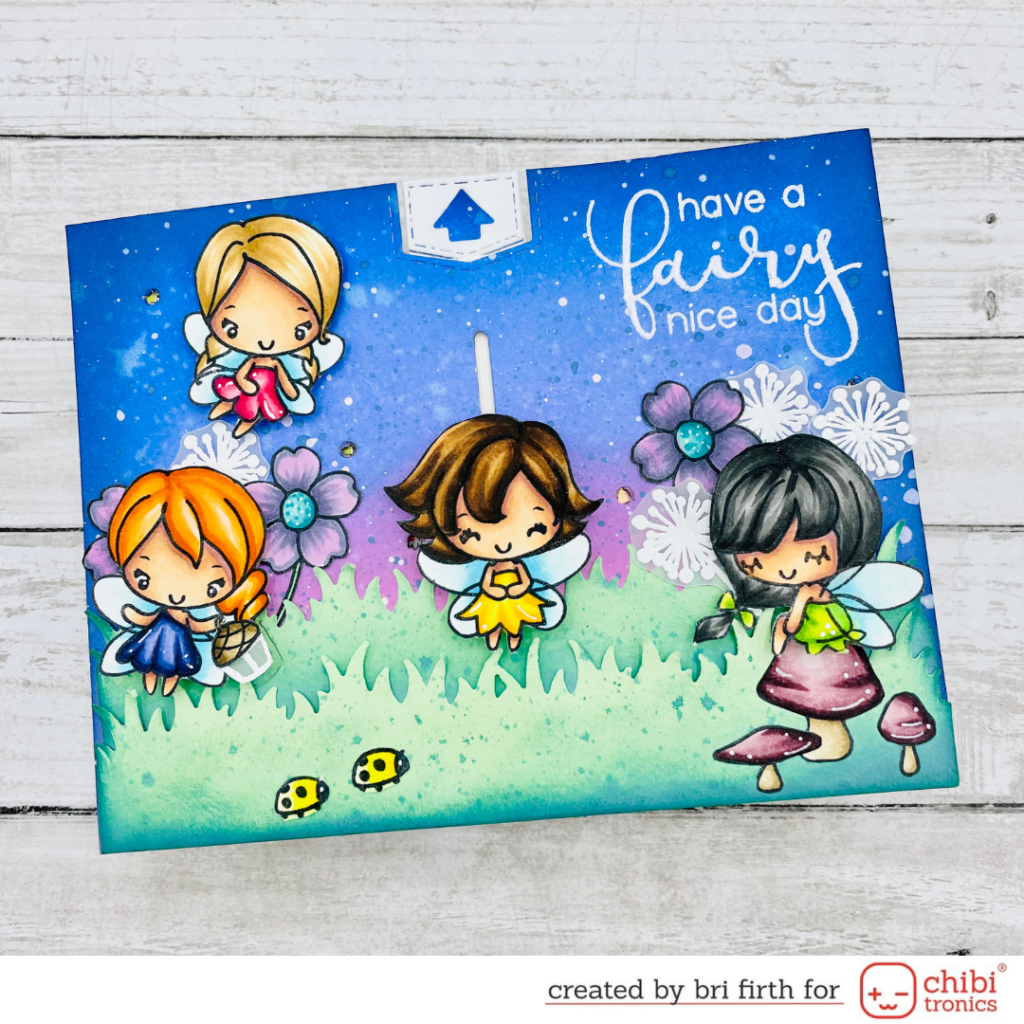 First, I used Distress Oxide inks to ink blend the twilight background (Kitsch Flamingo, Shaded Lilac, and Blueprint Sketch) and to shade the Grassy Border die cuts (Evergreen Bough). I used white acrylic paint and the Evergreen Bough Distress ink to the the splatter effects on the backgrounds. I used white embossing powder to heat emboss the sentiment and white dandelions. I colored the Little Fairies and accessory pieces with my Copic markers. I didn't attach these pieces until after I built the light-up, slider mechanism.
After I decorated the front panel, I used a piercing tool to poke holes so the sticker lights could shine through. I die cut the rest of the pieces to construct the light-up, slider mechanism which requires: two front card panels, two pully mechanisms, and other interactive die cut pieces all displayed in the image below. I used the Pull and Slide die set from Kindred Stamps to die cut the pieces for this interactive component.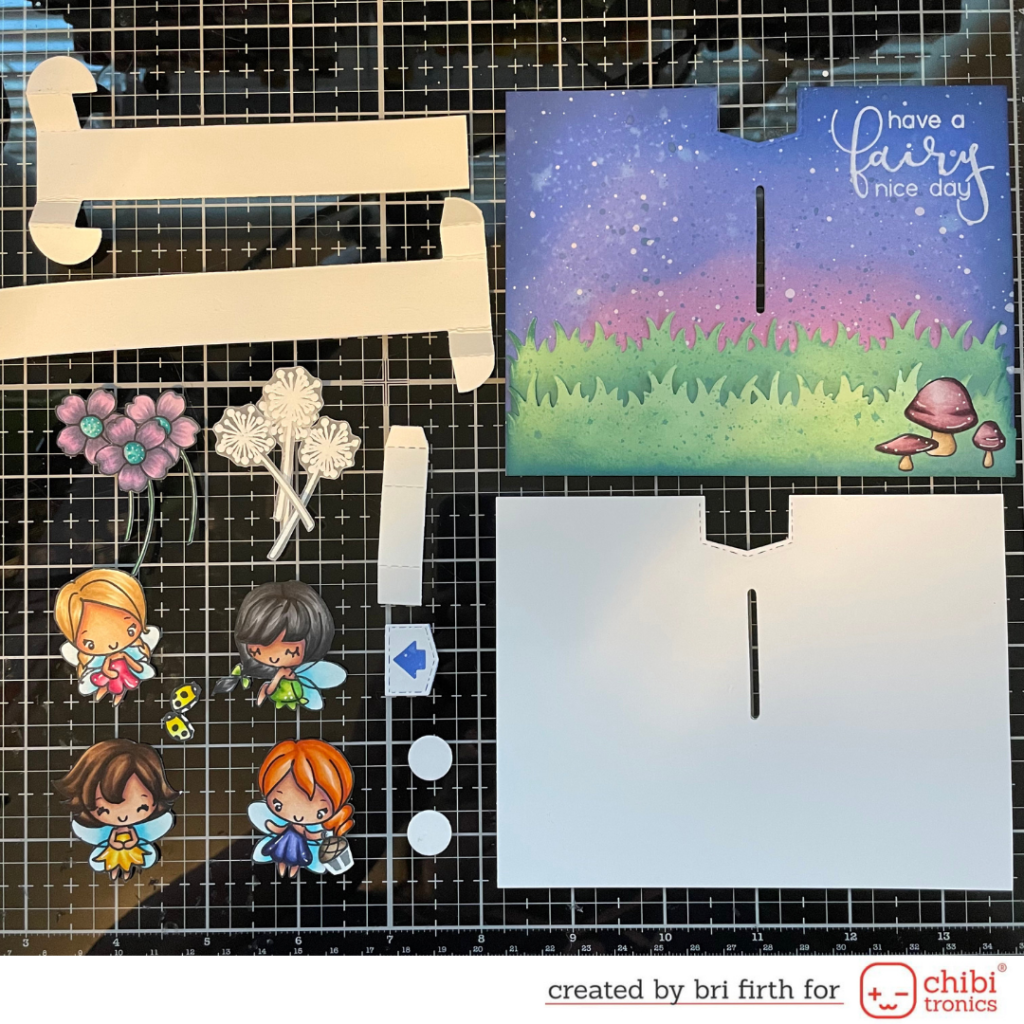 The constructed circuit for this light-up, slider mechanism with is shown in the image below. The circuit is a little messy as this was my first ever light-up, slider card but the mechanism still worked perfectly. To build the circuit I used Chibitronics' White Sticker Lights, Copper Tape, Conductive Fabric Patches and a 2032 Coin Battery. One thing to note with this type of mechanism, one side of the circuit has to connect with the lights only AFTER the slider track. In the example below, the positive path only connects with the lights after the copper tape crosses the slider track on the right hand side.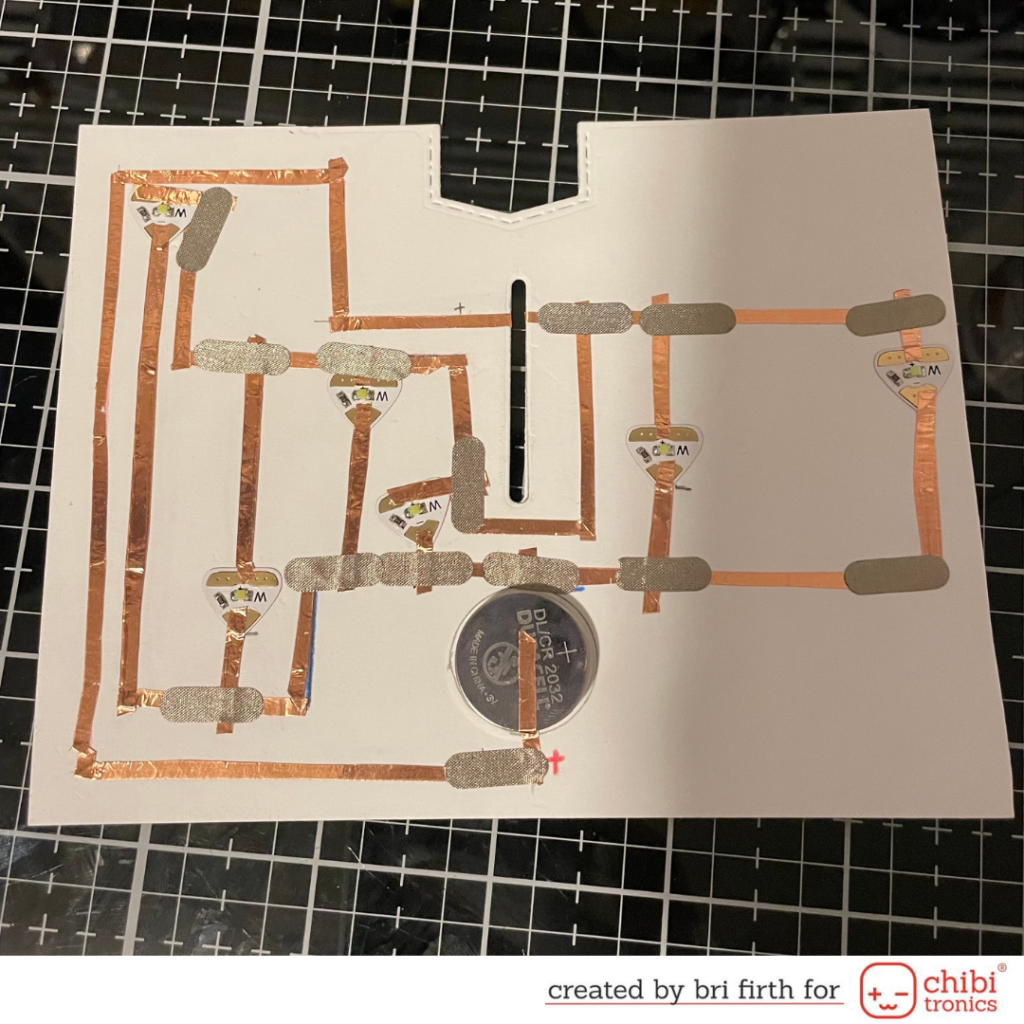 Hope this fairytale creation inspires you today!
-Bri
Bri Firth Creates
Whimsical Fairy Scene Light Up Slider Card Tutorial