Master teacher and coding instructor Shiela Lee works in New York City. A certified special education and general education instructor, she spoke with us about her teaching practice, her professional networks, and work she's done with paper circuitry in her classroom. As she says, "teaching and coding require patience, persistence, and creativity."
CHIBI: Tell us about yourself! Anything you would like to share. What is the best place to find you online?
SL: I am a first generation Chinese-American who grew up in the beautiful state of Colorado. I headed to Grinnell College in Iowa where I majored in Philosophy. I then taught English in Taiwan on a Fulbright Fellowship and went to graduate school at Teachers College in New York City. Having seen a homogenous demographic of people in Colorado, Iowa, and Taiwan, I appreciated the diversity of New York City. I've taught in the city now for nearly 10 years. I was a second-grade teacher who integrated computer science into her teaching for eight years before becoming the STEM teacher and technology coordinator for my entire PreK-5 elementary school.

When I'm not teaching or spending time with my two young daughters, I make time to code. I taught myself to code, right alongside my students. I think it's important to model how when you love and are passionate about something, you should make time for it. It isn't easy with two young daughters at home, but I was able to create projects I'm proud of. I coded an interactive station tool to help my students have a visual tool to see what station they go to next. I also coded an interactive hundreds chart that helps students see mathematical patterns on the hundreds chart.

I love connecting with people passionate about education and technology. If you are similarly interested and you would like to connect, you can find me at @leeshiela on Twitter and through my website, www.shielalee.com.
CHIBI: How did you get interested in paper circuits?
SL: I was a CSTA Equity Fellow and presented at the 2021 Computer Science Teachers Association (CSTA) conference. In one of the workshops I attended, I was introduced to paper circuits and the Chibitronics team. Much to my surprise, I won a raffle for a free "Love to Code" Creative Coding Kit at the conference! Now I could really make one of my ideas come to life, which was to have my students create identity portraits that lit up their most important identities.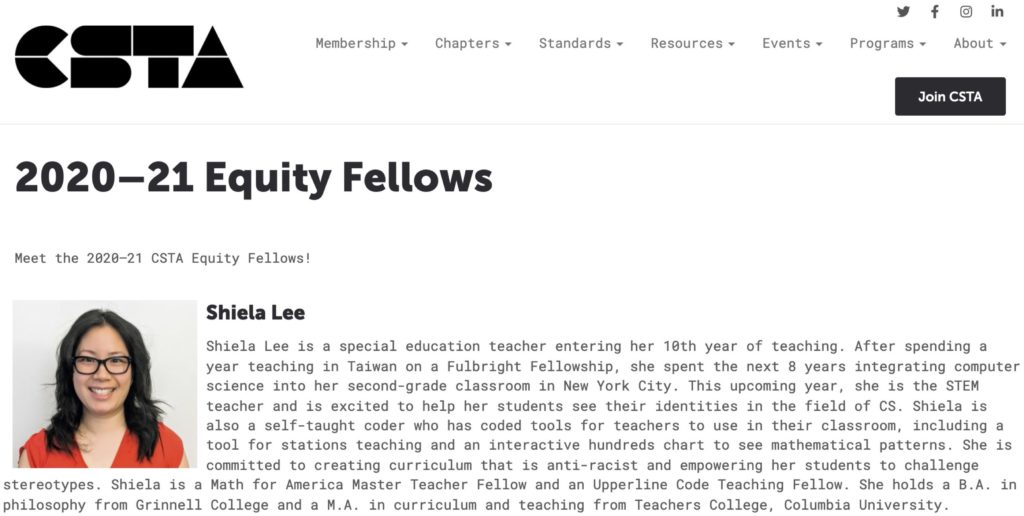 CHIBI: Can you tell us about your identity project? What was the spark, how has the project unfolded, and thoughts on where it might go from here?
SL: Over the years, I've been working with students on creating identity webs, identity statements, and affirming who they are. I was the only Chinese American at my predominantly white elementary school in Colorado. One of my teachers, Ms. Isenhart, assigned projects and activities that helped me embrace my Chinese culture. Channeling her and my own beliefs about good teaching, I knew that students learned best when they felt included, welcomed, and affirmed in the classroom.
The moment I saw the LED stickers light up, I knew this would be an excellent way to take my work on affirming students' identities to the next level. I often thought about how I could integrate more science, technology, engineering, and math with my students' art work around thinking about the intersectional identities they have. I was so excited to make my own identity portrait as an example for my students that I knew they would have the same excitement. I was not wrong! When I did this activity with my twenty-four 4th grade students, all students were engaged, excited, and eager to show their classmates who they are. They loved this project!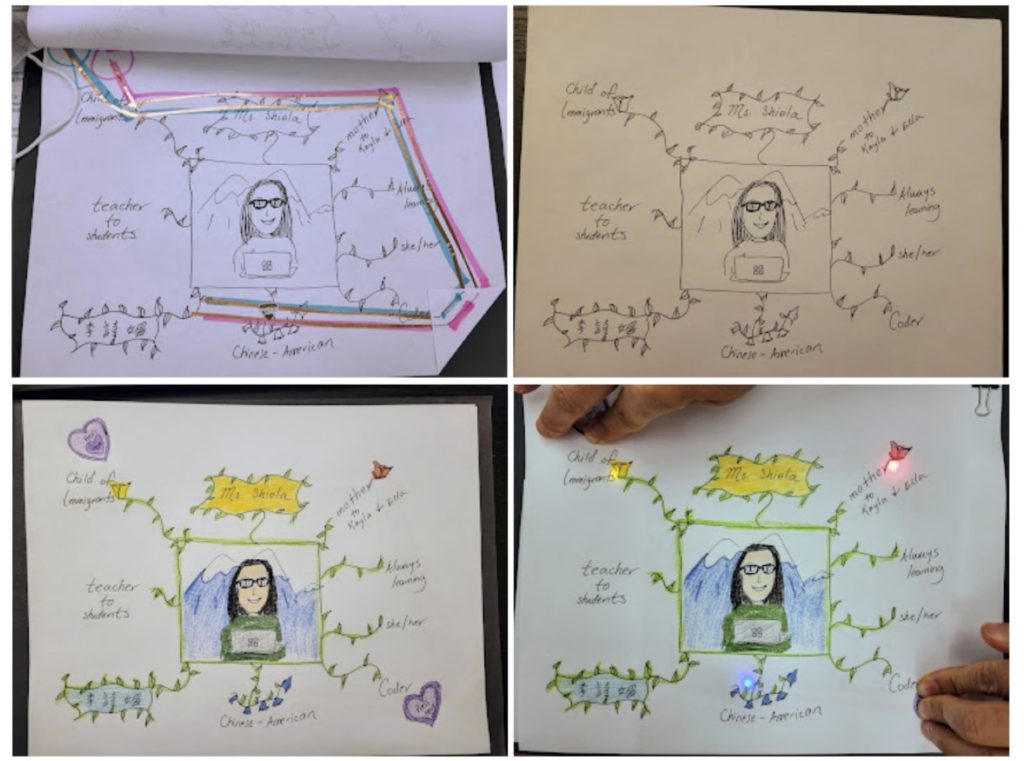 I've designed new units before, but I especially loved how I could collaborate with other colleagues on this project. I collaborated with the science teacher at my school to see what gaps were missing when they learned about energy forms in her class. I extended the students' learning around electrical energy, light energy, and circuits. I also consulted with the art teacher to see if the graphic organizers and templates I created might help my students with disabilities, particularly those with fine motor difficulties and spatial awareness difficulties. In preparing for this unit, I also did each step myself to see where my students might encounter difficulties.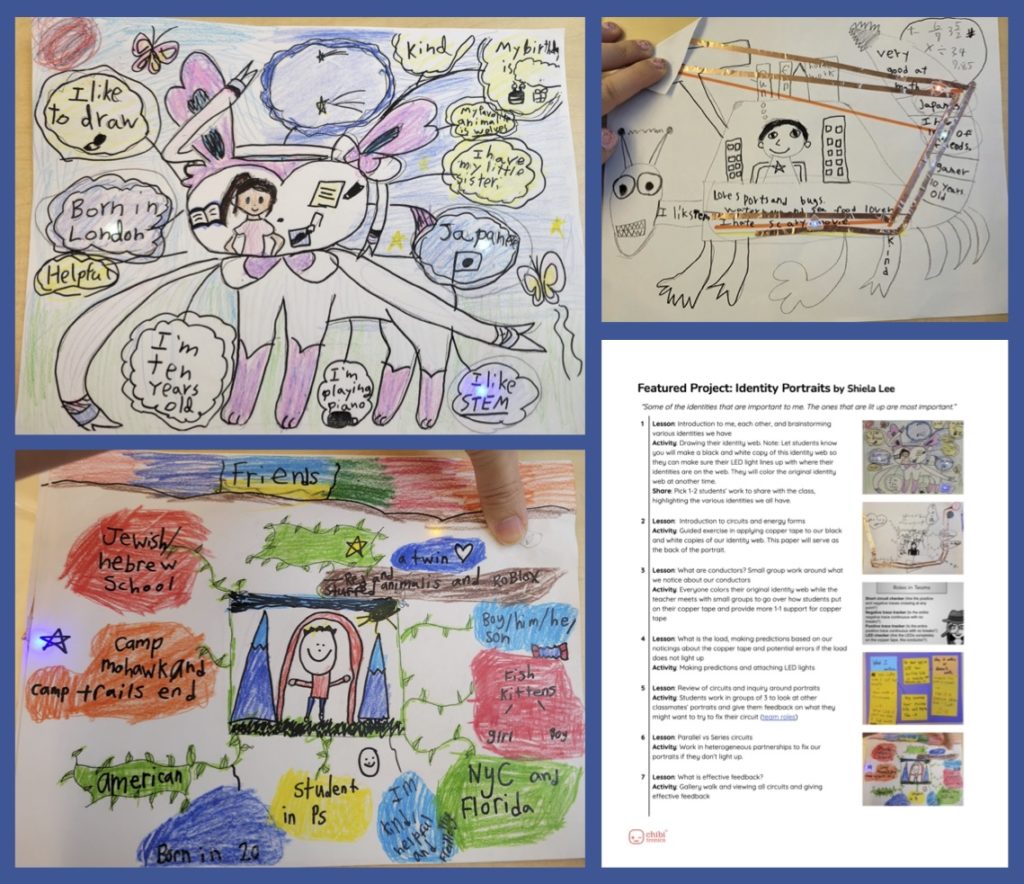 I may revise my lesson to incorporate more experimental time for my students to try to make a simple circuit before they make their identity portrait circuit. I was unable to do it this cycle due to time constraints and budgeting of limited materials.
One way to extend this unit in the future is to incorporate coding into my students' portraits. I would like my elementary aged students to use block coding to make their identities have effects like blinking. If I could eventually connect all portraits together, we could time all the portraits to show similar or different identities and have them light up to show these patterns. I'm still thinking about how to do this. I bought 3V coin cell batteries for each of my students because I wanted them to take their identity portraits home. Eventually, I'd like to use the Chibi Chip.
CHIBI: Your students' work is beautifully documented! Is this part of the project experience for your students? How do you approach project documentation?
SL: I use my students' work in my lessons. The students see pictures of themselves and each other's work in my lesson slide decks. This serves two purposes, 1) it gives them ownership of the classroom and that this is our learning, and 2) it normalizes mistakes because I try to highlight errors across all students throughout the lessons.

Using copper tape in paper circuits is challenging for 9 year olds (and adults, too!); they are bound to make mistakes! To help with the frustration they feel, I use pictures of everyone's work to show that this is quite normal and we just need to be persistent. I also use the pictures (and sometimes videos of myself) to see how I can improve my teaching, too, if something is unclear.
CHIBI: How do you think about "STEAM"? Or, where do the arts fit into what you do?
SL: Art is so important to express ourselves. I think of STEM as STEAM because they are inextricably related. Many of our STEM fields should think about aesthetics and the user experience. I see art not only as a way to express ourselves, but as a way to integrate universal design thinking. For example, in creating a technology app that has large color contrasts, we are designing for accessibility so that, for example, a light colored font on a dark background can be read by everyone. Choosing the right color for contrast and the right color scheme to focus the user all involve artistic knowledge. Fine tuning our artist's eye is quite important in making sure we are designing for accessibility. Art is central to any STEM creation.
CHIBI: How do you support students when they get stuck or have difficulties? It looks like you have created ways to have students support each other through a collaborative inquiry process, can you tell us more about this approach?
SL: When I teach this unit again, I'm planning to use larger paper and the Circuit Sketcher for my students who have difficulty drawing where their copper traces should go. I also think my students have a great resource to lean on, each other! During the collaborative inquiry process (session 5), the students acted like scientists, peer reviewing their work and giving each other feedback on how to improve their paper circuits. During this inquiry process, the group of 3 examined a portrait that worked, a portrait that worked halfway, and a portrait that didn't work.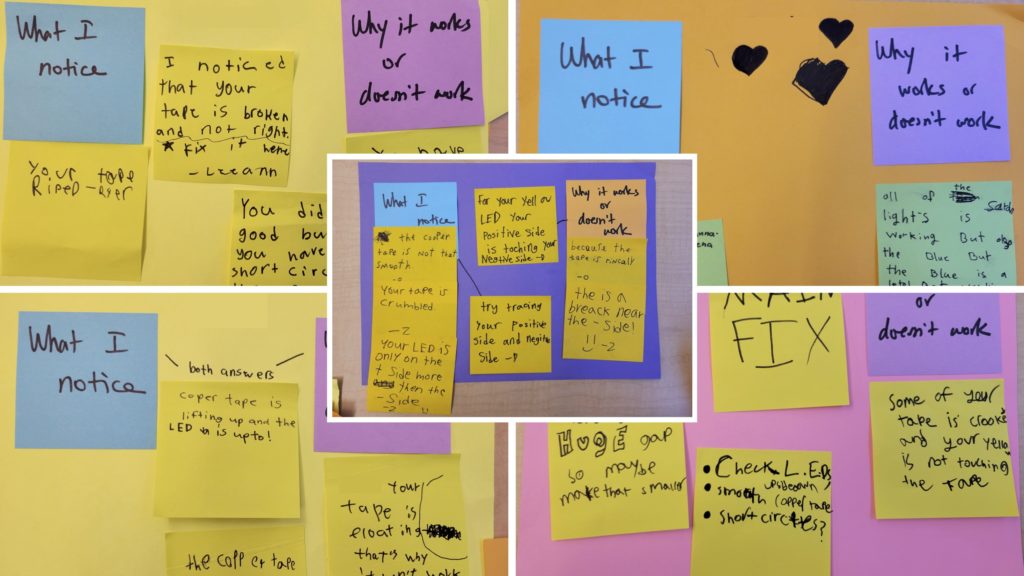 As they thought about and noticed what was happening with the portraits that worked, students were able to give constructive feedback on the ones that weren't working and make hypotheses about why some weren't working. By letting students examine three different types of portraits on their own, doing their own comparing and contrasting, students took agency of their learning and helped each other through this collaborative approach.
CHIBI: Do you have any advice for other educators getting started with paper circuits?
SL: As someone who's new to this herself, I would say keep experimenting, keep playing around with the materials, and do it yourself! I've had the most fun experimenting with the materials and seeing what we can create. Scalability was certainly a big issue for me as a teacher because going from one person creating to twenty-four people creating all at the same time is challenging. I was certainly nervous doing session 2, putting on the copper tape, with the students, but we just jumped right in and I made improvements based on what I was observing the next lesson. I noticed some students needed more 1:1 time and I built in time for that in the next lesson when I had the whole class color their identity webs and I could meet with small groups. I know I'll continue to make improvements as a teacher as I do these lessons again. With each iteration, I know I can improve and so can you!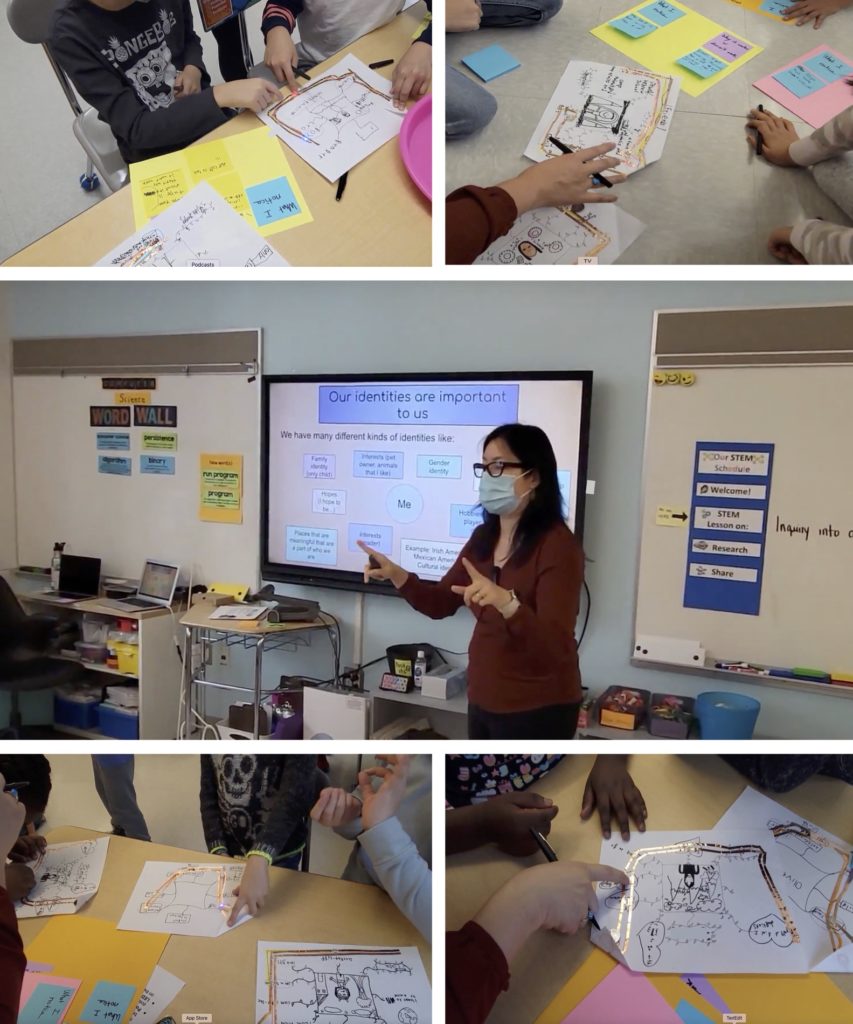 CHIBI: What motivates you as a teacher and learner with these materials and this approach to education? Can you share a project or resource you are thinking about these days?
SL: Issues of equity and identity affirmation motivate me to keep learning, to keep growing. Proactively reaching out to collaborate with my colleagues and finding a community of educators similarly interested in these issues make it possible for me to thrive and not find myself alone in this work. I think it's really important, especially as you find your groove in teaching and garner more and more years of teaching experience, not to get too comfortable in your routines and habits.
I think it's important to push ourselves as we grow in the teaching profession to think about how we can continue to put what matters front and center while balancing competing priorities. For me, this meant setting aside time for read alouds to discuss the science of skin color, for example, which then set us up for conversations around how Langley Memorial Aeronautical Laboratories used to be segregated and how people like computer scientist Dorothy Vaughan stood up for equal rights at the organization we now call NASA.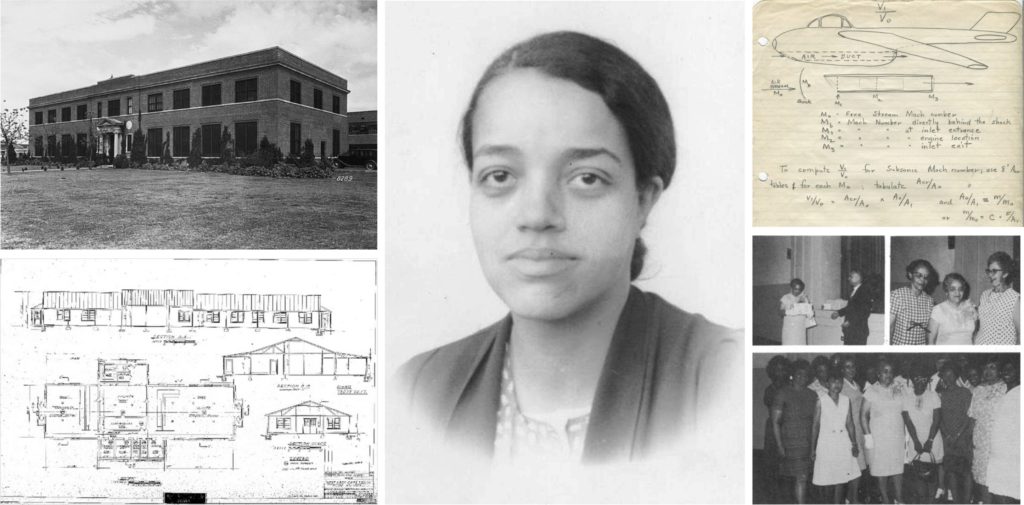 These days, I continue to think about how important it is for our students to see women and historically marginalized groups in STEM. I want my students to feel empowered and to help them see that they can be a changemaker and a person doing STEM. This was one of the reasons for doing the identity portrait project–to affirm my students' identities and that they can do STEM. Similarly, I also want my fellow teachers to feel empowered and supported. I encourage all teachers to find their teacher group, whether at school or online, to lean on. One resource is your local CSTA chapter.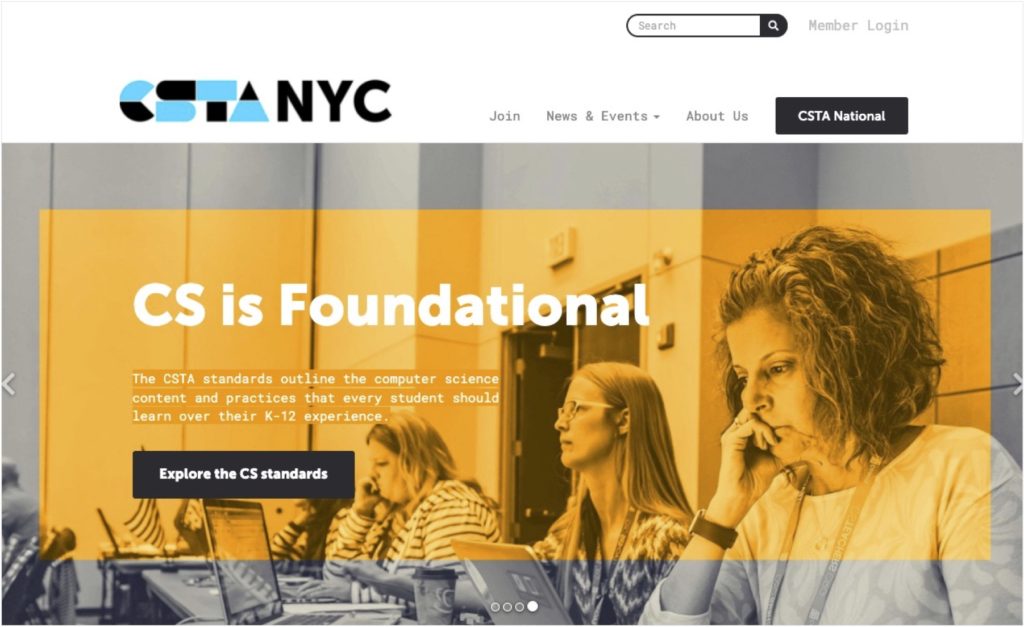 Just like how my students work well when collaborating, so do teachers. CSTA has been such a great resource and I've gotten to know so many wonderful people who I not only collaborate with but are now my friends. These days, I've been thinking a lot about how to advance the field of mental health. With the pandemic, my students' social-emotional well-being and my own mental health has been on my mind a lot. I have a project I'm working on and as I continue to learn how to code, I hope to help others.
Thanks for reading and stay tuned!
Featured Educator – Shiela Lee