Hello Chibitronics lovers! I'm Allison Cope and today we're going to making a card for Father's Day featuring the amazing colorful Chibitronics LED Light Stickers.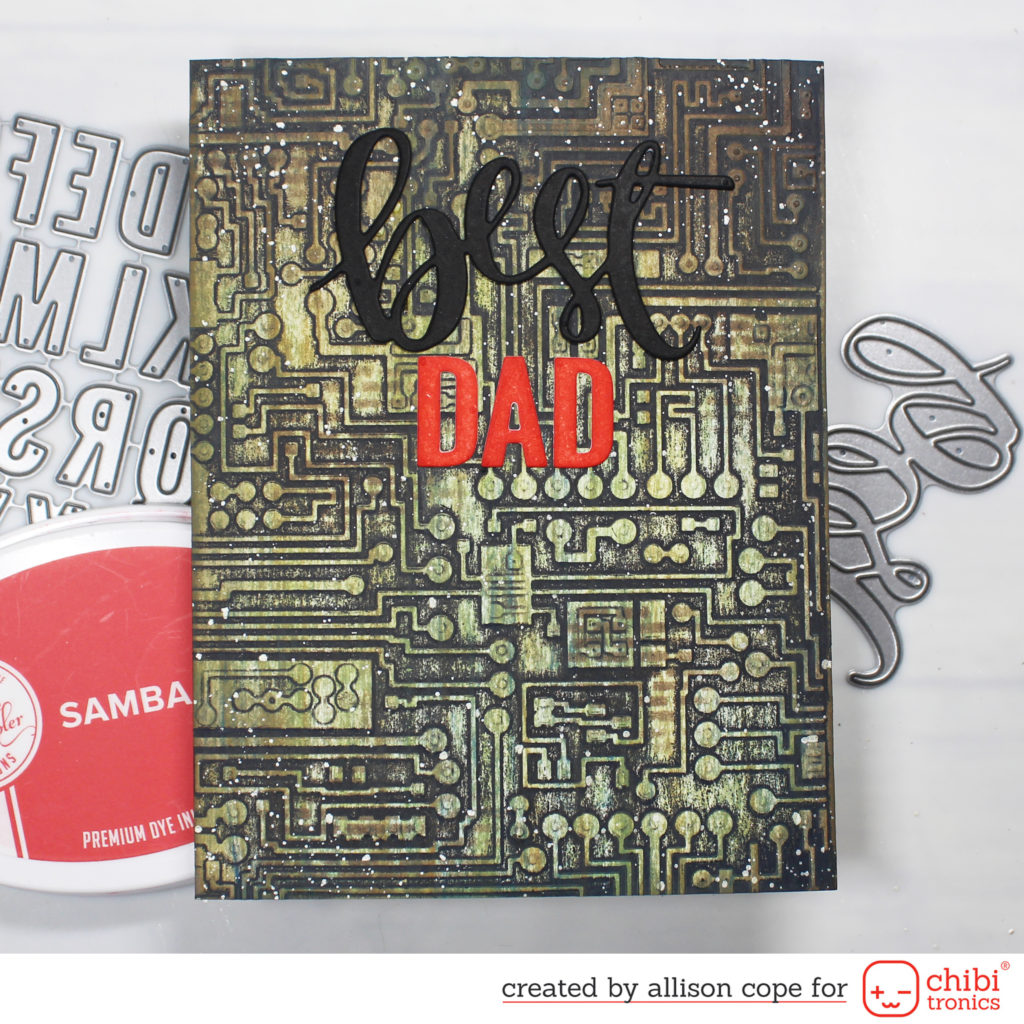 There are SO many cool embossing folders out there and the minute I saw this cool "Circuit" embossing folder I knew it would make a wonderful masculine card.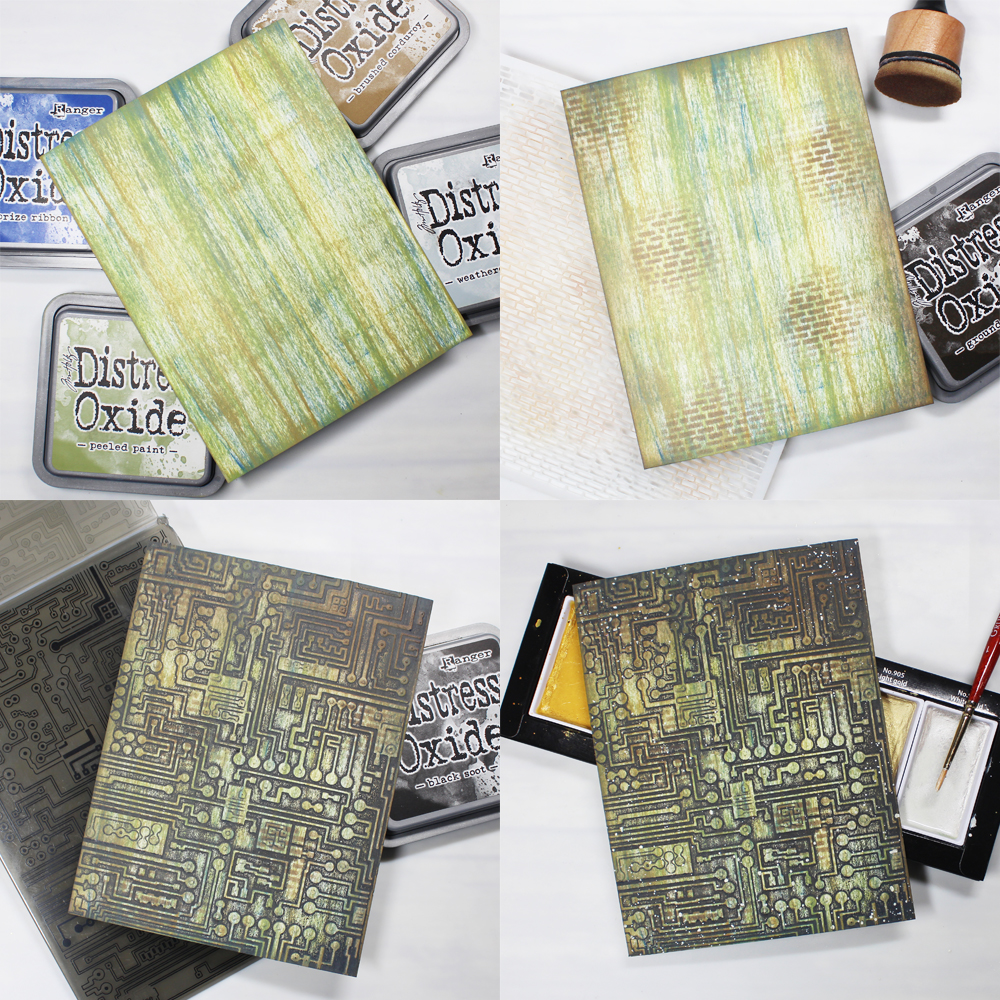 To begin my card, I first used a variety of Distress Oxide inks and swiped them across my blank white cardstock. Then I took a fun brick stencil and added some brick texture detail in a few places. Then I took our circuit embossing folder and swiped dark ink across the de-bossed side of the embossing folder and laid in my cardstock piece and then ran it through my die cutting machine adjusted for the thickness of the embossing folder. This lays down ink in the voids of the design. Lastly, I splattered on some silvery white paint.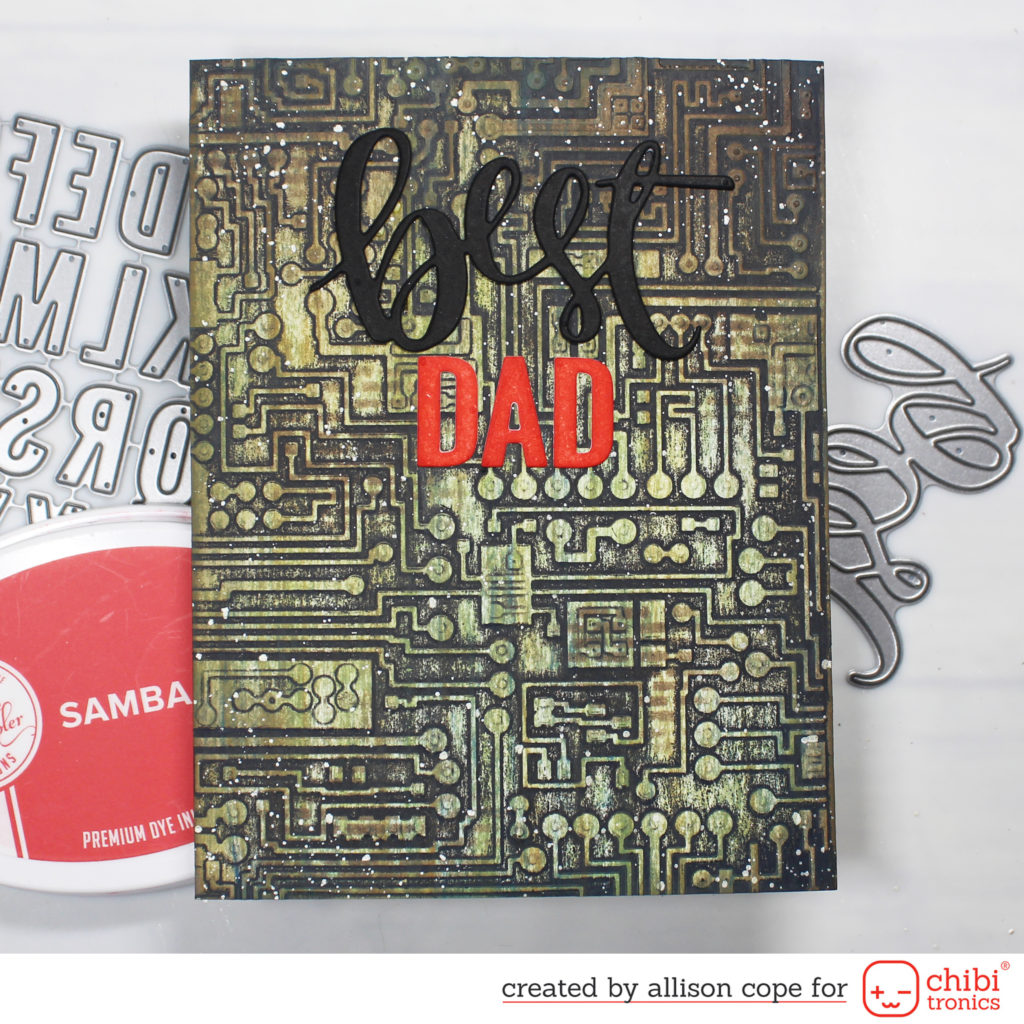 To finish off the front panel, I added a black cardstock die cut "best" and a inked red cardstock "DAD" using some fun dies. Isn't it cool!!! Now let's make our circuit to go underneath…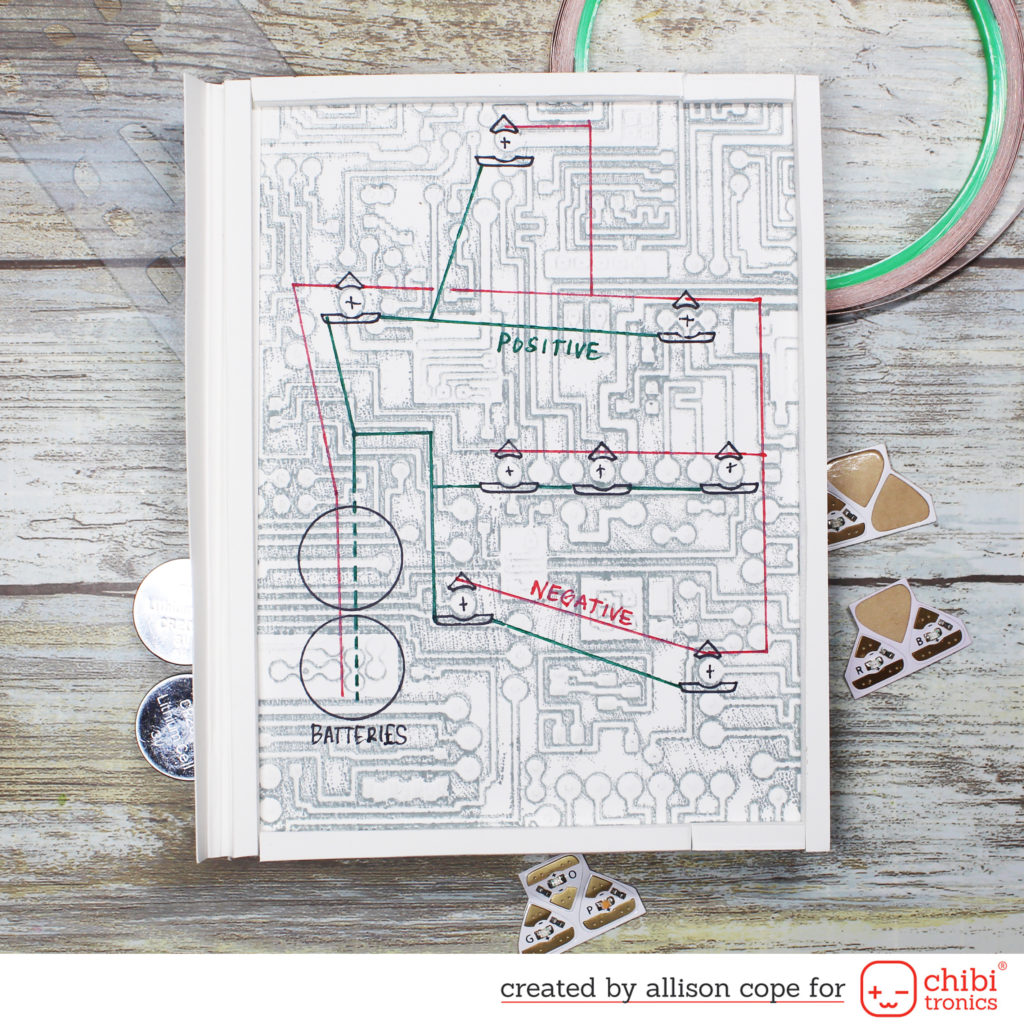 To aid in the positioning of all my LED Light Stickers, I lightly inked and embossed another piece of white cardstock to lay down on 110# white card base. This just makes it 100% easier to position the stickers exactly where I want them to light up within that circuit design on the front panel. Next I decided where I wanted all my light stickers to go and used the stencil from the "Craft Effects and Stencil" set. I found a spot where my batteries were going to go and then I connected each of the sticker sites to the batteries via positive and negative lines.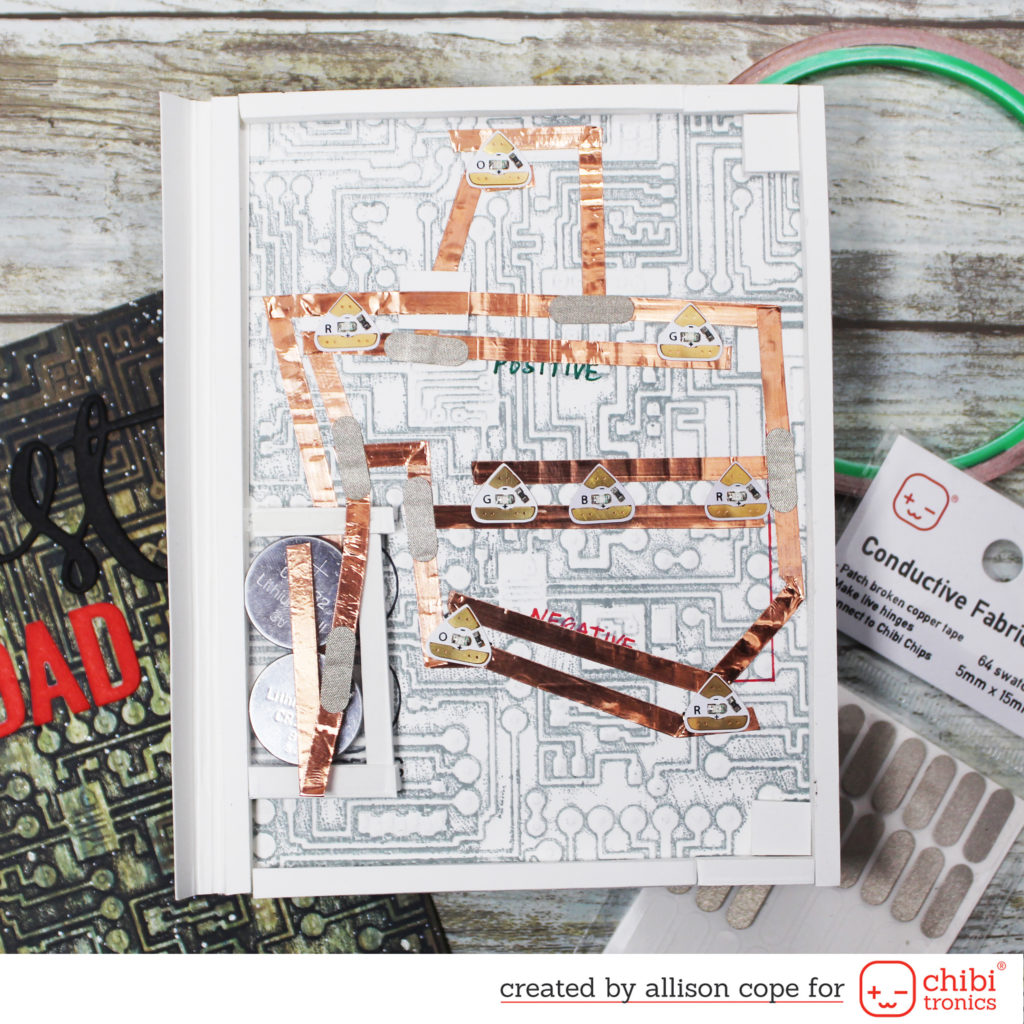 Next I laid down all of the "Copper Tape" to create my circuit. I typically start with the negative line of the circuit so I can place it underneath the area of my batteries. I used some of our nifty "Conductive Fabric Tape Patches" to ensure that all of the breaks in my "Copper Tape" were a complete and closed circuit. I even had to create a paper bridge for my "Copper Tape" to cross over it's self! So easy! Next I added all my light stickers. I used blue and red LED light stickers from the "Red, Yellow, Blue LED Sticker Pack" and green and orange LED light stickers from the "Pink, Orange, Green LED Sticker Pack". I added in a couple of 2030 watch batteries and a light up card was born…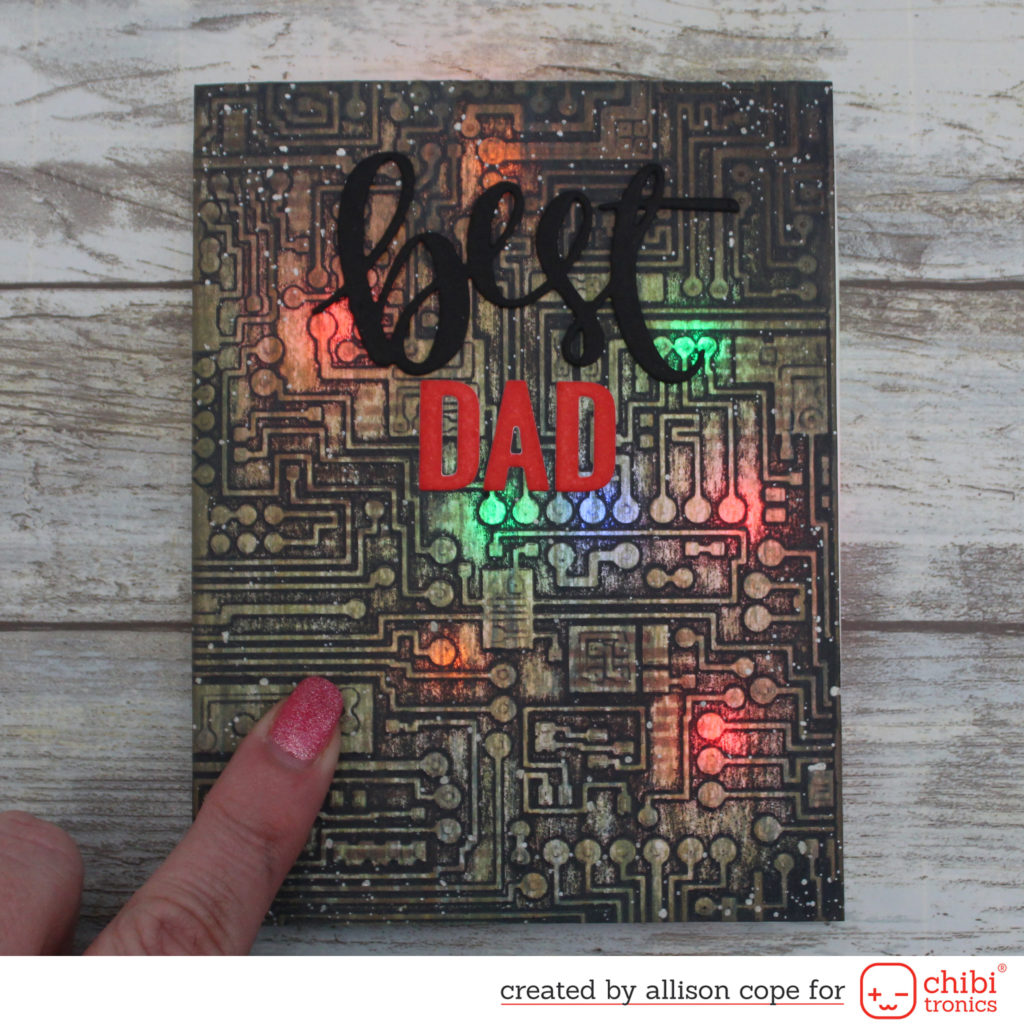 This card was SO fun to make and I know my hubby is going to LOVE it since he's an industrial electrician!
Thanks for stopping by today! Come check out my Instagram to today to see this card in action… @i_card_so_hard
Best Dad Light Up Circuitry Card