Hi everyone! this is Rana and I'm so happy to be back on chibitronics blog, I have a new fun light up card to share with you today featuring Chibitronics and Magengo designs products.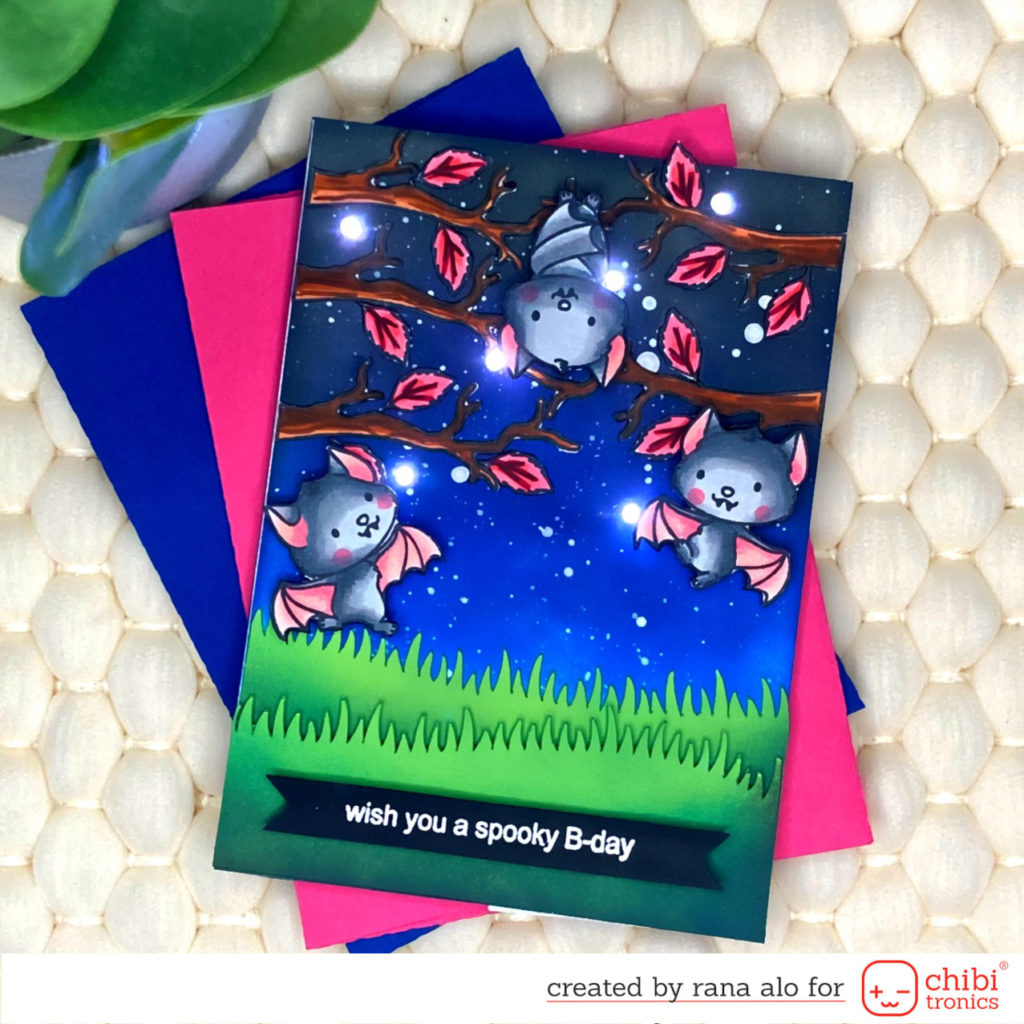 First I designed a very simple circuit with 6 lights in my silhouette software then I sent the template to my silhouette portrait machine to cut it but you can simply design it directly on the paper and also cut it with the scissors.
To get a flat shape for my card I always try to create a base with the same thickness of my battery, in this card I needed 3 layers of 300 g white card stock then I used a liquid adhesive to stack all of the 3 layers together.
To build the battery holder I also designed it in my silhouette software by creating a simple rectangular with a hole in the middle with the same diameter of my battery, then I sent it to my silhouette portrait machine for cut also 3 times to stack them together so it has the same thickness of my circuit base.
Now we have the circuit and the battery holder ready, we need now to attach the circuit to the card base using double sided adhesive and to pull the battery easily I just cut a simple curve from the card base in the battery place.
After that I built my circuit using the copper tape and also added 6 white lED stickers then I made a quick test by placing the battery to check if everything works well.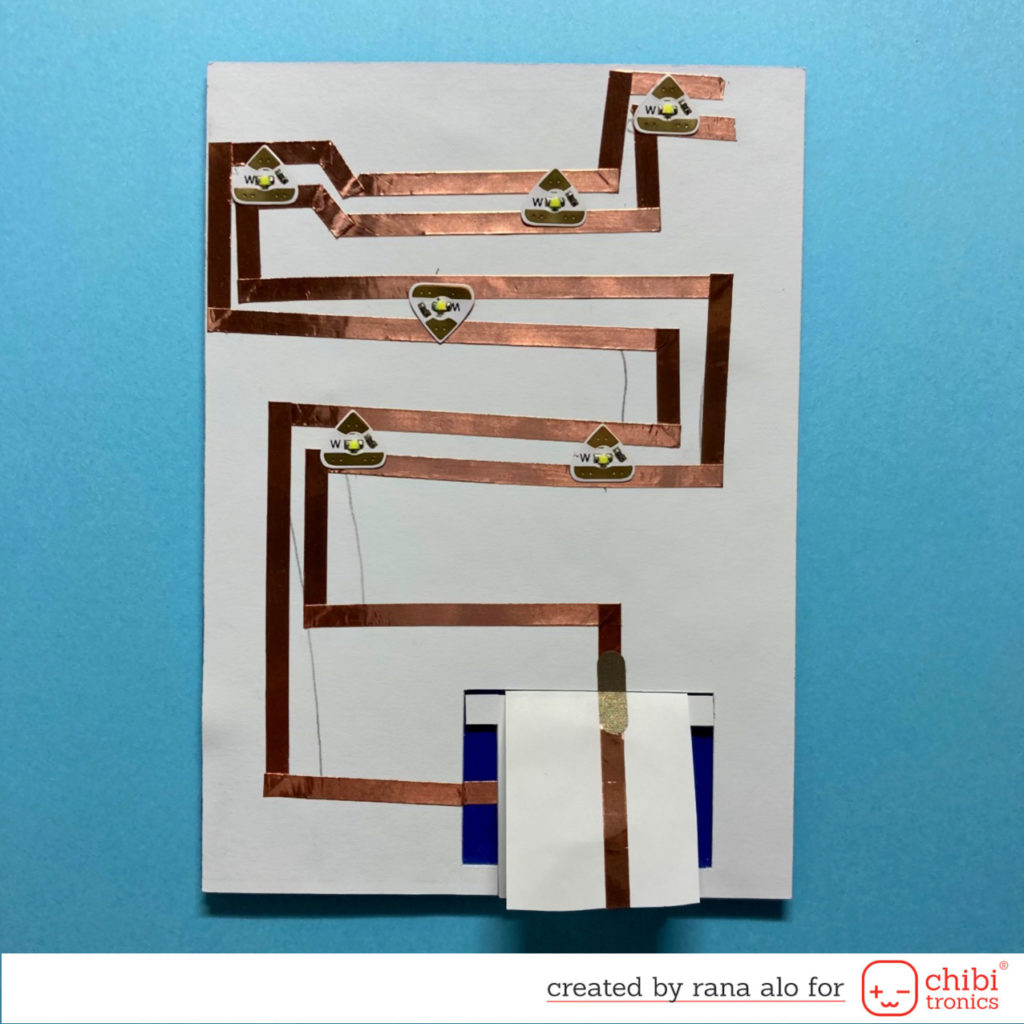 To get a secure connection between the battery holder and the circuit I added an extra conductive fabric tape swatches.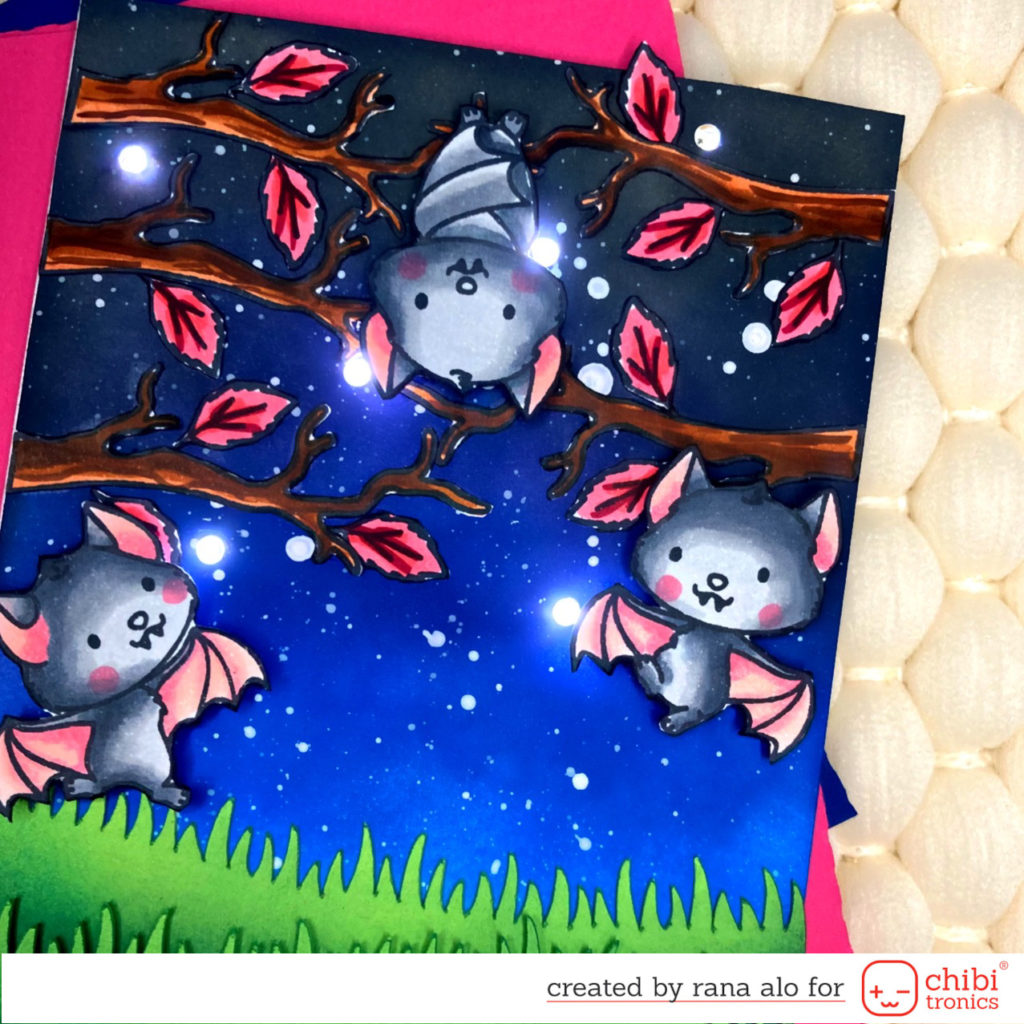 I wanted to create a night sky and for that I inked the background with salty ocean, chipped sapphire and black soot distress oxide inks, then I splatters it with white watercolour using a small paint brush.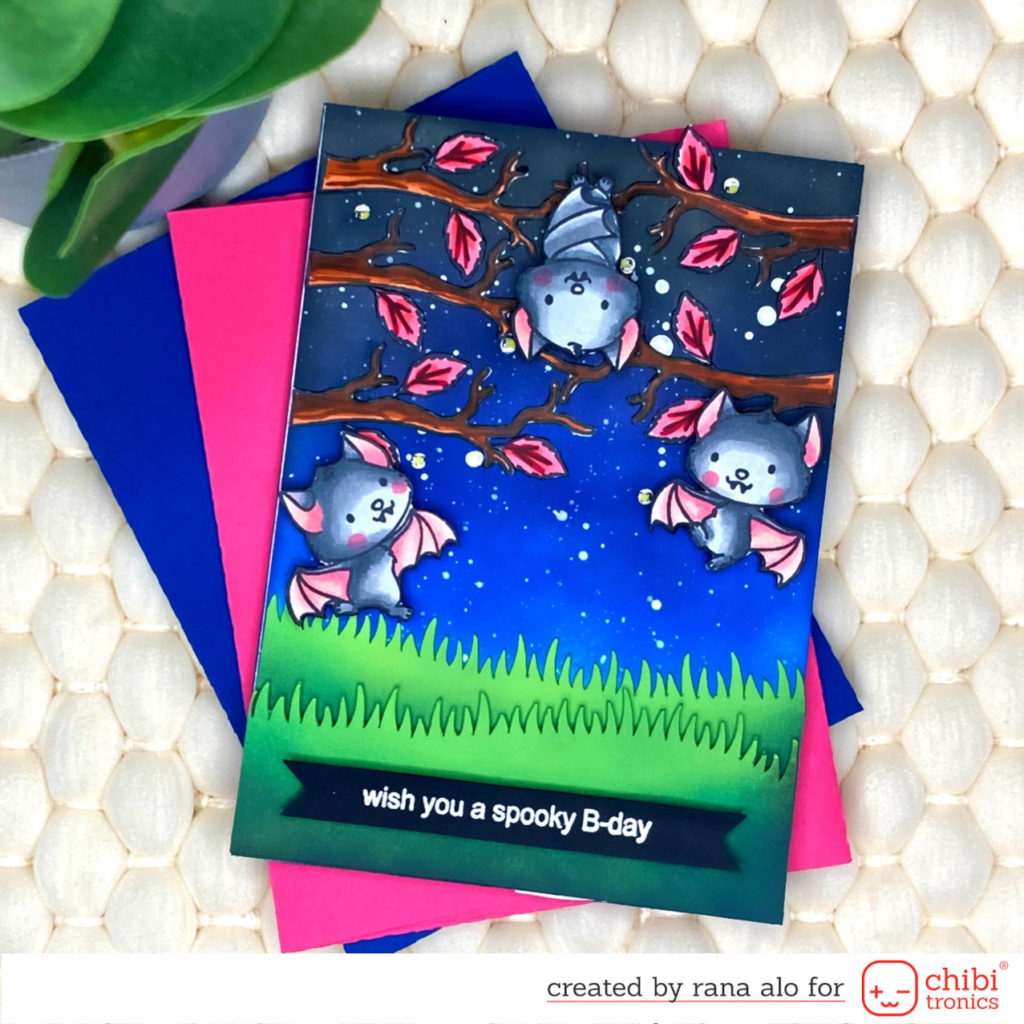 I also cut 2 crass designs using my silhouette portrait machine from green card stock and inked them with pine needles and black soot distress oxide inks.
To create a spooky birthday card I stamped a few stamps from Magengo designs sets and coloured them using Ohuhu brush markers.
Finally I build my card by attaching the grass layers and I attached the first one using double sided adhesive and attached the second one using foam tape.
To attach the stamps I used liquid adhesive and also foam squares, the sentiment that used for this card is (wish you a spooky birthday) and I embossed it on black card stock using versa mark ink and white embossing powder.
Circuit products:
Stamps:
Craft supplies:
Double sided adhesive.
Foam tape.
White card stock.
Green card stock.
Black card stock.
Salty ocean distress oxide ink.
Chipped sapphire distress oxide ink.
Black soot distress oxide ink.
Pine needles distress oxide ink.
Versa mark ink.
White embossing powder.
Memento tuxedo black ink.
Silhouette portrait machine.
I hope you liked my card for today, and enjoyed the process, if you have any questions please leave them in the comments and I will be more than happy to answer you.
Have an adorable crafting day
Rana
Light up Halloween card with Chibitronics and Magengo designs