Hi friends – Bri Firth here!  Hope those of you who celebrated had a wonderful 4th of July weekend with family and friends. Even though the holiday has passed, I wanted to share a patriotic-themed card light up card. This interactive card features blue Sticker Lights and Copper Tape from Chibitronics, and the Front Porch Series from Art Impressions. For more details on this creation keep reading below!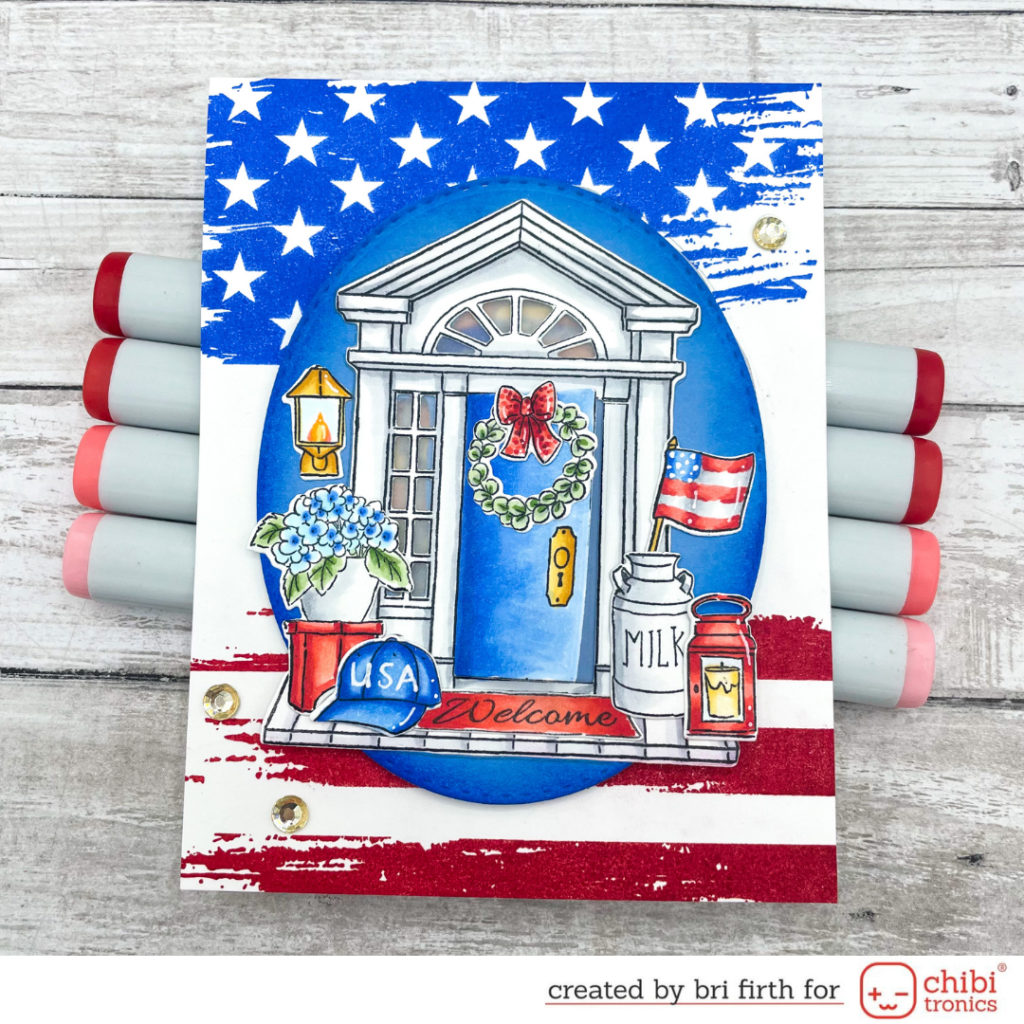 The adorable porch images are from a variety of sets in the Front Porch Series from Art Impressions. I listed the sets I used at the end of this post. I used my Copic markers to color the front porch and the patriotic decor. The colors I used are listed here:
Reds: R21, R22, R24, R27, R59
Blues: B00, B21, B24, B26
Gold: Y21, YR23, YR24
Green: YG61, YG63, YG67
Gray: C1, C3
To create the simple card background I used red and blue inks with the Sketched Flag Background Stamp by Taylored Expressions. Next, I layered an blue oval on top of the card front to conceal the circuit. I put vellum behind the window openings on the porch image to hide the circuit. Check out the images below to see the card layering and the push button circuit I created with the Blue Sticker Lights and Copper Tape. There's a gap in the circuit so that the lights wont be active until the copper tape on the blue oval is in contact with the rest of the circuit on the card front.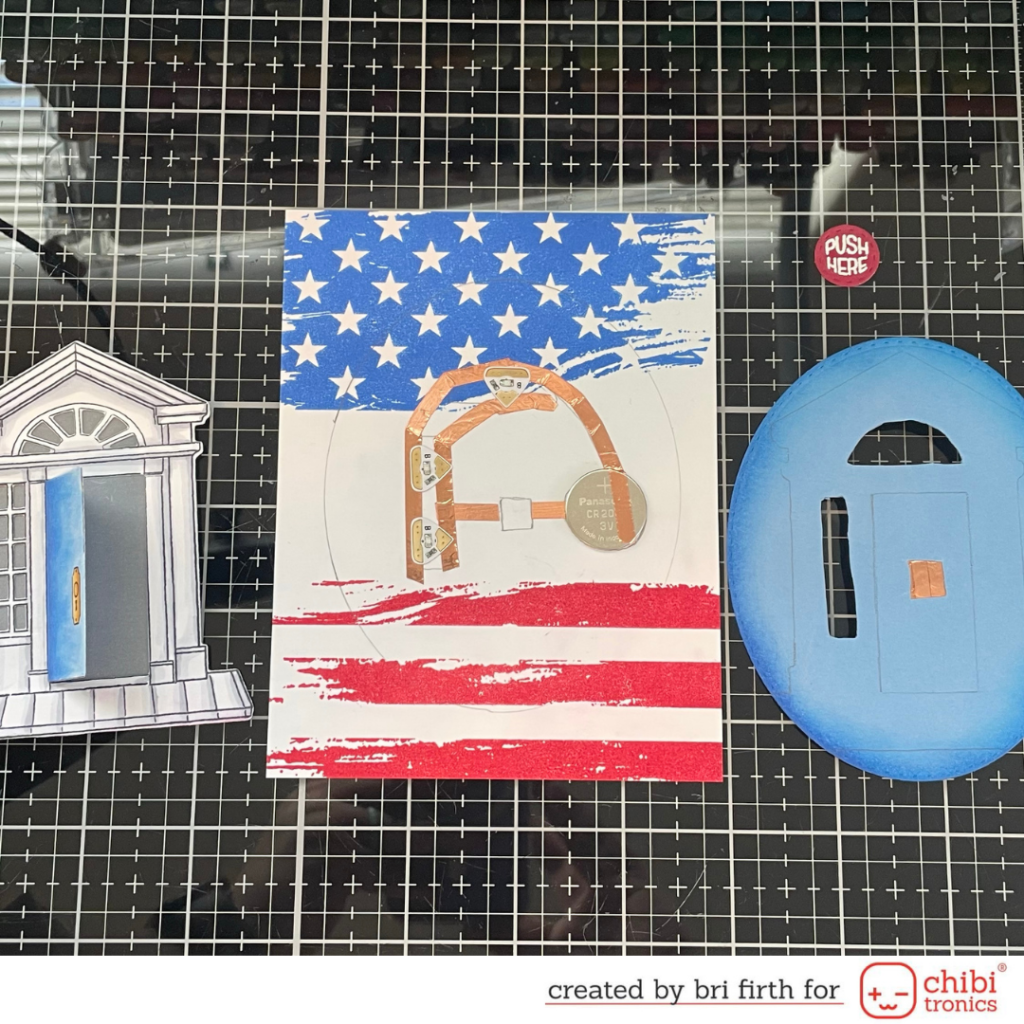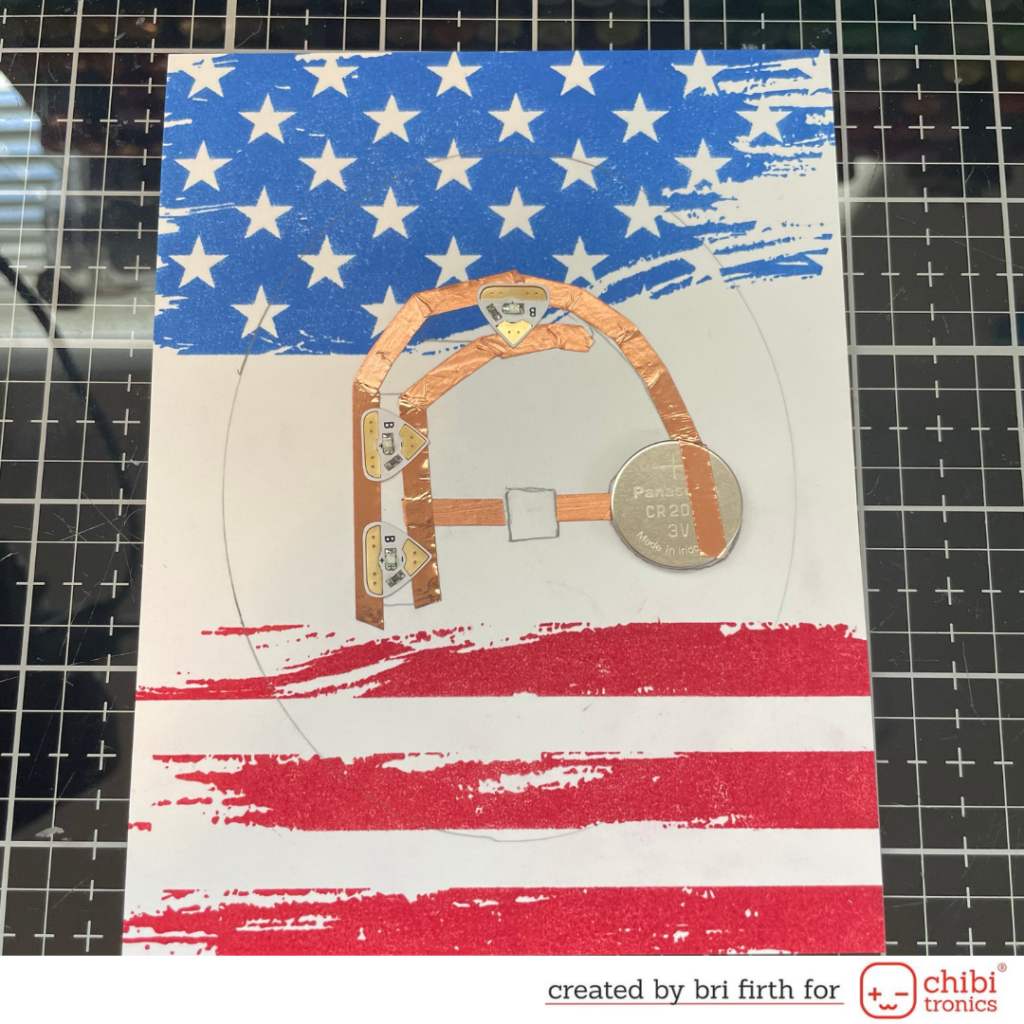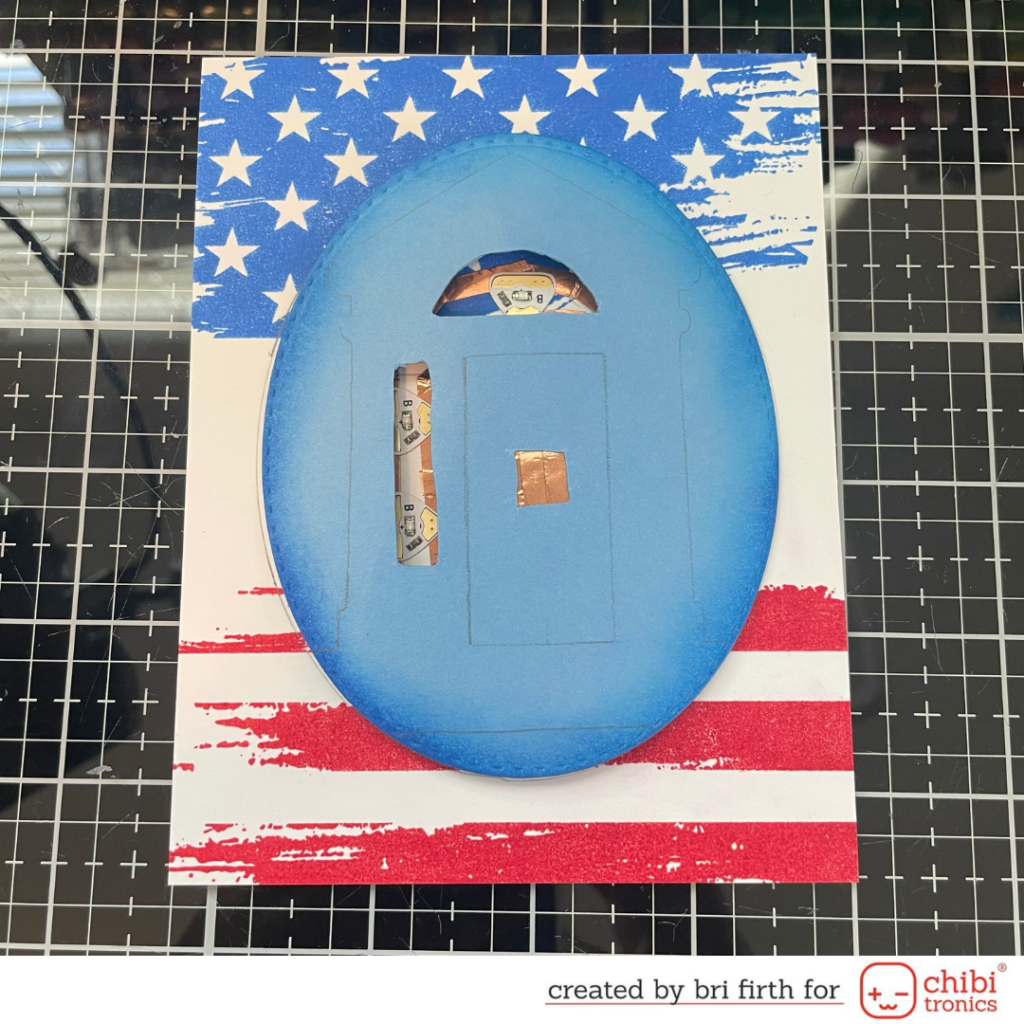 Once the card was constructed I put a "Push Here" button (created using the Lawn Fawn Push Here stamp set and small circle die from Art Impressions) inside the door opening to cover the copper tape square.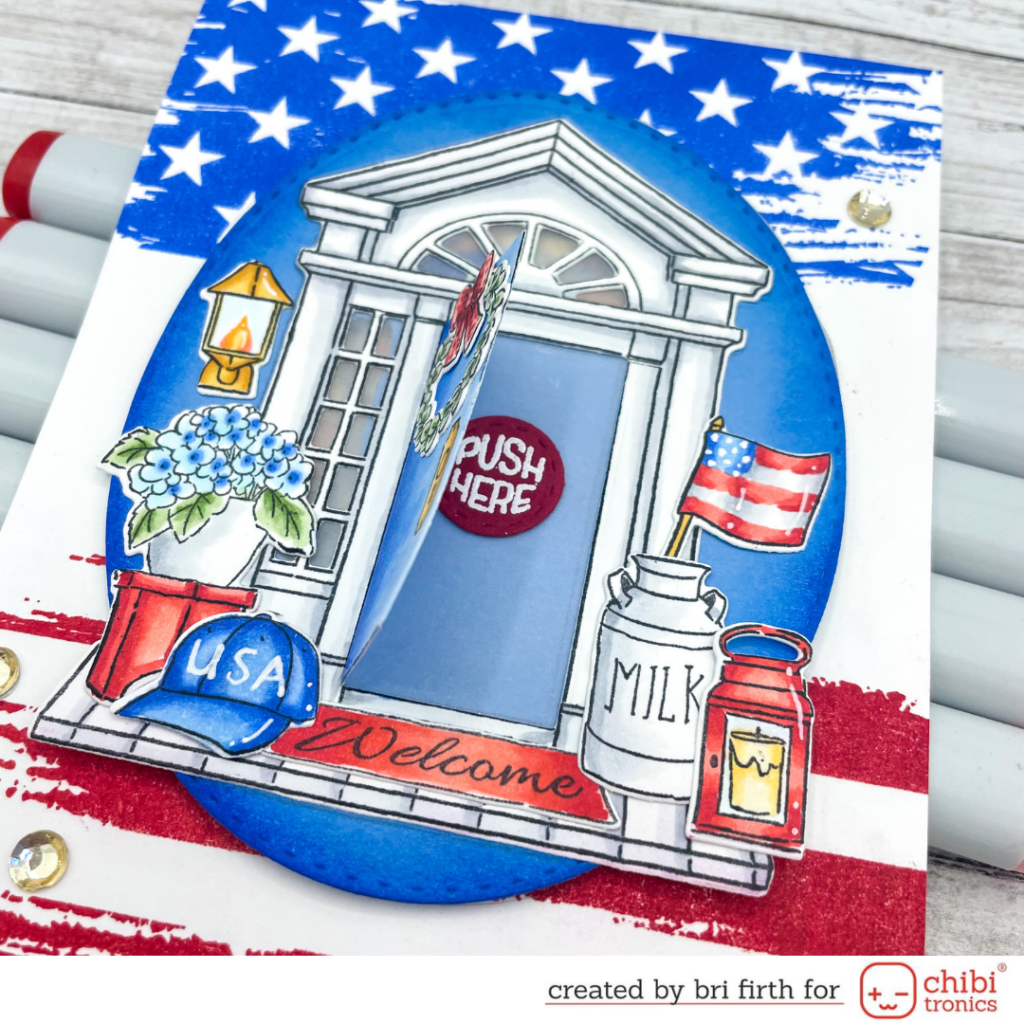 Finally, you can check out the light up card in action in the photo below.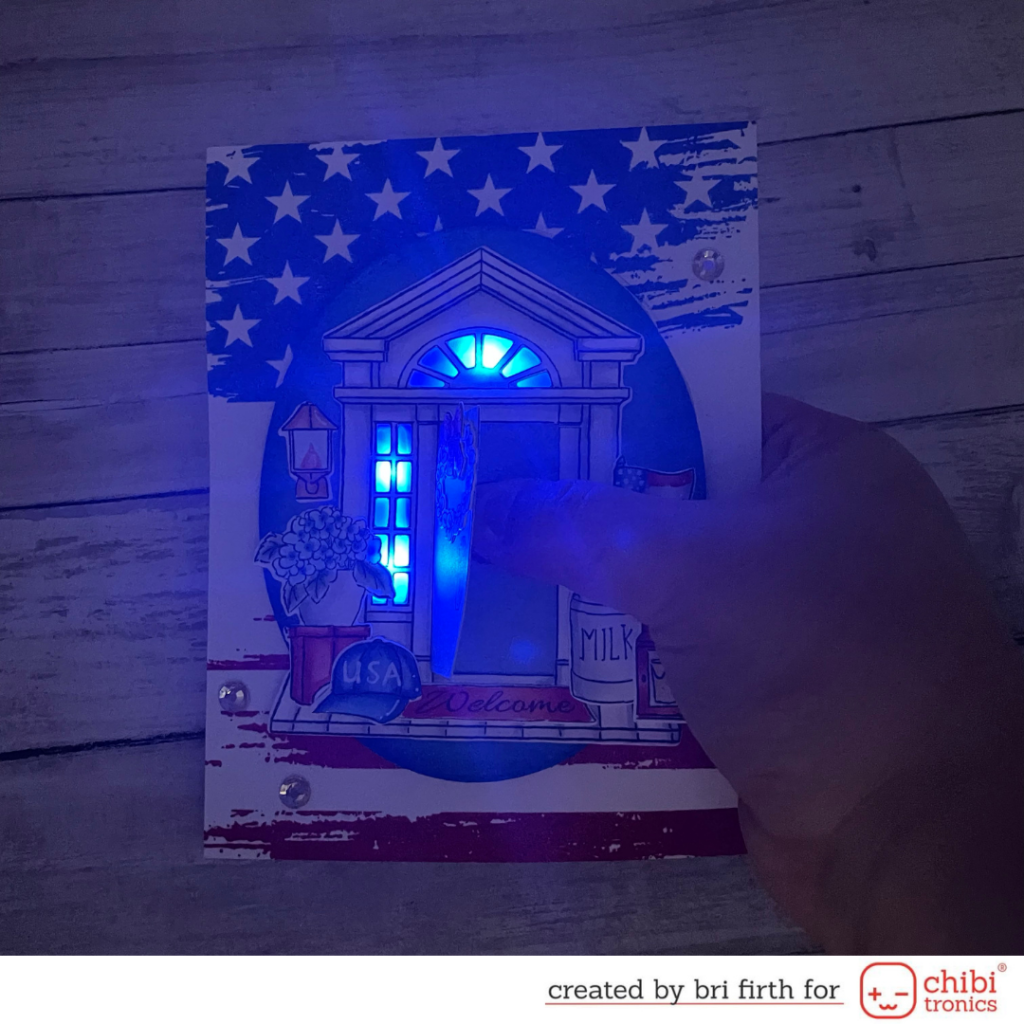 Hope this celebratory creation inspires you today!
-Bri
Bri Firth Creates
Supplies
Sampler MegaPack Sticker Lights
Copper Tape
Push Here Stamp Stamp Set
Sketched Flag Background Stamp
Front Porch Door Stamp & Die Set
Front Porch Farm Stamp & Die House Set
Sport Accessories Stamp & Die Set
Oval Double Stitched Die Set
Circle Double Stitched Die Set
Patriotic Front Porch Light Up Card