STEM Reimagined: Craft meets Code
Love to Code re-invents the book with paper circuits. Bring stories to life by crafting functional circuits directly onto the pages of our interactive book! Our powered binder contains everything you need to create and code on the go using our programmable Chibi Chip.
With Love to Code, everyone can create stories with circuits and code!
Love to Code Vol 1 is created by Jie Qi (author), K-Fai Steele (illustrator), Andrew "bunnie" Huang (editor), and Natalie Freed (technical editor).
Learn with Fern and Friends
The Chibi Chip Starter kit is a fun, new way to learn circuits and coding.  Open our interactive storybook, Love to Code Vol 1, and you're greeted by Fern the Frog and her friends.  Watch the video to hear Fern's story!
Join Fern and her pals on a journey to make cool interactive projects and learn circuits and programming along the way. You'll learn to make LED lights shine and blink with loops and variables, craft paper switches and program them with conditional statements, and make complex light patterns with multithreaded programming.  Finally, level up your coding skills with our debugging chapter, which shows you how to find and fix problems in projects!
It's easy to get started with Love to Code!
Getting started is easy and quick, thanks to a simple web-only environment that requires no software to install or drivers to configure. Upload code to your Chibi Chip via the common headphone jack. If you can stream music off the web, you've already got everything you need to program with Love to Code.  Our audio-based programming means you can use smartphones and tablets in addition to computers to program the Chibi Chip!
Watch the programming demo video and see how easy it is to get started!
Still not sure? Click the button below to confirm your browser's compatibility!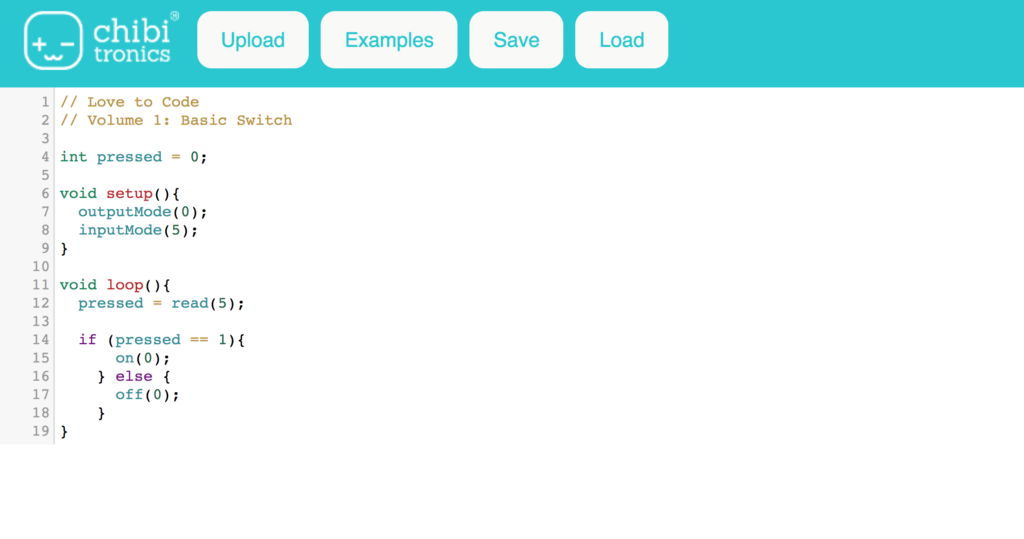 If you're familiar with the Arduino coding language, try our online text-based code editor!
Microsoft MakeCode Editor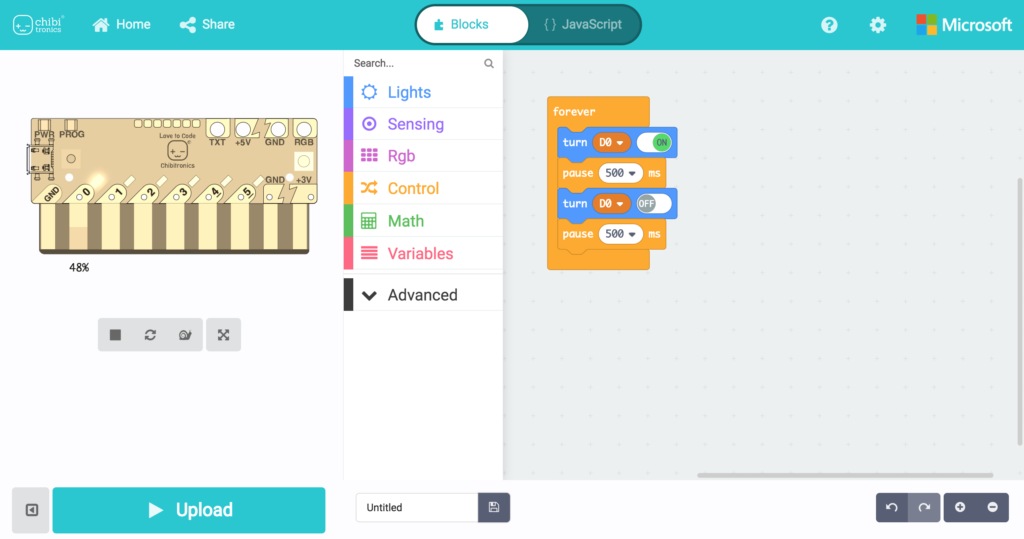 If you're new to code, try our Scratch-inspired block code editor by Microsoft MakeCode!
What kinds of things can you do with Love to Code?
With the reusable Chibi Clip, you can use the same code with different circuits to tell many stories!
Bring light to life using our craft effects!
Tips, tricks and tutorials
Here's a few helpful tips, tricks and tutorials to help get you going right away!
Powering on the Chibi Book
The Chibi Book holds all your project materials while providing power to your circuit. The orange battery pack at the top is your power source.
First, you will need to insert three AA batteries into the battery pack with the nubs facing left. Batteries are not included in the Chibi Chip Starter Kit, but the Chibi Book will work with most popular brands of rechargeable and alkaline AA (LR6) batteries.
Second, you will need to plug in the cable, and turn the battery pack on. Watch the video on the right to find out how.
If you've done it right, the green light on the left will turn on!
The program button
The program button tells the Chibi Chip when to listen for new programs. When you're ready to upload code, press and hold the "PROG" button until the light near it turns red.
Assembling the Chip into the Clip
Learners and educators will find it necessary to quickly re-use the Chibi Chip. We recommend beginners and educators to use the Chibi Chip and its Clip as a pair, which is why they are provided pre-assembled in the Chibi Chip Starter Kit.
However, putting the Chip into the Clip for the first time can be a little bit tricky, so view our tutorial on how to assemble the two in case you've bought the parts separately or you've accidentally taken the two pieces apart.
Once you're done with your masterpiece, remove the Chibi Clip and use our conductive fabric tape patches to semi-permanently connect the Chibi Chip directly to copper tape. This technique hides the Chibi Chip nicely under pieces of paper, because the Chibi Chip by itself is so thin, flat and flexible.
For educators
Love to Code Vol 1 is made available under a CC BY-SA-4.0 license. This means you are free to download, copy, print, translate, and remix elements of the book.
We only require that you attribute Chibitronics, and that any derivative works (such as translations and lesson plans) also use the same CC BY-SA-4.0 license.
We designed Love to Code Vol 1 to look fun in full color, but also legible when printed on a black and white laser printer. Furthermore, the Chibi Book is a refillable ring binder. This allows cost-conscious educators to save money by reprinting select chapters or lesson plans semester after semester.
Please click the CC icon for more details on the license.