Guide to Conductive Tapes
There are many different types of conductive tapes, each with their own unique properties. The two most commonly used tapes in paper circuits are copper tape and conductive fabric tape.
Use this guide to help you choose the best option for your project!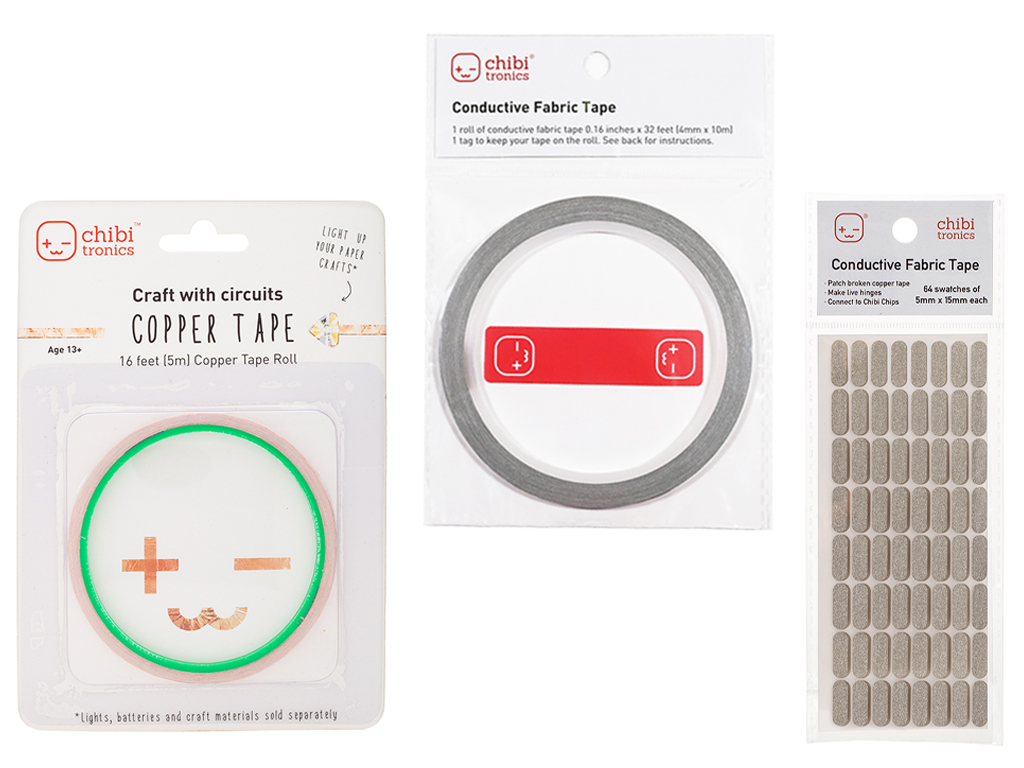 Conductive Tapes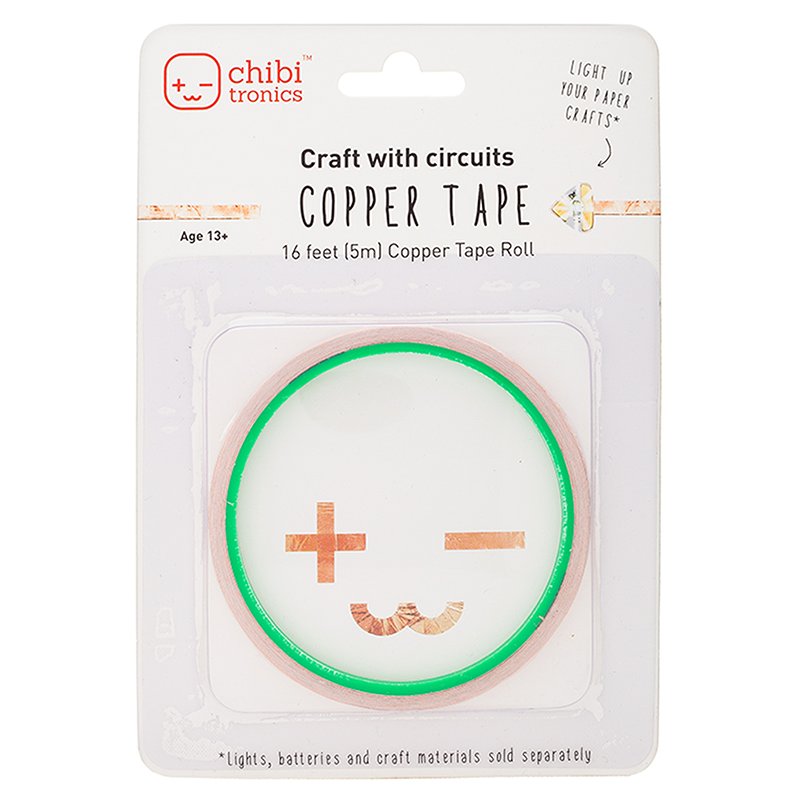 Pros:
Can be soldered for more secure connections to electronic components
Conductive across long lengths because it is solid metal
Easy to cut or tear by hand without need for scissors
Shiny copper color is great for decorative circuitry
Good for intermediate and advanced circuits since has the same electrical properties as copper metal wire
Cons:
Will crack if folded repeatedly
Can accidentally tear at turns
Sharper edges
Use for:
Small to large-scale circuits
Paper-based projects
Circuits that need soldering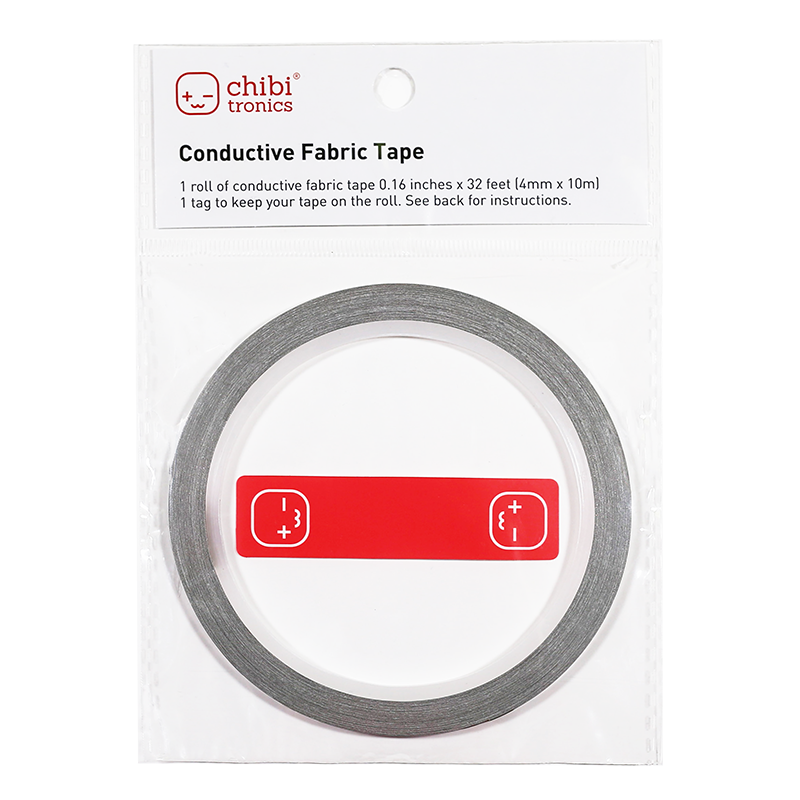 Pros:
Flexible and does not break when folded repeatedly
Does not tear when turning corners
Soft and sewable – safe and works well with textile-based projects
Strong conductive adhesive so you can patch or extend circuits just by taping on top of them
Great for beginners building circuits that won't be soldered
Cons:
Cannot be soldered
Slightly less conductive across long lengths: around 3-5 ohms of resistance per foot of tape.
Requires scissors to cut
Use for:
Small to medium-scale circuits
Textile and paper-based projects
Circuits with lots of folds and bends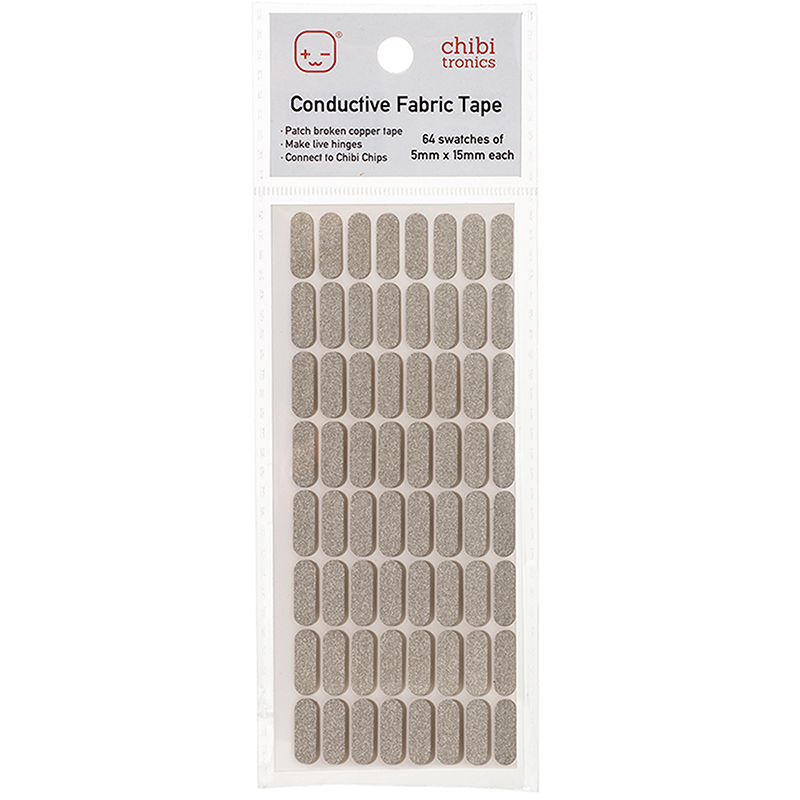 Pros:
Pre-cut to size and easy to peel to "patch" circuits or reuse sticker components
Useful with copper tape to branch, repair, or add hinges
Great for classroom use – teachers can hand out a few patches at a time for students to use in their circuits without waste.
Cons:
Cannot be soldered
Since it is pre-cut to a specific shape, it is less versatile than the tape version
Use for:
Patching and troubleshooting copper/metal foil circuits
Reusing sticker components
Attaching non-sticker electronics components (eg. "through hole" sensors, switches, or LEDs)
Copper Tape Examples
Copper tape was used as decorative as well as functional elements in these projects. By cutting the copper tape to be thinner, it was possible to create curving copper lines:
These circuits used copper tape so that small components could be connected by soldering:
Conductive Fabric Tape Examples
This accordion book circuit has many folds! Using fabric tape makes a strong circuit that can hold up to repeated folding over time. The conductive adhesive on the tape allows multiple circuit templates to be easily connected together via a shared + and – track.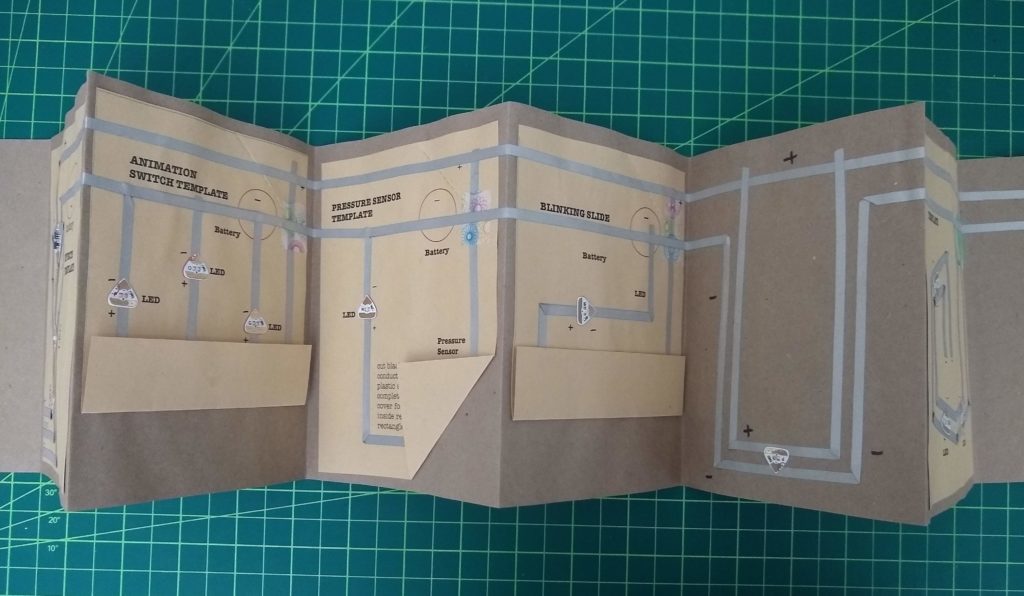 This Chibi Chip was removed from its clip to make it as flat as possible for a project, then its pins were connected with fabric tape: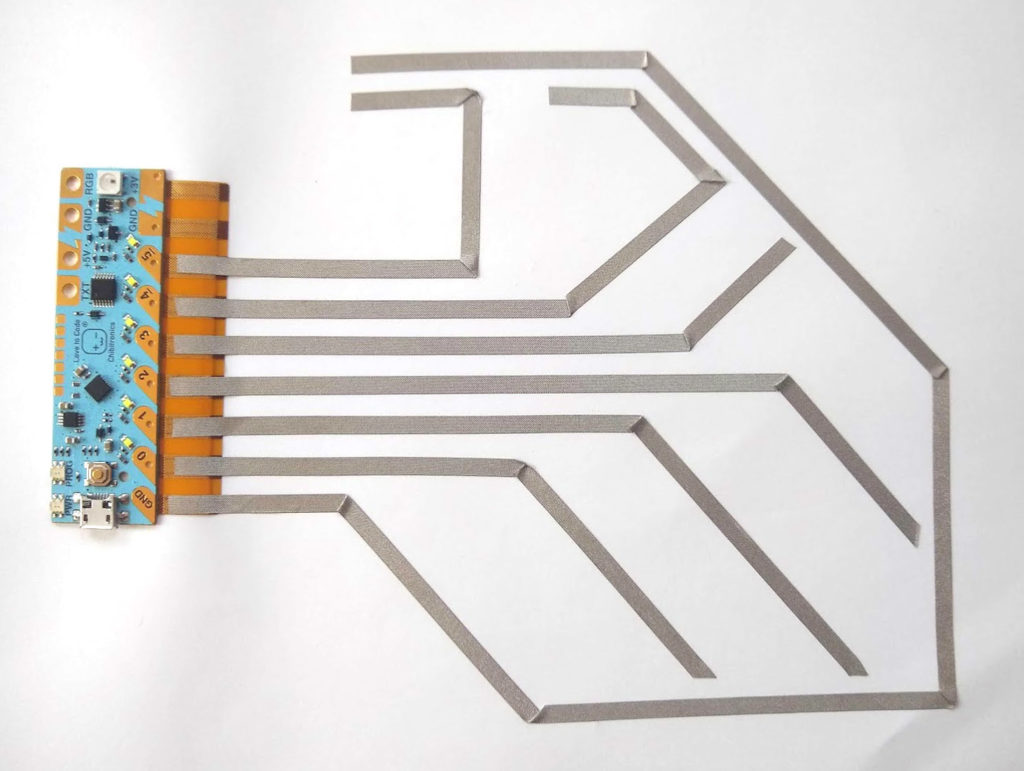 The conductive adhesive on the fabric tape makes it easy to create branched circuits – you can add new connections anywhere simply by taping!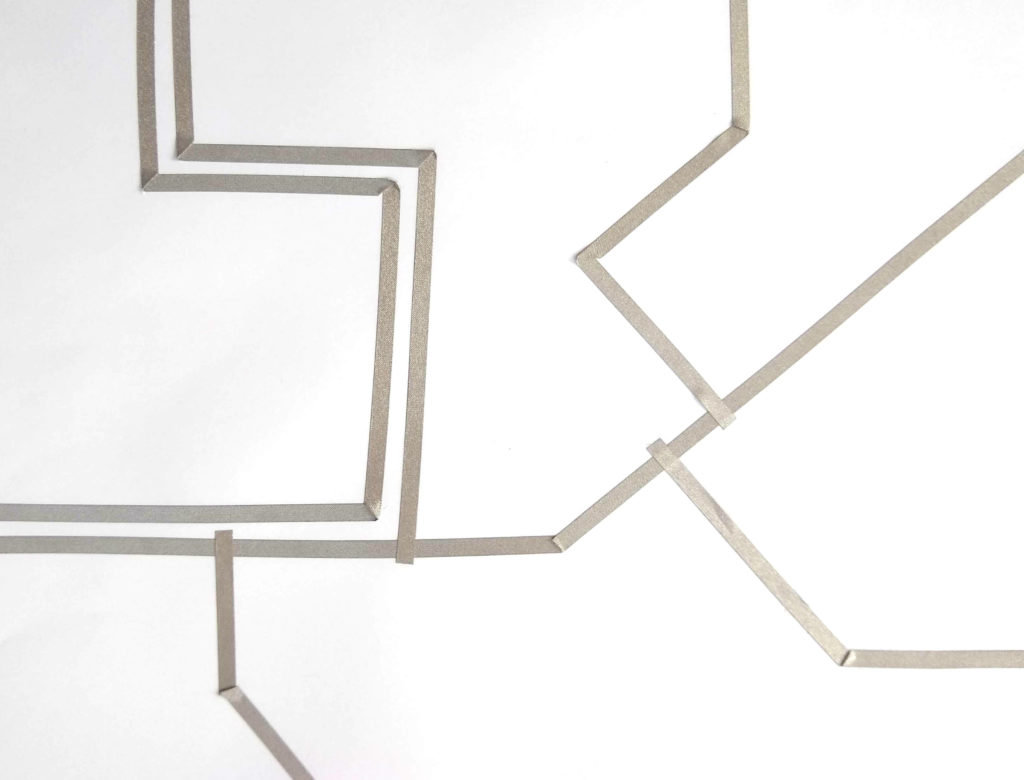 Conductive Fabric Patch Examples
A fabric tape patch makes it possible to reuse a Circuit Sticker many times: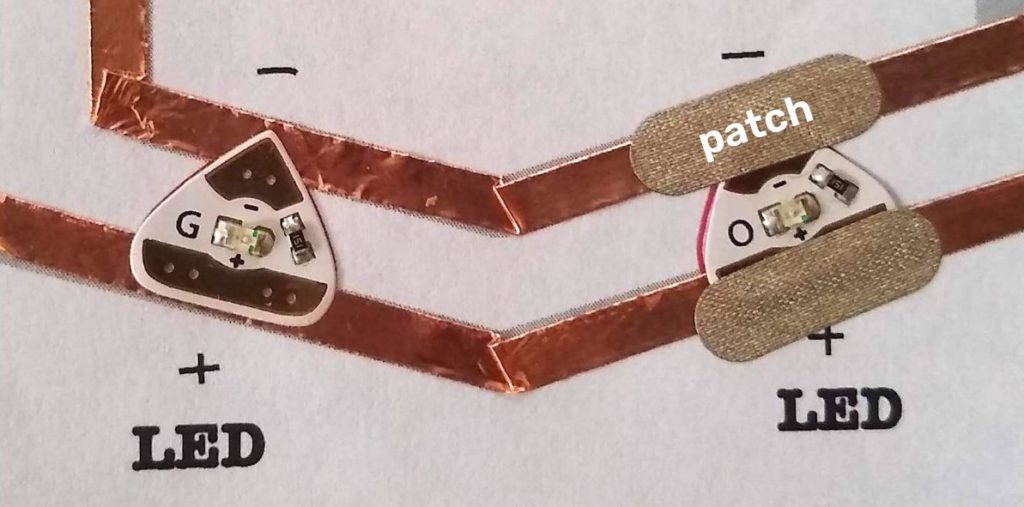 Copper tape and fabric tape patches can be used in combination to branch, patch, and hinge circuits:

One sheet of patches can be cut into smaller clusters and shared among students so they can troubleshoot and repair their circuits. The patches can even be pre-cut in half for smaller fixes: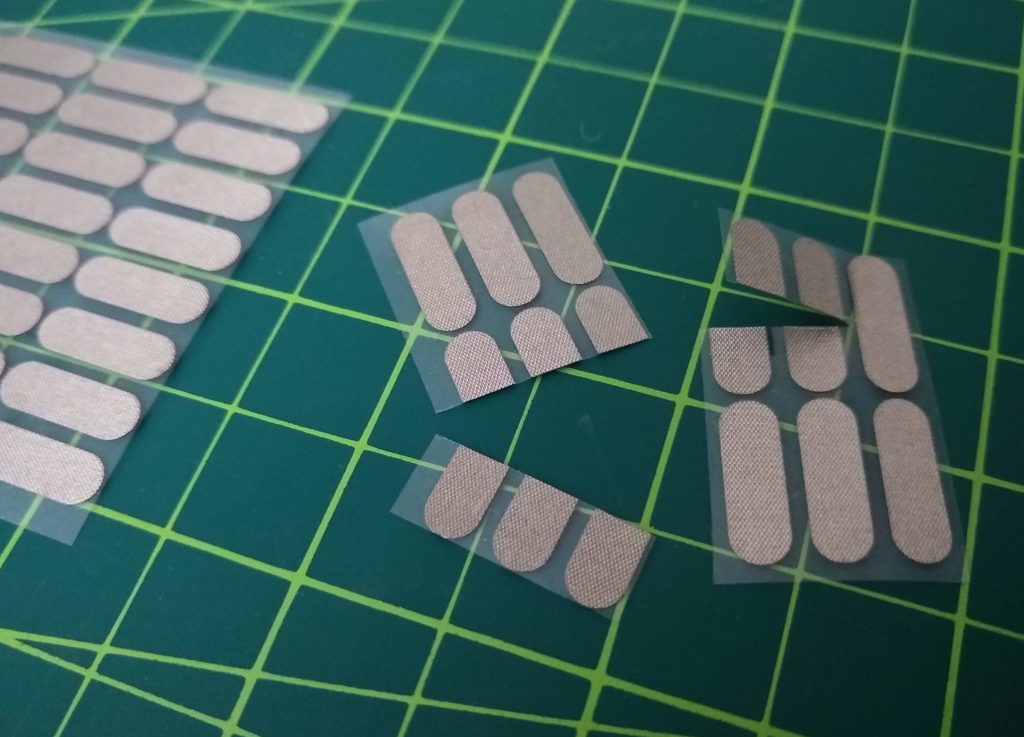 Keep your tape tidy with a tag
Our new fabric tape comes with a nifty wrap-around tag designed to help keep your tape neatly on the roll. Attach it around your tape roll, then slide it along to dispense exactly the amount you need.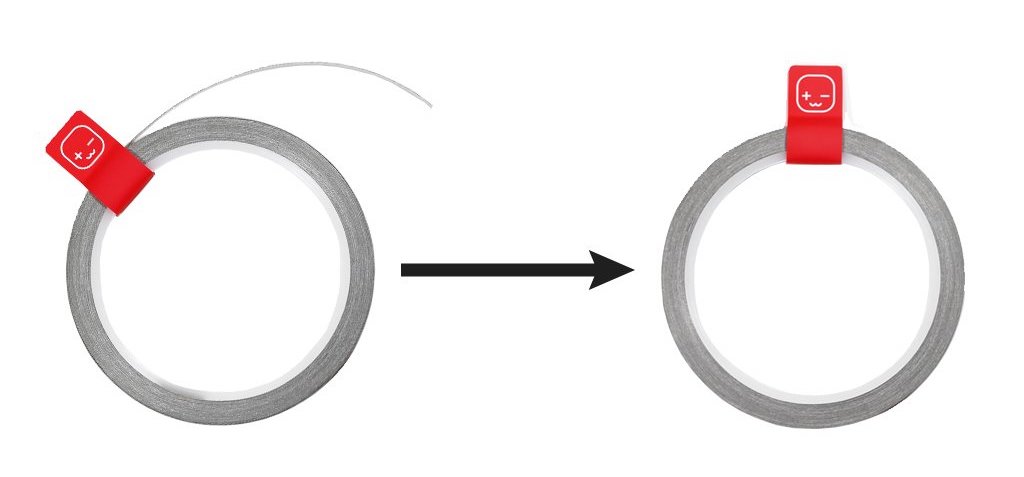 You can also create your own tape tag with a strip of paper and some tape or glue to hold it in place.
We hope you found our guide helpful! If you have further questions about conductive tapes, please don't hesitate to reach out to us at education@chibitronics.com. We'd love to hear from you!