Make your circuit even more interactive by adding a switch to control your lights. Follow the video tutorial below to learn how make your own DIY switch!
We will be using template 3 from the Circuit Sticker Sketchbook.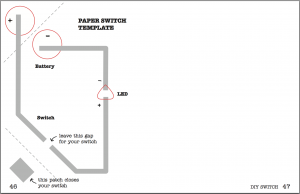 To make this circuit , you will need:
You've completed your DIY switch! What happens when you press the "do not press" button? Finish the story with your own drawings. Come see what others have made and please share your projects with us!
Here are some fun example pages for inspiration!
Don't press the switch!
Gone Fishing
Welcome to New York
Anybody home?
Circuit Sticker Tutorial 3: DIY Switch