This month we are glad to introduce to you an awesome artist, technologist, math lover and playful maker, Jonathan Bobrow. Currently a graduate student at the MIT Media lab, Jonathan is actively building devices and experiences to make the future a better place. He has been playfully engaging with Chibitronics Circuit Stickers, combining it with his supercool Troxes project (a triangle based press-fit construction kit) that beautifully blends circuitry with geometry. Jonathan shares with us his creative passions, ideas and approaches…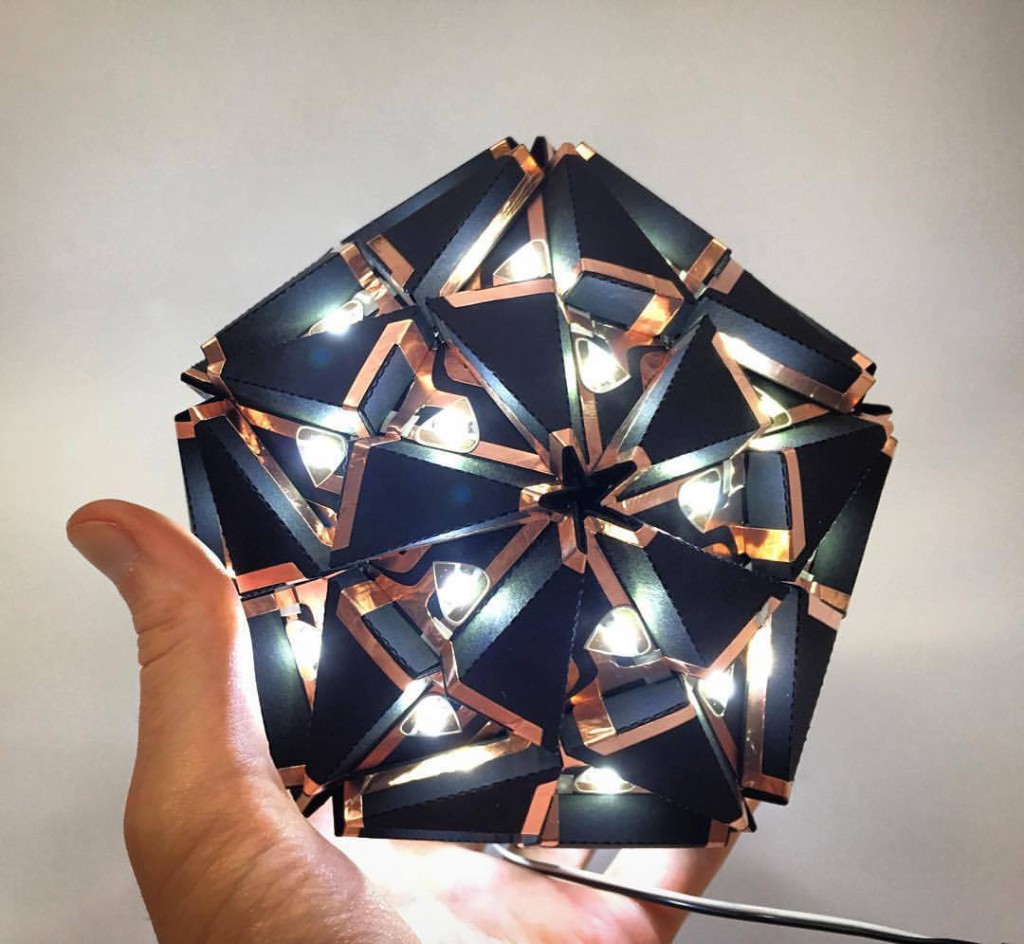 What are your interests? What are you passionate about?
Ever since I was little, I enjoyed being a problem solver, figuring out how things work and making new things, especially with an emphasis on craft. I have largely continued each of these interests, however I refer to them differently these days as activism, art, teaching, and invention. I am often jotting down ideas for ways to playfully engage with the world around us and access it through a new lens. Sometimes this involves new or novel technology and other times the medium is well worn or tried and true. I have no allegiance to any specific medium, as I often focus on realizing a concept and sometimes a conceptual framework and I have found that sometimes physicality is important and other times software or experience is enough.
What's your story?
Perhaps what is my short story, would be better, as we surely don't have time for a novel 😃 I grew up in Los Angeles, California and was raised by an Educator, (former math teacher turned author) Jerry, and an Artist, (mainly oil painter but also jeweler) Susan. I grew up with my two older siblings, Jennifer and Adam, who were both major influences on everything I did and pursued in life. While my mom and dad clearly influenced my interest in art and mathematics, my sister and brother taught me the importance of introspection, performance, and the value of how to interact with or make a difference in the world around me. My family was incredibly supportive of my interests and pursuits, athletic, creative, and academic. I have continued to play baseball competitively for 25 years, have pursued creating art both digital and physical, and have continued my love affair with mathematics. In college, I spent 3 years as a mathematics major at UCLA before finishing my undergraduate degree as a Design | Media Arts major.
What are the things that you like to make?
Most everything I make includes mathematics transparently from the process to the final product. I am attracted to clean geometry, considered asymmetry, and bold color palettes. I enjoy making with my hands, designing with precision, and playing with possibilities. My favorite aspects of computational work is the simplicity and precision in iterative or parametric forms, and my favorite aspects of hand craft is focus on fine motor skills, which reminds me of my sports upbringing.
What are Troxes?
Troxes are a set of building blocks that instead of following a traditional rectilinear (up/down/left/right) structure, are based on triangles. Unlike LEGOs, Troxes start as 2 dimensional objects, which can be folded and combined to form a variety of 3D forms (tetrahedron, octahedron, icosahedron). Each of these resulting forms (volumes) can then be connected to each other with a press-fit connection. These kinds of forms are the basis of many biological or naturally found structures such as diamond crystal formation, protein folding, or even the structure of a virus. The hope is that allowing people to play with the basic building blocks of a different coordinate system, will open minds to new and novel ways of thinking. A structure created with Troxes is more likely to resemble the architecture of Gaudi than a traditional brick building.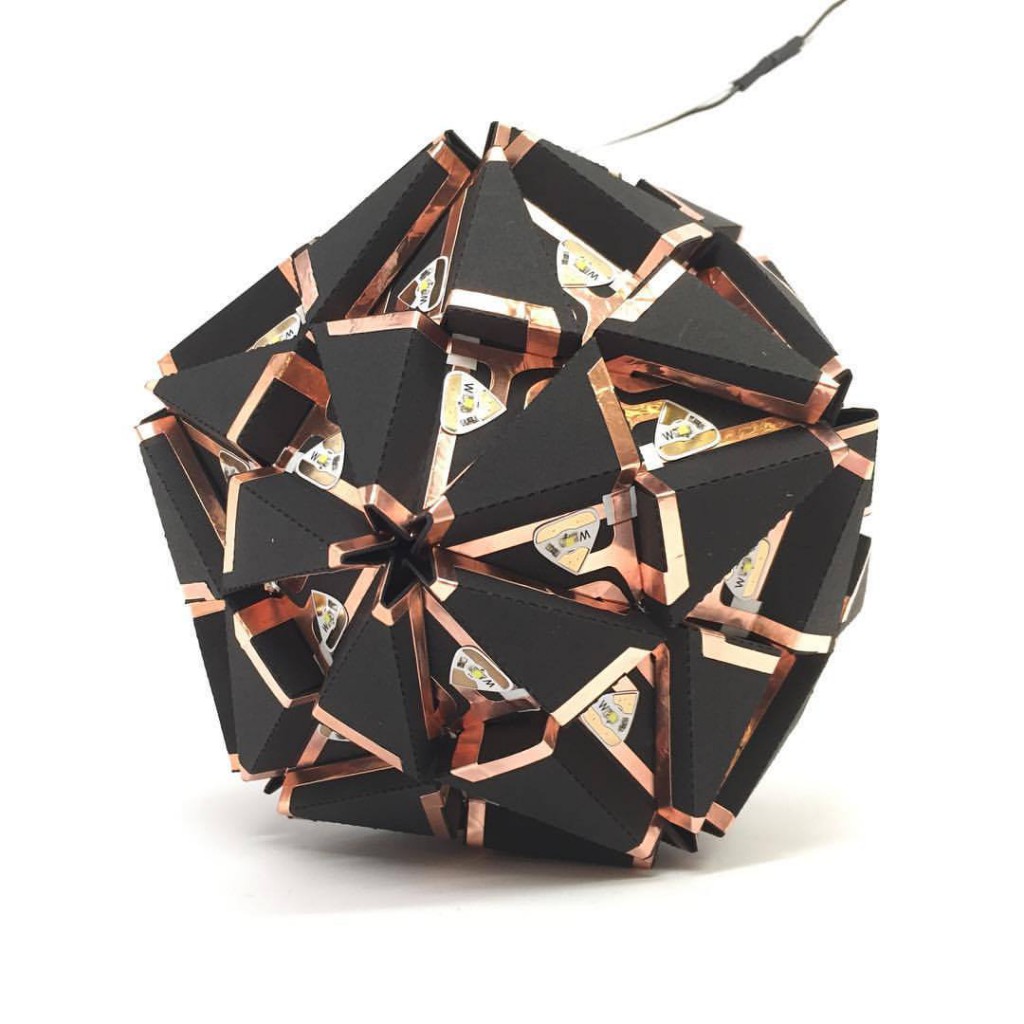 What inspired the making of the Troxes?
There is a project from the 1970s called Bloxes by Jef Raskin, where he designed and built a series of cardboard forms that could press fit together with as similar press fit mechanism employed as Troxes. I thought the way with which these Bloxes connect was beautiful and didn't have to be limited to cubic forms. When challenged with the task of making my own press fit construction kit, I decided to start with a triangle.
How would you describe your design process?
From my previous work in designing and developing interactive museum installations with Potion, I took a lot of the process with me. My design process always starts with trying to define a problem, and then designing ways to solve those problems. Early on in the process, I embark on a Research and Discovery phase, where I try to understand what solutions already exist and what the core problems might be. From there, it is a lot of exploration. Sketching with pencil and paper, sculpting with clay or modeling on computer, and even sometimes writing a bit of code to test some ideas. As the ideas become more refined, I enter a design and development phase where I will more concretely define the tasks that are core to the project and the flourishes that make it delightful. This always involves iteration, whether you plan for it or not, so I find it best to always plan for some :). 
Favorite thing about Chibitronics
One of my favorite things about Chibitronics, and specifically Circuit Stickers is how they are a well designed, low barrier of entry, and gender neutral way to play with and design low level electronics. The other day I asked Jie if there was a button/switch circuit sticker and she simply responded, just fold the paper, when pressed down, your circuit will connect, and when not, it will be open. There is a wonderful honesty in the product of providing just what you need to create and challenging you to design your own components as well.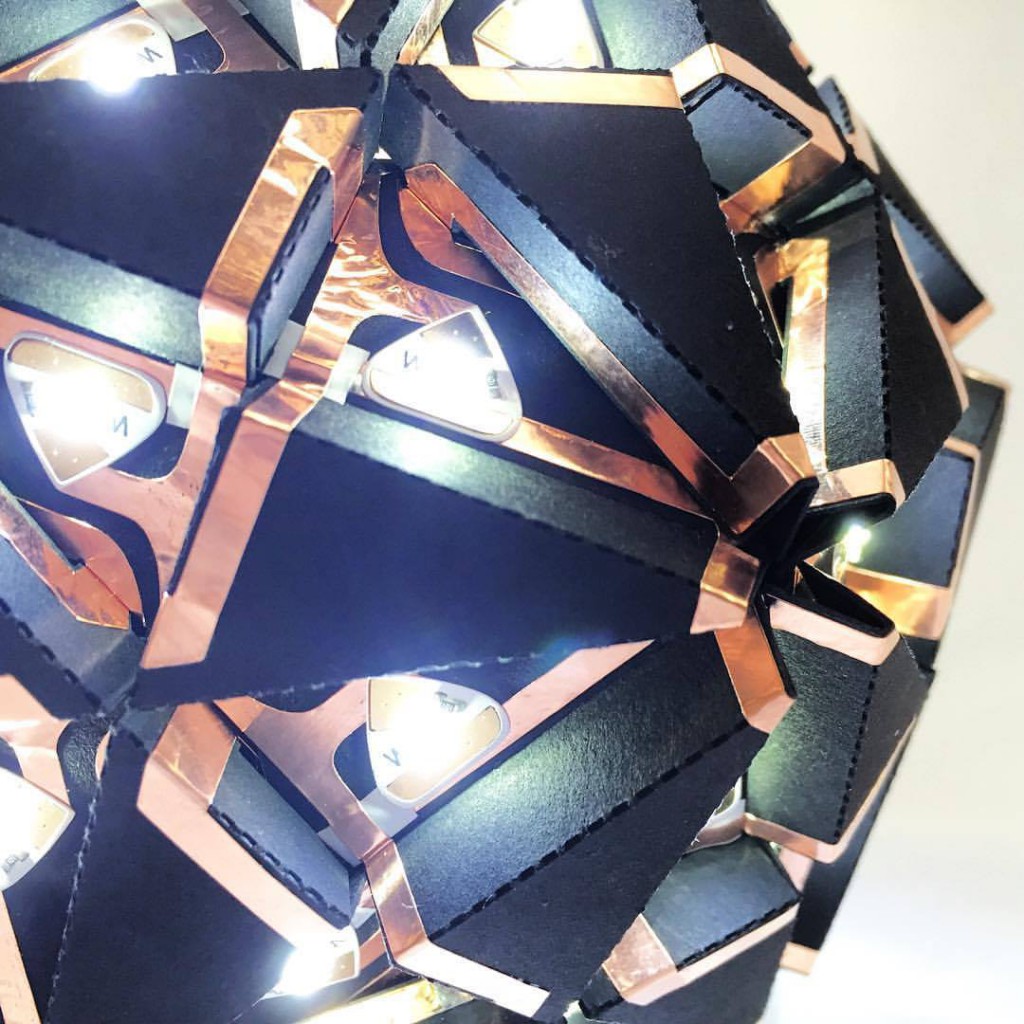 What helpful hints do you have for future makers?
If you don't think you are creative, start by copying something you like. Don't go on Kickstarter with the thing you just made, but the process of making it alone will be enlightening. There are so many skills and concepts to learn about and consider while in the making process. I consider the moments which I learn the most is simply by doing or making. One of the first things I notice as a trait of new makers is the curiosity about how things are made, as well as noticing how much design has gone into just about everything that surrounds us.
What are some ideas that you want to pursue in future?
This idea that the coordinate systems we grow up with, are exposed to, and design within shape the kind of ideas, relationships, and forms we create, and that by providing more coordinate systems, people will build more maps between them and eventually be more curious, considerate and express more empathy. I have become completely enamored with the idea of Systems Thinking, which takes a more holistic approach than traditional science of looking at a piece of a system in isolation, and thinking about what happens between components, the kind of feedback loops and emergent properties of a system that are sometimes wanted outcomes and other times unintended consequences. I believe that the world can be a better place if more people think this way. 
Jonathan's creative enthusiasm is contagious and inspiring!
Thank you Jonathan for sharing your awfully inspiring experiences and playful ideas. We are glad to have you as part of the Chibi maker community.
Find more about Jonathan's work on his website.
Checkout his novel projects made weekly as part of the How to Make (Almost) Anything class at the MIT Media Lab 
Images: Courtesy of the maker
If you would like to be featured in the Meet the Chibi Maker series, contact us at info@chibitronics.com. We would love to share your creative projects and stories.
Meet the Chibi Maker- Jonathan Bobrow