We just came back from the Craft & Hobby MegaShow in Anaheim, CA! There was a lot of work for our small team of three, but we had a blast!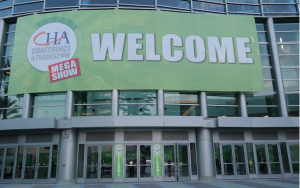 We wanted to keep our booth expenses to a minimum, but still wanted it cute. Our good friend, Linda Lovely, from Petersen Arne, suggested doing our booth in a theme and suggested several fun ones. We chose to do a diner, which was perfect, since it allowed us to eat in our booth without looking completely rude.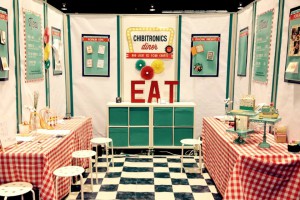 As you can see, we lit up all the décor.   We light up signs and rosettes with the circuit stickers (mostly leveraging parallel circuits). You could see our booth a mile away! The best compliment was when a fellow booth neighbor came by and asked us how much we paid for lighting.
At the tradeshow, we offered two make n takes. The more complex one was a paper flower. You can get the template here if you want to make your own light-up daisies.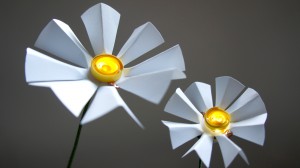 During the tradeshow, we walked the floor when we had breaks. We were inspired by the colors, the trends, and the new products. We had some bursts of creativity so we lit up jewelry, shoes, and more.
We had a great time meeting new and old friends at the Convention Center. Thanks to Nancy, Christina, and Liz B. for helping us with all the décor.