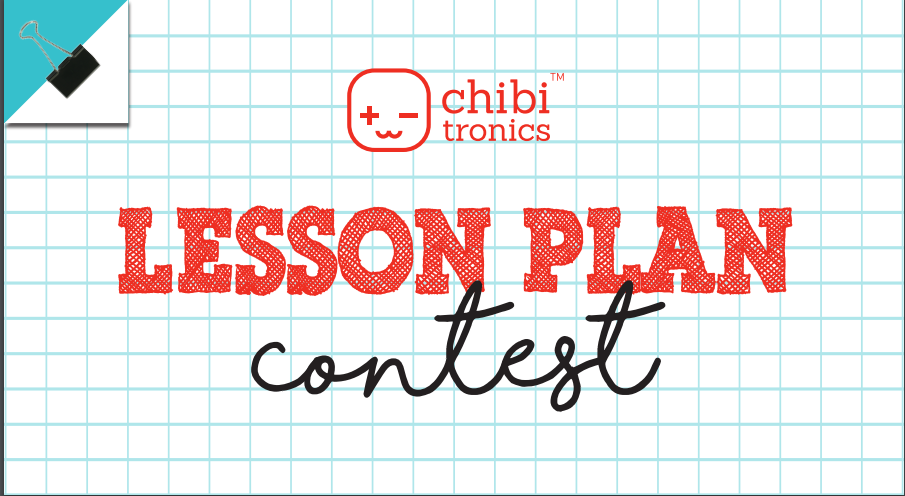 Lesson Plan Contest
Submit a lesson plan featuring Chibitronics circuit stickers for your chance to win Chibitronics gift certificates!
First Prize: $500
Second Price: $250
Third Prize: $100
Lessons will be judged on creativity, classroom usefulness, and use of primary source materials.
Instructions
Write a lesson plan featuring Chibitronics circuit stickers.
Your lesson plan needs to include the elements in our Chibitronics lesson plan. You can submit your lesson plan in a Google doc, a link on your website, or use our template to submit. Supporting files such as photos, videos, worksheets, and/or student pages are allowed to accompany the lesson plan.
Submit the lesson plan and any additional files to info@chibitronics.com with subject heading "Lesson Plan Contest" by 8/31/16. Each entry must include your name, your complete mailing address, your school's address, your preferred phone number, and your email address.
Everyone who enters will receive an email announcing the winners of the contest.
The winners will receive an online gift certificate to use on chibitronics.com.
Official Rules
Lesson plans must include Chibitronics circuit stickers.
Lesson plans must be authored by only one teacher; there is no group entry category. Multiple submissions by the same participant are allowed. Multiple prizes may be won by one individual.
The ideas, photos and other materials in submission must be original and written by the participant.
Submissions must be sent through email to info@chibitronics with subject heading "Lesson Plan Contest" by August 31 2016.
Submission of entry constitutes consent for Chibitronics to use winners' name, location, school name, and likeness in editorials, advertising, and other public purposes without further compensation.
All entries become the sole property of Chibitronics and can be used at a later date. Lesson plans will be distributed using a Creative Commons BY-SA license: if a lesson plan is used by Chibitronics in original or modified form, the creator will receive credit as the author, and others are also allowed to remix and use the lesson plan under the provisions of the license.
Chibitronics reserves the right to determine what is or is not a valid submission.
There is no entry fee to participate.
Submissions will be judged for quality and creativity, and the top submissions will receive gift certificates to use at chibitronics.com.
All decisions regarding winners are final.
Chibitronics Lesson Plan Contest