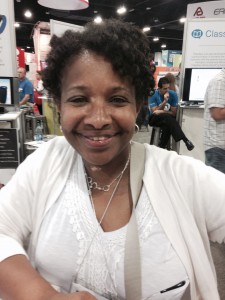 We were lucky enough to catch up with Tracie Hightower from Cranbook Schools at ISTE. Tracie is the Upper School Librarian/Education Technologist at Cranbook, and has converted part of the library into a MakerSpace. Tracie's goal is to expose her students to different materials in order to inspire curiosity, learning and creativity.
1. What is your story?
I've had an interesting path to education. I began my technical career working in a semiconductor company for 10 years. After that, I wanted to be more creative and I expanded my career in video production and graphics. I wanted to merge my technical and creative sides and pursued a masters in education. I am now an education technologist librarian at Cranbook Upper School. I have converted a portion of the library into a maker space. We have a traditional library, but we also have a space focused on making. Here we have 3D printers, electronics, 3D modeling, and all sorts of craft activities. We incorporated Chibitronics to provide students with hands-on experiences in circuitry.
2. What are the things you like to make?
I like seeing how technology brings everyday things to life. For instance, one of my favorite projects this year was collaborating with a history teacher on a student project. In this course, our students do a self-reflection project that culminates with a personal notebook. The notebook is an A to Z notebook, where the student represents a unique trait or story by letter. With Chibitronics, we asked the students to select one letter and create an artistic representation on one of the pages using electronics to highlight their reflection. We gave students 3-5 stickers each, and the pages blew me away! One student went to Maine every year during the summer and for his "M" page, drew his favorite lighthouse, with Chibitronics lighting a path. Another student loved drama and built a miniature 3D stage. He sewed fabric into tiny curtains and used Chibitronics for spotlights. It was wonderful to see all the different ways the students used the stickers to highlight what made them personally "light up". The stickers made their notebooks come to life.
3. What is your current project?
It's the summer, so we are on break. I'm here at ISTE to see what new things I can bring back to the library. It's great seeing all the new things, as well as meeting new educators and learning about new tools that can be used in the classroom.
4. How would you describe your creative making process?
I strongly encourage the design thinking process. This process encourages and inspires students to ask epithetical questions related to real-world problems, conceptualize solutions, build prototypes, and test. It's equally helpful in demonstrating the iteration that takes place in the learning process.
5. What inspires your making?
I have always been naturally curious to understand how things work. This fuels my making. At any moment in time, we share a space, yet we have the ability to change this space and the effect this space has on others with ingenuity. We really need to assess the tools that are readily available to us and make the world better; through our passion and innovation.
6. What helpful hints do you have for future makers?
I ask my students to be present. It's really important to stress presence because it provides clarity and context of our place in a much broader community. Your creativity will take you to the next level, but your awareness is critical for fostering innovation.
7. What is your favorite thing about Chibitronics?
My favorite thing about Chibitronics is the simplicity. I love the way the stickers are labeled (positive/negative) and the easy templates make it easy to navigate and learn. I love seeing how kids use the stickers once they've mastered the simple basics.
Meet the Maker: Tracie Hightower