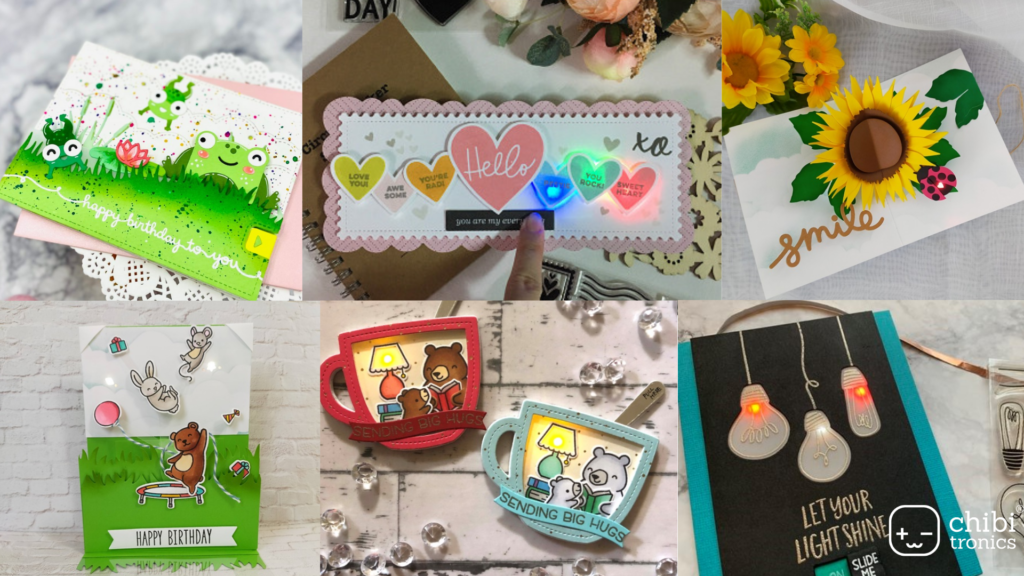 Chibitronics is searching for a few additions to our 2021 Design Team! Chibitronics blends circuits with arts and crafts. We make circuit stickers which are friendly peel-and-stick lights, effects, and sensor modules for lighting up your craft projects. Our dream is to make it fun and easy for everyone to create and design their own expressive artworks with technology! If you love interactive paper crafts we'd love for you to develop and share your favorite projects featuring our products to inspire others. We are looking for paper crafters, cardmakers, scrapbookers, and more!
How to Apply
Send all submissions to admin@chibitronics.com with "Design Team Call" in subject heading.
Submission Deadline: April 15, 2021
Project Submissions: Please email us a link to a blog post or video featuring our products. Please include photos and directions for your project. If you share your projects in other social media channels such as YouTube, TikTok, Pinterest, etc., please include those links. We'd love to see a new project but you may also link to existing projects.
Alternatively, if you cannot create a project with the stickers, please tell us in your application 1-3 unique ideas you have for using and showcasing our products.
Please include the following information in your submission:
Name
Address (international designers welcome!)
Phone Number
Email
Blog URL
Social Media URLs, if relevant (Facebook, Instagram, Twitter, YouTube, TikTok, Pinterest, etc.)
Design Team Requirements:
designers will be asked to complete 1-2 projects per month on a rotating schedule (these may be videos, blog posts, or social media posts depending on your preference)
commitment to a 6 month term
promotion of Chibitronics on your social media channels
Compensation:
Chibitronics products as needed for your projects
compensated posts
access to newly released products and the opportunity to test potential new products
one sponsored giveaway per design term
opportunity to earn additional income via pay-per-sale affiliate links with shareasale
opportunities for collaborations with other companies in the industry
opportunities to teach paid live or virtual classes
promotion on Chibitronics social media and a watermark to use for projects
private FB group for chats and team discussions
If you have any questions please feel free to send us an email at admin@chibitronics.com! We're excited to see your submissions!
-Jessica