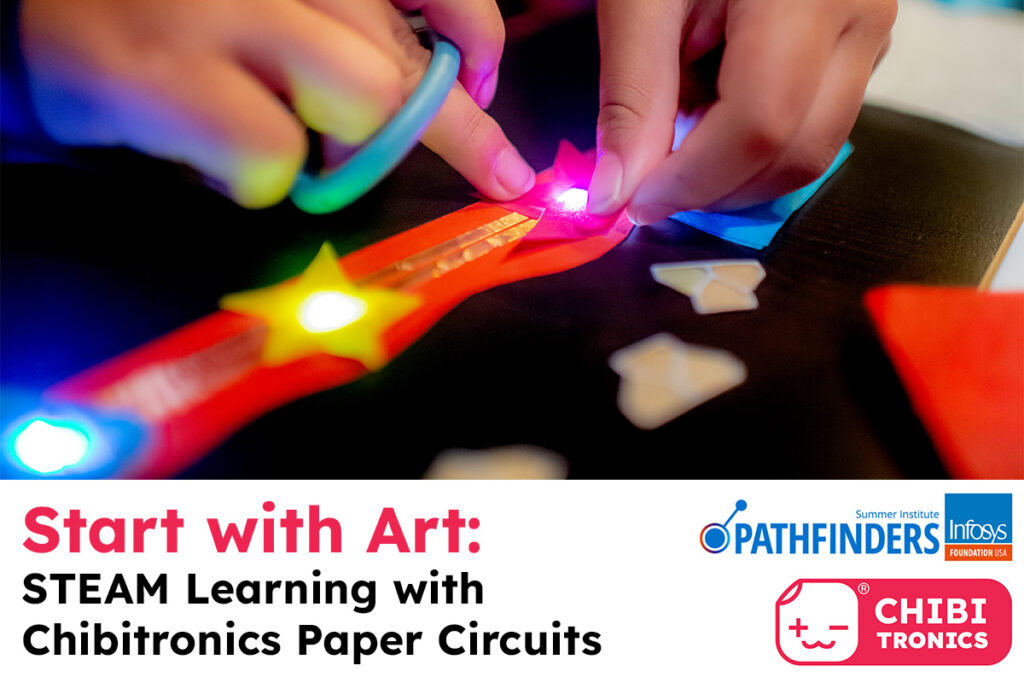 We are excited to announce that we are participating again this year in the Infosys Pathfinders Summer Institute 2023! This summer's course will introduce paper circuits, STEAM and how to integrate these activities across subject areas.
Participating teachers will receive full scholarships for hands-on virtual professional development and a FREE kit of supplies to learn with and take back to the classroom, all generously funded by Infosys Foundation USA. Apply now as spots are limited!
Session Dates: July 10 to July 19 (Option A) or July 24 to Aug 2 (Option B)
Session Times: 1-4pm EST
Format: 4 guided sessions, 4 self-guided explorations, 1 share-out session
Grades: open to all grades but geared toward 3rd to 12th grade educators
Applications due by: May 31, 2023 at 11:59pm PST
Scroll down to learn more and start your registration here:
https://chibitronics.com/pathfinders-2023-registration/

Course Description:
Learn the basics of how electricity works and apply this knowledge in developing creative projects for your students. Whether you're a science teacher who is looking for new ways to help students engage with core concepts from your curriculum, an art teacher looking for accessible ways for students to express themselves with technology, or anywhere else across content areas, this course is for you!
Paper circuits make use of familiar craft materials such as tape, paint, and stickers to build electronics projects that look and feel like paper but can come to life through the power of electricity. Educators can use these materials as a friendly on-ramp into a new world of technological making. Because paper is such a flexible artistic medium, combining it with circuits broadens ideas about what technology can look and feel like, helping to nurture artistic creativity and personal expression.
In this workshop, you will learn to build expressive circuits on paper with easy to use electronic stickers, conductive tapes, and craft materials. You'll learn how to create interactive switches, sensors and explore circuit design intuitively while making works of art. We'll introduce you to Chibitronics educator resources, and curriculum. You'll have an opportunity to test out these activities yourself, reflect on your experiences, and customize curriculum for your students.
Workshop participants will share ideas and feedback with fellow educators. You'll walk away with the resources, skills, and support you need to facilitate paper circuit activities in your own classroom.
Participating teachers will receive a FREE kit of supplies including:
Chibitronics STEM Starter Kit
Classroom Pack of LED stickers and fabric circuit tape
Additional LED stickers
Bulb LEDs
RGB (Red/Green/Blue) LEDs
Reed switches and magnets
Pressure sensor plastic
Batteries
We are offering two time/date options:
Course option A: July 10 to July 19, 1-4pm ET
Course option B: July 24 to Aug 2, 1-4pm ET
Each course is structured as 4 x 3 hour guided Zoom sessions and 4 x 3 hour office hour/self-guided exploration sessions. Our final session will be a share-out of projects created during the course and inspiration for where to go next in your creative learning journey!
What part participants have to say:
If I had three words to describe the experience, I would say it was inspiring, supportive, and invigorating … collaborating with like-minded, passionate educators, exploring the world of paper circuits with Chibitronics. I definitely think what I learned will help me reach my goal of increasing more female students in my classes.

Khamphet Pease, 6th grade teacher at Wilson Middle School, San Diego.
Check out these past attendees' blogs of their experiences at our Pathfinders Course:
Phet Pease from Pathfinders Winter Institute 2020
Chris Awad from Pathfinders Winter Institute 2020
A bit about Infosys Foundation USA:
Infosys Foundation USA, committed to expanding access to computer science and maker education in K-12 public schools across the U.S., offers k-12 public school teachers across the US the ability to apply for their Pathfinders Institute twice each year. Special consideration will be given to teachers from high-needs schools and under-represented communities, those new to teaching CS and maker education, and to districts that demonstrate a commitment to sending multiple teachers to Pathfinders.
Please share this with any US-based public school teachers you think may be interested. We hope you will be able to join us this summer!
Registration open for Summer Pathfinders 2023! Free Chibitronics supplies and hands-on PD for teachers