<The Conference>
FETC, the annual Future of Education and Technology conference, started more than 40 years ago, has grown into one of the must-attend, big-tent meetups for teacher and administrators, instructional technologists, and education policy and thought leaders.
This year our friend Barbara Liedahl, the media arts instructional specialist for Prince George's County Public Schools in Upper Marlboro, MD attended FETC with Chibitronics Teaching Ambassador and educational technology instructor Chris Awad from Paterson Public Schools in Paterson, NJ. Together they ran the workshop, "Programmed to Blink and React: Interactive Art with Electronics and Building Paper Circuits."
<Back in Person>
Speaking with us about her time at FETC, the first thing Barbara mentioned was the welcome feeling of being back with other educators: "…we had come off of covid — the first time in-person after a two-year hiatus – and I recall standing there, presenting to to our group, and found myself saying mid-sentence, 'We're in person!' I felt overcome by feelings of gratitude; it was so nice to be together. The session was full of good energy; people were so glad to be there."
<Kits and Engagement>
As a hands-on, arts-based educator, Barbara has done her share of kitting up of parts and components, carrying boxes and carts of materials to her sessions so educators can have inspiring experiences with materials, art and design. She's done e-textiles, felt and fabrics, LED work and more.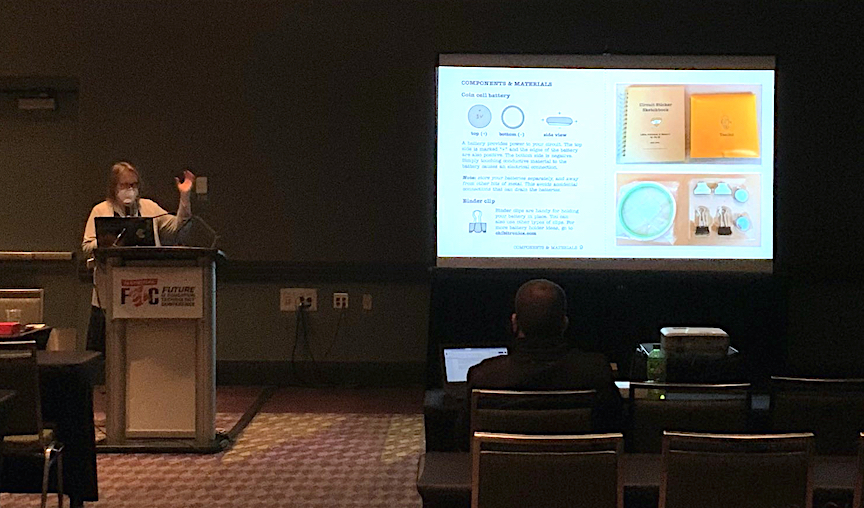 This year she started with the Circuit Sticker Sketchbook: "We showed them one little exercise – they could go further and reflect, it was very self-directed; they were able get started and take it with them." That kit was a game-changer, she said; the STEM Starter Kit, "is its own ecosystem; all the resources are there," and she can send people to the website for tutorials. Barbara and Chris shared the Chibi Chip as well and had participants code their first blink. "It was a magical time," she said, "and this is what I remember: teachers were leaning forward as we shared out." 
<Media Arts & Paper Circuits with the EduTechGuys>
As a bonus, Barbara was invited to speak with the EduTechGuys. Listen to her wonderful interview about her work with Media Arts at Prince George's County and the role craft, art and paper circuitry can play with multi-modal learning. Check out the interview here! 
If you're interested to contact Barbara on her work and teaching practice, find her at: @bliedahl and @MediaArtsPGCPS.
Ambassadors Barbara Liedahl and Chris Awad at FETC 2022