Hi everyone! It's Yukiko I. Fall has come!
Autumn with the sky clear and blue, and horses growing stout. I love this season.
This month project is for sending some secret message. Your private eye is coming….. You've got some message. Hmm…. It is so messy and tangled so that you can't read it.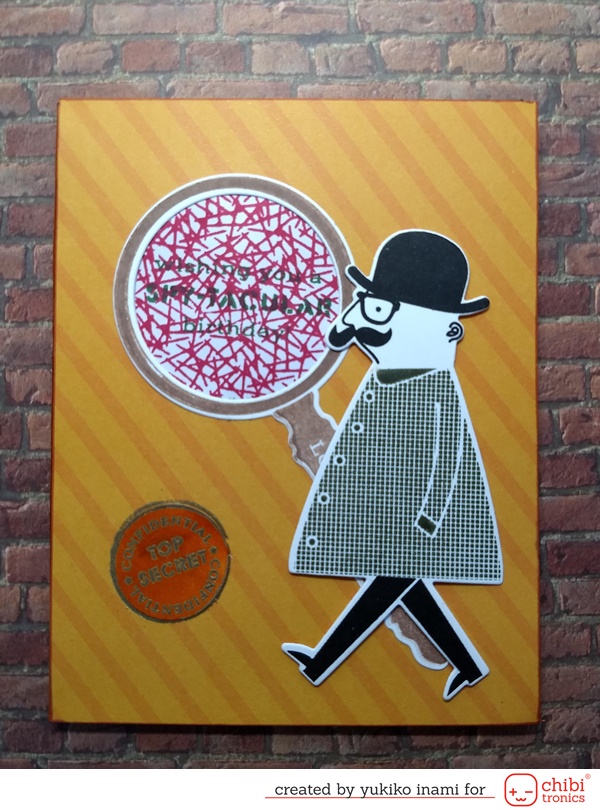 But the private eye can solve this mystery. Push the button named TOP SECRET, then something will happen.
Have you been seen the combination set of a red pen and a green translucent sheet? That can make hidden or come out some image. I used the set in my young age for the preparation of Exam.
This is same theory but using the color light. This stamp image is composed of green and red. So the red light can vanish the image in red, and you can see easily the green letters when the red lights turn on.
Additionally, I use the Verostat with the switch as a DIY pressure sensor. So I can change the intensity of light with the finger pressure! It can make a mysterious effect.
This is the circuit of this card. It is really simple. The parallel circuit with three red LED sticker.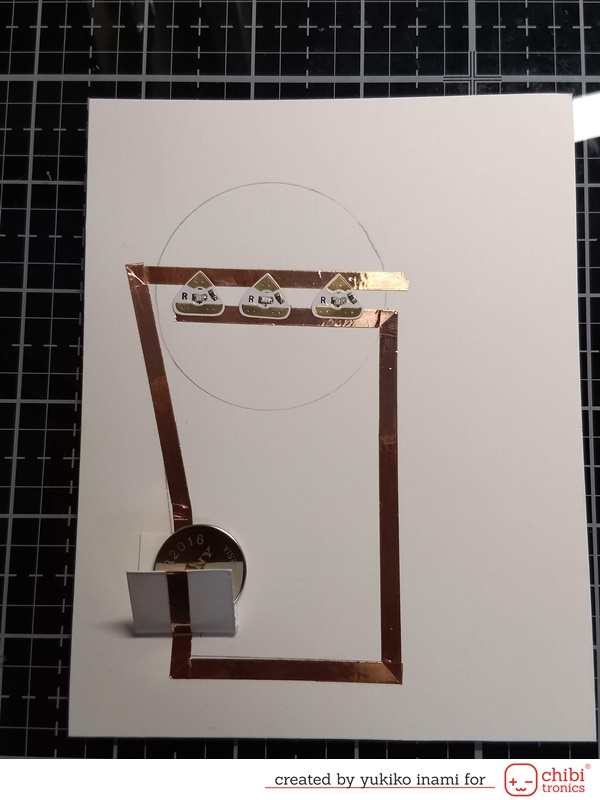 I use the Velostat for changing the intensity of the light. You can add a special effect with this black conductive plastic sheet. Just Lay this pressure-sensitive conductive sheet in the battery space, under and over of the battery, both are fine. This black sheet has a resistance that changes with the pressure.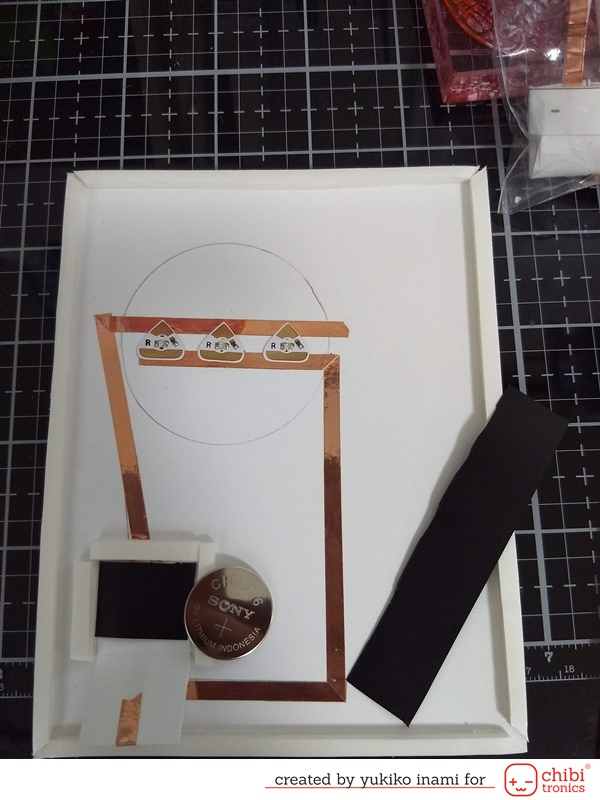 It is so easy but makes an amazing effect. Check it out next movie! The harder you press, the better the material conducts, and the brighter your light shine. cited from "the Circuit Sticker Book".

If you are interested in how this black conductive plastic sheet works, you can know more about it in the pages 71-76 of the Circuit Sticker Sketchbook. You can get it free from the Chibitronics site. There are English Ver., Japanese Ver. and Chinese Ver.


Supplies List
・Secret Agent Stamp Set; Papertrey Ink
・Secret Agent Die; Papertrey Ink
・Red, Yellow, Blue MegaPack (30 stickers)
・Copper Tape
・Pressure-Sensitive Conductive Sheet
・Coin cell battery (CR 2016); You can see why this Number battery is good for push switch card in this post.
・Foam tape; ideal thickness is 1/6 inch, 4mm for the push switch system

If you are a beginner of Chibitronics who wants to make this card and don't have any supplies of Chibitronics, Chibitronics Chibi Lights LED Circuit Stickers STEM Starter Kit is nice for you. It has 12 LED light stickers, 16feet copper tape, a piece of the black conductive plastic sheet and the circuit sketchbook. You can enjoy your own project with your favorite stamp set and this kit.
Thank you for stopping by. Have a nice day!
Yukiko I. ; Nicorin
Private Eye Brings Some Message to You!