Longtime crafter, educator, and recent Chibitronics Teaching Ambassador Darshell Silva joined us this year at the Pathfinders 2021 Summer Institute, enrolling in the Level 2 track. Enjoy this Q&A and learn how books, paper, information skills and a deep appreciation for multiple literacies in Maker Education comes together in her work at a middle school in Providence, RI.
CHIBI: Can you share some details about your teaching experience, your content area and discipline, and the age groups you are working with right now?
DS: I am the Librarian at an urban middle school – Nathanael Greene Middle School in Providence, Rhode Island. I teach Computer Science and Gateway to Technology as well as Information, Media, and Digital Literacy. I utilize Maker Education in all that I do. I am always available for tech integration assistance as well as anything library/research-related for teachers and students alike. I have been a school librarian for 16 years. I held a wide variety of positions before this — Educational Advocate, Webmaster, Program Coordinator, Case Manager, Data Researcher, Paralegal, factory worker, telemarketer — you get the idea.

CHIBI: You mentioned that you are a scrapbooker and this craft practice and interest pre-dated your experience with Chibitronics. And then you discovered NEXMAP's 21st Century Notebooking group on Google+. Paper, constructions, materials, and then electronics. What's the connection for you?
DS: I have loved paper and books since I was young. I always wrote in a variety of journals with different kinds of paper/covers/pens and read everything I could get my hands on. I eventually started making my own journals. When I was older I discovered scrapbooking and eventually paper crafting! I was always also interested in technology but didn't always have a lot of access to tech when I was younger as it wasn't as readily available as it is now.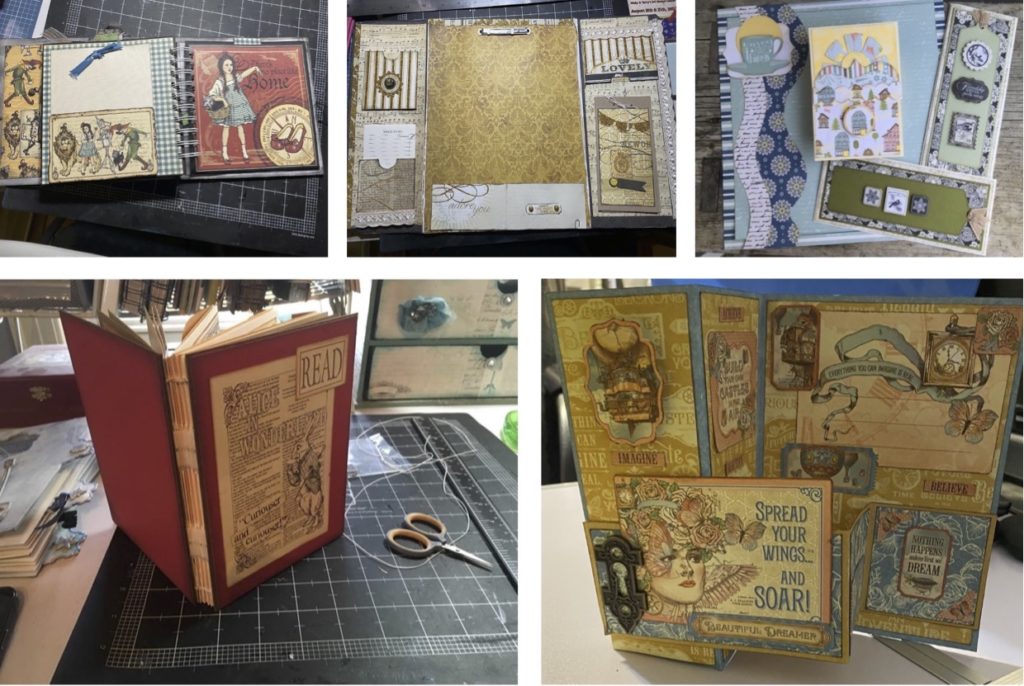 When I discovered the 21st Century Notebooking group I was like, "These are my people!!" It brought together so many of my interests. By this time I was a school librarian and had begun integrating Maker Education into my work. As I learned more about paper circuits, it became clear that not only could we make amazing paper creations, we could light them up and give them more interactivity. As the world of paper circuits has evolved, so have the possibilities of what can be made with the intersection of paper and technology.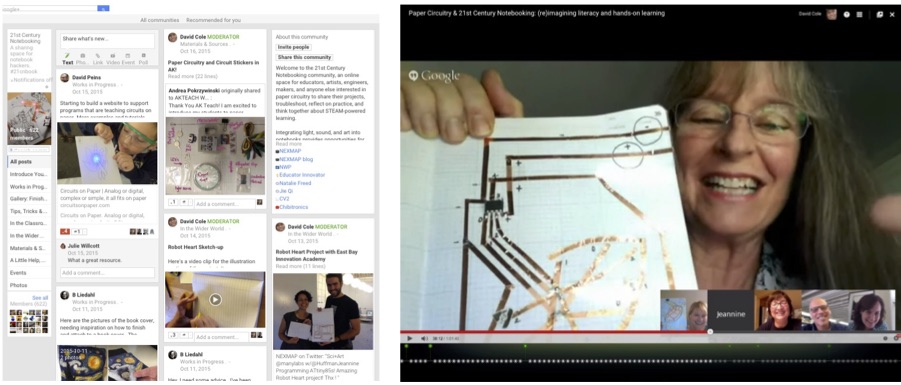 CHIBI: You did the Chibitronics Level 2 course at Pathfinders — and you created an illuminated Shadowbox using Alice and Wonderland. What can you share about that project, why you chose it, and what did you learn in the process of assembling it?
DS: I chose to make an illuminated shadow box of Alice in Wonderland because I wanted to make a project that would connect my paper crafting and what I was learning that could be displayed in my school library and attract students to the world of Chibitronics. I specifically chose Alice in Wonderland because the story deserves lights and interactivity. I learned so many new things making it! This is the first time I used a combination of paper crafting, coding, and a variety of paper circuit techniques in one project.

I decided to combine as much as I could into the project so that I would be ready to use the techniques with my students this year. I started off by planning out what I wanted the finished project to look like and do. I then coded my lights for the Chibi Chip using MakeCode. Then I continued planning my project using the Circuit Sketcher program which was a lot of fun and super helpful in making a layout for my circuit paths. I then printed those out to use as a diagram for my plans.

This was also the first time I used a combination of Chibitronics paper sticker LEDs and regular LEDs with resistors to achieve the effects I wanted. I then put together my shadow box and circuits to finish the project. When I was done, I had a little extra time so I recoded the project and added in the Chibi Scope to add some scrolling text from Alice in Wonderland. Overall the course gave me a variety of new tools and techniques to take my and my students future projects to the next level! I can't wait to see what we come up with!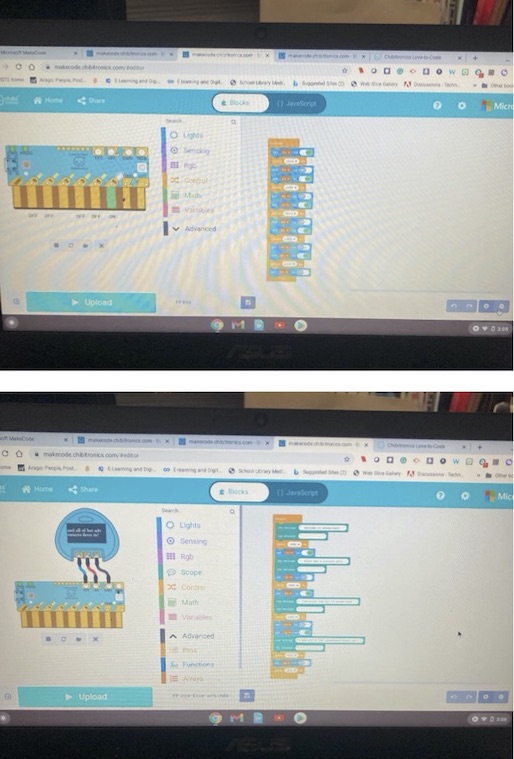 CHIBI: This year you're running a new library at Nathanael Greene Middle School and starting a new makerspace — something you proposed to your colleagues and were able to fund. Can you share some details on your thinking about projects and plans for the coming year?
DS: This year will be very interesting! I am actually starting off the year in a classroom as the new library and makerspace are being constructed. The plan for a new library was already in place when I joined Nathanael Greene, but I proposed adding a makerspace because I really believe in Maker Education as a vehicle for introducing and unleashing the creative potential in all students. To start the year I plan on introducing Maker Education and the use of paper circuits in my Computer Science and Gateway to Technology classes as well as in a lunch time Maker Club. I also hope to do some collaborative projects with other teachers to introduce these concepts in their classrooms so we can offer school-wide maker challenges. Once construction is finished I plan to offer the use of the Makerspace to students for individual as well as group and class projects. The library and the makerspace are always community space!
CHIBI: What motivates you as a teacher and learner with these materials and this approach to education? And lastly, can you share a project or resource you're thinking about these days? And what's the best way to find you online?
DS: I feel that Maker Education is important as it combines so many skills students need: creativity, problem solving, collaboration, perseverance, design thinking, agency, decision making, self confidence, and so much more. Many students never get a chance to engage in tinkering or maker activities and never know that it is something they might truly enjoy and do well. Paper circuits can be used in such a variety of ways that all students can benefit from it. From students that just enjoy the hands-on aspect of creating a simple paper circuit and the joy of lighting it up to learners who want to take things to another level by using technology, such as coding or adding motorized elements or sewing (using conductive thread and fabric) or basically anything their imaginations can dream up! I enjoy learning and tinkering alongside my students.
Right now I'm reading, "Techno-Vernacular Creativity and Innovation" by Nettrice Gaskins. I happened upon her work while searching for projects and lessons for the makerspace. Her lessons on Instructables.com were very powerful and spoke to me as a maker of color. I just had to read her book! It's a must read for anyone who is looking to bring culturally relevant making to their makerspace or schools. The best way to connect with me is on Twitter. Find me @darshell.
Featured Educator – Darshell Silva